Okay, I admit it. I'm addicted. To unique potato chip flavors. But it's not what you think. It's not that I can't stop eating them. It's that I'm addicted to finding new flavors. As any good travel blogger would say, my potato chip addiction is directly related to my travel obsession.
Wherever I travel, I'm inexplicably drawn to the potato chip (er… crisps) aisle of any grocery or convenience store we enter, on the rather likely chance I might discover a new potato chip flavor. The potato chip industry is doing nothing to quell my affliction, in fact they are deliberately making it worse by continually promoting new flavors. I was once quite obsessed with the Lay's "Do Us a Flavor" contests.
I think I submitted more than a dozen possible flavors. None of them ever won. But that didn't stop me from scouring grocery shelves for the flavors that did win. Whenever we arrive in Canada, my first order of business is to look for dill pickle chips. It's my favorite flavor and while it's available in the U.S., it's not the same recipe as in Canada. Turns out Canada really loves their dill pickle chips!
As I mentioned before, it's mostly Lay's that perpetuates the unique chip flavor issue in the United States. But there are many companies that also create fun flavors around the world. When we moved to London, we found lots of new flavors of crisps, like bacon, cheese and onion, and prawn cocktail.
You'd be amazed at how many flavors are being sold all around the world. Everything from Chili & Chocolate flavor to "Numb" flavor, whatever that is. I assume that your mouth goes numb when you eat it. I don't know though, because I didn't find any of those in China when I was there.
The only flaw in this unusual hobby of mine is that oftentimes these uniquely flavored chips don't taste very good. I give Lay's and other brands top marks for trying, but many of the new lays flavors aren't great. What do you think? What are your favorite flavors?
Canadian Flavors
Canada is a trove of weird potato chip flavors. Some of these pictured below are from the Lays Do Us A Flavor competition, like Scalloped Potatoes, Montreal Smoked Meat, Cowboy BBQ Beans, and Butter Chicken.
Poutine was a previous winner that was actually quite good. Lays Ketchup chips and Smokey Bacon are perennial favorites in Canada. And why not? There's even a Maple Moose flavor. All Dressed is a flavor.
Click on any photo to enlarge and view a slideshow of the images.
United States Flavors
There are a some pretty unique potato chip flavors in the U.S., too. My favorite from the competition in the past few years was the Wasabi Ginger Kettle Chips. We recently used them to make a delicious tuna sashimi dish for our Supper Club when the chosen ingredients included potato chips.
So versatile, those chips! Some flavors we've loved over the years are Reuben, Truffle Fries, Bisquits & Gravy, and Gyro. There's Chesapeake Bay Crab flavor, Flamin' Hot Dill Pickle, and Chile Limon,
United Kingdom Flavors
If the U.S. and Canada have so many unique potato chip flavors, surely the UK also has some interesting flavors! Since moving to London, I've done a pretty thorough recon on the crisps situation. The main chip company is Walkers. Here are some of the flavors we found in England.
Of course, there's a Scottish Haggis flavor. What would the chip market be without it? Other fun flavors in the UK are Nando's Peri Peri Chicken (a bit of a national obsession), Paprika, Roast Lamb & Mint, Aberdeen Angus, and Brown Sauce.
Potato Chip Flavors From Around the World
You may think that these three countries rule the unique-flavor potato chip market, but you'd be surprised what flavors you'll find in other parts of the world. How about some Nori Seaweed-flavored chips, or some squid-flavored chips?
I can't say I've ever craved crab-flavored chips, but maybe I would like the blueberry chips from China. Or how about those hamburger-flavor chips from France!
CONCLUSION
As you can see, with this obsession following me around to all the travel locations we go to, we have our hands full on our vacation (literally, full of potato chip bags). Beware: the addiction is catchy and you might find yourself coming down with it at any moment.
In fact, I bet after reading this post you'll at least glance at the potato chip aisle where ever you happened to be around the world, curious to see what strange and unique potato chip flavors you can find. If you have a good one that I didn't mention here, tell us about it!
Pin it for later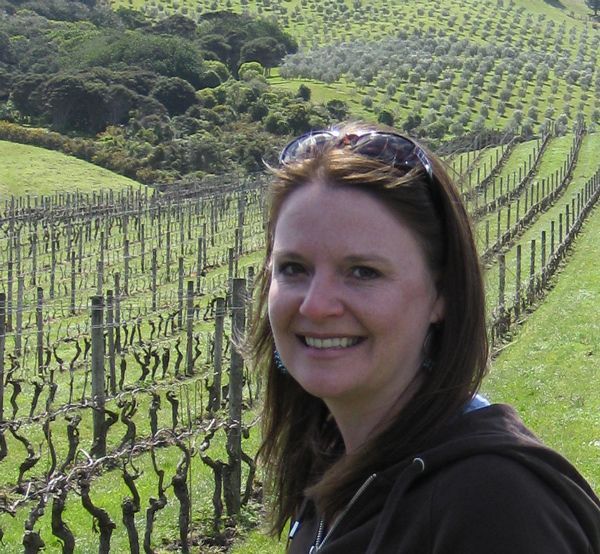 Laura Lynch, creator and writer of Savored Journeys, is an avid world traveler, certified wine expert, and international food specialist. She has written about travel and food for over 20 years and has visited 70+ countries.