Vietnam and Cambodia tours requires some careful planning, especially when it comes to visas and flights to the countries. Lying on the Indochinese Peninsula, these two nations are close neighbors with common ties that date back around 2,000 years.
Once the center of the ancient Khmer Empire, Cambodia is an amazing place to visit, filled with ancient Buddhist temples, stunning landscapes, and the most famous temple complex in the world at the Angkor Archaeological Park, where thousands of ancient temples lie in various states of ruin and disrepair.
Vietnam, in comparison, is a long and thin country, with a varied topography that runs from the mountainous northern region to the stunning plains of the south and the 100-islands region. A country that has undergone tragic recent history, Vietnam has grown its tourist industry over the last two decades to be one of the premier destinations in Southeast Asia.
When planning Vietnam and Cambodia tours, there are plenty of things to take into consideration, not least of which is how to get there and how to get in.
Visa Requirements
Cambodia and Vietnam have very similar visa requirements, as do many of the nations around the world that require visas for all its tourists. However, the difference comes in how you obtain those visas, and for these two countries, the methods are very different.
As with most visas, you will require a valid passport with two blank visa pages and at least six month's validity remaining. You will also need to provide a completed visa application form and one or two passport-sized photos. In certain cases, such as when applying for a visa from outside your home country, you will also need to provide proof of residence or allowance to stay in the country where you are processing your application.
Cambodia
Visa requirements for Cambodia are simple, and the same as the general requirements for most countries. There are three ways to apply for a visa to Cambodia, through an embassy in your home or resident country, by making an application for a Visa On Arrival (VOA), or by using the online using the E-visa service.
Embassy applications are the least used of all visa application processes, as there are very few Cambodian Embassies outside Southeast Asia. However, if there is a consular office or embassy in your home country, you need to make the application in person, with all the completed requirements, and the US$ 30 fee.
For those traveling to the country from within Asia, a common method of obtaining a visa is through the Visa On Arrival Service, which can be done at all the major Cambodian international airports and several of the overland border crossing checkpoints, including those from Vietnam to Cambodia. Requirements are the same, as is the processing fee, but if you do not have your photos, the immigration officials will use the scanned copy of your passport photo and charge you an extra two dollars.
The E-visa is fast becoming a popular way to get a visa for travel, and can be done from anywhere with an internet connection. However, while the process is relatively simple, they can only be used when traveling into Cambodia through Phnom Penh and Siem Reap international airports and one overland border crossing at Bavet/Moc Bai. The E-visa can also only be paid for using either a MasterCard or VISA credit card, and there is no other method of payment offered.
Vietnam
The requirements for a visa for Vietnam are complex, and are constantly changing, so it is always best to check the current requirements with the Vietnamese Immigration Service before making an application. Standard visa requirements apply, and there are only two ways to make an application for a visa for Vietnam.
The main option of obtaining a visa is still through the embassies around the world, and a personal application can take as little as three business days to process. The process is straightforward, and in many countries, postal application is permitted. a standard, single-entry tourist visa for 30 days costs just US$ 20, while a multiple-entry visa for three months costs just US$ 70.
The second application process is the Vietnamese version of the Visa On Arrival. However, it is a little more complicated than other VOA applications. The VOA can only be used at one of the six international airports in Vietnam, and is not valid for the overland crossings. The process starts by making an online application for the visa, and the visa fee is paid through a secure online portal using one of several credit cards or even PayPal. Once payment has been made, you will be sent an invitation letter to show to the immigration officials once you arrive, at which time your visa will be issued. You cannot obtain the Visa On Arrival without first completing the online requirements for the application.
The Vietnam E-visa online application is actually the same place as you will apply for the VOA, and is actually the same thing. Many people get confused with this, thinking that the will get a proper E-visa, and not have to get their passports stamped at immigration. Vietnam does not currently have an online E-visa service where the complete visa is sent to your email address, and there is no more queuing at the immigration desk.
How to Get There
Getting to Cambodia or Vietnam can be done in one of two ways, depending on where your starting location is. If you are already in Asia, then you can travel overland or by air to either of the two countries, depending on which you wish to start with. For those traveling from overseas, you only have the option of flights into Vietnam or Cambodia, unless you stop first in one of the neighboring countries, such as Thailand or Laos.
By Air
Flying to Vietnam can be done from several locations around Asia, and a few direct flights from certain international countries outside Asia. Flights can be taken to any of six international airports across the country, which are located at Da Nang, Ho Chi Minh City, Hanoi, Hoi An, Nha Trang, and Phu Quoc.
If traveling from Cambodia to Vietnam by air, you can get flights from any of the three international airports in Cambodia, which take you to a huge number of airports in Vietnam, not just the six international airports. Prices do vary depending on the starting locations and destination airports, and can be as low as around US$ 50 for a single economy flight.
Conversely, traveling to Cambodia from Vietnam can be done from several airports across the country, and flights can be found to all three airports in Cambodia. Again, costs can vary depending on where your start and end locations are, but a simple economy flight from Ho Chi Minh City to Phnom Penh costs as little as US$ 44.
By Land
Traveling overland between Cambodia and Vietnam can be done at one of five border crossing points, including crossing the border by boat.
Bavet to Bai Moc is the oldest of all the border crossings between Cambodia and Vietnam, and is the most popular crossing point for foreign tourists. Close to both Phnom Penh and Ho Chi Minh City, it takes around six hours to cross from Phnom Penh to get to Ho Chi Minh. Buses run the route between the two cities that are relatively cheap.
The crossing points at Phnom Den / Tinh Bien, Prek Chak / Xa Xia, and Le Thanh / O Yadao are less used, and while open for foreign tourists to cross, are remote and out of the way for normal tourism. The only benefit here is the crossing point at Prek Chak and Xa Xia, which lies on the coast between the two countries, and is very close to the beautiful beaches of Sihanoukville.
The most delightful way to cross the border is by boat, and the Kaam Samnor to Ving Xuong crossing follows the Mekong River between Ho Chi Minh City and Phnom Penh. The luxurious river cruise takes around six to seven hours, and there is a regular service that runs several times a day. Immigration is done at the border on the riverbank, and the immigration officials board the boat to inspect visas and passports. For those with a sense of adventure, there is also a speedboat service that runs the same route, taking just four hours to make the crossing from Ho Chi Minh City to Phnom Penh.
Best Time to Go
When to go to these two beautiful countries is a question that is often asked, and one of the main concerns is usually the weather. But Vietnam and Cambodia are sub-tropical monsoon countries, so knowing which season is which is essential.
Best Time to Visit Vietnam
Vietnam has a varied climate, and being over 1,000 kilometers from north to south, has three separate micro-climates within the country. A great year-round destination, the country has a different place for each season. In the north, the best times are usually the shoulder seasons from February to April and August to October, while in the south March to June and September to October are the more favorable months. The peak season for tourism runs from October to February, and the weather is dry and cool, compared to the low season during the monsoon, when the weather is mainly hot, wet, and humid.
Best Time to Visit Cambodia
Cambodia has one of the simplest weather systems in the world, and the climate is the same across the country. The dry season in Cambodia runs from October to April while the wet season is from May to late September. March to April is the most humid and hottest time of year, and should really be avoided unless you like the intense heat. The monsoon from May to September is also not the best time to travel, as roads to the outlying areas can be drowned and muddy, making travel impossible. November to March is the most popular time, and the peak season for tourism, due to the clear skies, cooler weather, and bright days.
CONCLUSION
Using this information, you should have no trouble planning your Vietnam and Cambodia tours. Then you can spend your time instead planning the perfect vacation, rather than searching endlessly for visa information. We hope you have a great trip to the area!
Like this post? Why not share it on your Pinterest board? Just hover over the image on the left to pin.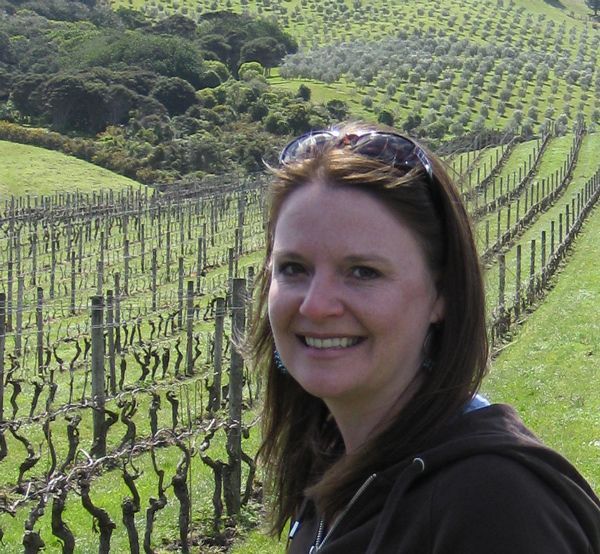 Laura Lynch, creator and writer of Savored Journeys, is an avid world traveler, certified wine expert, and international food specialist. She has written about travel and food for over 20 years and has visited 70+ countries.