Located just outside the city of Adelaide in South Australia is the wine region of Adelaide Hills. The region is most well known for its cool climate that leads to bright and acidic whites and light-bodied reds. If you're in the Adelaide area, it's incredibly easy to visit Adelaide Hills wineries and we highly recommend it.
Below we'll show you just how easy it is to visit Adelaide Hills, along with the wineries and experiences you can't miss while you're there. You might even be able to fit in some visits to McLaren Vale and Barossa wine regions while you're there.
About Adelaide Hills
Located just 30 minutes from Adelaide, the Adelaide Hills area is incredibly easy to get to, and is home to more than 60 cellar doors. You can expect to find cool-climate wines in the Adelaide Hills, particularly Sauvignon Blanc and Chardonnay, but even some exciting European varietals like Grüner Veltliner and Blaufränkisch.
Wine tasting in Adelaide Hills is simple. You don't typically need to make an advanced appointment for a tasting. You can show up anytime during opening hours and have a tasting. Many of the wineries offer tours, if planned in advance, plus extra activities like blending your own wine, wine classes, and food and wine pairings.
Getting around between them is easy as well. Below you'll find a map of all the wineries we mention in this post, so you can see how close together they are. It's very easy to complete the circuit of these wineries in one day of tasting.
» Looking for more Australia wine region information? We've been everywhere! Check out our guides to McLaren Vale, Adelaide Hills, Barossa, and Margaret River.
Adelaide Hills Wineries to Visit
We start our tour through the Adelaide Hills wineries at Hahndorf Hills. If you're looking for something a little different, this is the place to go. They specialize in European varietals. They've also been awarded with the Best Tasting Experience by Gourmet Traveller Wine.
The tasting bar is great for a quick stop, or you can sit down for a longer tasting with food in their lovely atrium room. They also have a chocolate and wine pairing experience.
The cellar door is open 7 days a week from 10am to 5pm.
Must Try:
Gru Gruner Veltliner – awarded 96 by James Halliday, once rated the best Gruner Veltliner outside of Austria.
The view at Shaw + Smith cannot be beat. Once you've found your way to the tasting room, you can sit either inside or out to enjoy the tasting flight of 5 wines. On a nice day, you simply can't beat the experience on the patio.
The diversity and altitude in the vineyards make a big difference in the expression of the wines and you can see those differences for yourself in the glass. They've planted varietals that perform well in the region, like Sauvignon Blanc, Chardonnay, Pinot Noir and Shiraz.
The cellar door is open 7 days a week, from 11am to 5pm.
Must Try:
Shaw + Smith Sauvignon Blanc – Well-balanced acidity and a crisp grapefruit and citrus palatte
The Lane Vineyard is probably one of the first wineries any local will think of when recommending wineries to stop at in Adelaide Hills. It's a beautiful location with views over the vineyards, the wine is fantastic, and the restaurant is the perfect place for a long lunch.
If you're just there for a tasting, you can belly up to the bar and taste through their line up, or you grab a glass and sit outside. We do highly recommend staying for lunch (see below).
Must Try:
Adelaide Hills Pinot Noir – we love the Pinot Noir here because it has a stronger, bolder profile than most of the pinot you'll come across.
Lunch at The Lane Vineyards
You can hang out at The Lane Vineyards at any time of the day with a glass of wine and some food pairings, but if you want to really experience what they do best, you have to stay for a long lunch.
The dining room is open every day except Tuesday. You can choose from the a la carte menu. I highly recommend the smoked jowl entree (pictured above) if it happens to be on the menu. It's incredible.
The team at Landhaus are committed to making only wines that they love to drink, which translates into a full lineup of fantastic wines, featuring grapes from both Adelaide Hills and Barossa Valley.
The cellar door, located in the town of Hahndorf, is open Thursday – Monday 11am-5pm. You can stop by for an impromptu tasting of their regular line of wines (they have a lot!). We thoroughly enjoyed our tasting with John, who spent quite a bit of time talking to us about the wines and styles.
Must Try:
Landhaus Classics Range Grenache – the vineyards in the Barossa Valley that supply the grapes for this wine are between 50-70 years old, producing a rich fruity profile with smooth tannin structure.
Landhaus Classics Range Mouvedre, Grenache, Shiraz – We tried a lot of GSM blends (or MGS in this case, but this one stands out for its powerful and full mouthfeel.
There are a few more wineries to visit in Adelaide Hills, but we think it's time instead for a beer! What better way to cleanse your palatte after a day of wine tasting than with a tasting paddle of beers. Prancing Pony isn't a far drive from the wineries, and it's a great place to end the day. There's tons of space inside and out. They have a full menu, as well.
Must Try:
Get a tasting tray, but make sure the India Red Ale is one of them!
Other Adelaide Hills Wineries to Try
Penfolds Magill Estate Cellar Door: 78 Penfold Rd, Magill. Open daily 9am-6pm. Plan Your Visit.
Bird in Hand: Bird In Hand Rd & Pfeiffer Rd, Woodside. Open daily 10am-5pm. Plan Your Visit.
Golding Wines: 52 Western Branch Rd, Lobethal. Open daily 11am-5pm (Sun 3:30pm). Plan Your Visit.
How to Get to Adelaide Hills
There are many wine regions in South Australia, and most of them surround the city of Adelaide, as does Adelaide Hills. It's about a 25 minute drive.
Flying into the Adelaide airport is super easy and you can rent a car from there to drive out to Adelaide Hills. If you're staying in Adelaide, it's incredibly easy to just take a jaunt out to the Hills for some tasting.
If you'd rather not drive yourself, you can hire a private driver for the day. We did a little of both. If you're going to drive, remember that the legal limit is .05, so you'll need to be sipping and spitting most of the wine you try.
If you want to hire a driver, I highly recommend calling John at Getaways SA. He was our driver for a day in Barossa and we found him to be very knowledgeable, helpful and accommodating. He recommended great wineries and had the schedule all laid out for us.
You're definitely in good hands with John. To book a tour, email book@getawayssa.com or call (08) 85 63 1000. They offer tours in all of the surrounding wine regions.
Where to Stay in Adelaide Hills]
It's very convenient to get from Adelaide out to the wineries, so I recommend staying in Adelaide. You'll have easy access to everything else the city has to offer that way. Our recommended hotel is the Intercontinental or the Hilton. Both are right downtown with easy walking distance to the best restaurants.
If you want to stay out in the countryside, near the wineries, then I suggest looking for accommodations in the Hahndorf area. Click here for recommendations for affordable luxury stays. There are quite a few really nice apartments and cottages to choose from.
Where to Eat in Adelaide Hills
The tricky thing about this area is that many of the restaurants are closed for dinner, and also during the week, and only open Friday and Saturday. Keep that in mind when booking. Despite that, there were some really nice places to eat.
Top Choices:
The Lane Vineyards Dining Room: 5 Ravenswood Lane, Hahndorf, South Australia 5245 Australia. The dining room is open Wednesday-Monday for lunch.
Penfold's Magill Estate Restaurant: 78 Penfolds Road, Adelaide, South Australia 5072 Australia. Open for lunch Friday and Saturday from 12pm and for dinner Wednesday to Saturday from 6.30pm.
Bird in Hand's Gallery Restaurant: Corner of Bird in Hand and Pfeiffer Roads, Woodside, South Australia 5244 Australia. Open seven days a week for lunch and Friday evenings for dinner.
Tours To Book:
CONCLUSION
We know you'll love Adelaide Hills and it's cool climate wines and generous hospitality. There's vineyards seem to spread out for eternity and the wines are free flowing.
We'd love to hear about your experiences at the wineries in Adelaide Hills. Leave us a comment below. We're also happy to answer any questions you may have about visiting there.
Like this post? Why not save it to your Pinterest board?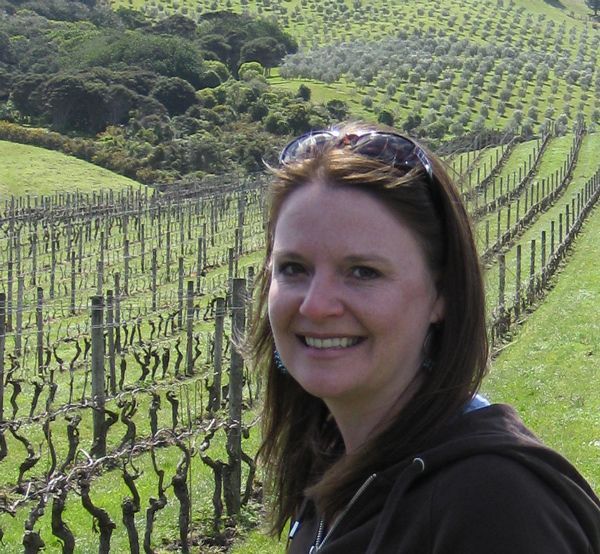 Laura Lynch, creator and writer of Savored Journeys, is an avid world traveler, certified wine expert, and international food specialist. She has written about travel and food for over 20 years and has visited over 75 countries.