The Barossa Valley is one of the most well known wine regions in Australia. As wine enthusiasts, we dreamed of visiting the Barossa Valley wineries for many years. The region is synonymous with Shiraz, being one of the best producers in the world of this grape varietal, and we were eager to test it out for ourselves.
A visit to the Barossa Valley Wineries will exceed your expectations. Even if you're only an occasional wine drinker, if you enjoy wine at all, you'll love the Barossa Valley. It's not just for wine lovers, though. And it's certainly not limited to Shiraz drinkers, either.
About Barossa Valley
Barossa Valley wineries produce many different varietals, including what quickly became our favorites of theirs – Grenache and Cabernet Sauvignon.
There are 80+ cellar doors and 150 wineries in the Barossa Valley, ranging from major production to small boutique wineries. There's even one producing wines from 160-year-old vines (and believe me, you don't want to miss it!
You'll find that wine tasting in Barossa Valley is very simple. It's similar to wineries in the United States in that you don't typically need to make an advanced appointment for a tasting. You can show up anytime during opening hours and walk right up for a tasting.
Many of the wineries offer tours if planned in advance and extra activities like blending your own wine, wine classes, and food and wine pairings.
Getting around between them is easy as well. Below you'll find a map of all the wineries we mention in this post, so you can see how close together they are. If you were to drive around to all of these eight wineries, it would only take 50 mins.
» Looking for more Australia wine region information? We've been everywhere! Check out our guides to McLaren Vale, Adelaide Hills, Barossa, and Margaret River.
Barossa Valley Wineries to Visit
One of the first things you'll learn about Barossa is that every winery has a story behind it. Chateau Tanunda has one of the best. First of all, the building is a sight to see. It's no wonder that it has such a great story behind it. It was built in the late 1880s and quickly became the largest wine-making facility in the Southern Hemisphere.
After a time, though, the building was abandoned and left to crumble. Luckily, in 1998, John Geber happened upon the derelict building and decided to purchase it on the spot. He restored it to its former glory and it's now a designated monument in Australia's Register of State Heritage Places.
The cellar door is open 7 days a week from 10am to 5pm. welcomes you in for a tasting of its standard line of wines, or for a seated tasting experience through the range of Old Vine Expression wines or Terroir of the Barossa wines.
Must Try:
Terroirs of the Barossa Greenock Shiraz – If you like a dark and rich full bodied wine, this Greenock Shiraz will knock your socks off. It comes from the western slopes, which produces some of the richest expressions of Shiraz in the valley.
50 Year Old Cabernet Sauvignon – This wine does a fantastic job of highlighting the fruit (from vines planted in the 1960s). It has notes of chocolate and vanilla under earthy black currant and savory spice.
Home of the world's oldest Shiraz vineyard, Langmeil Winery is absolutely the first I would recommend to visit. Not only is the wine some of the best in the valley, the experience and the history are unforgettable.
The winery is located within the restored stables of the original Langmeil village from 1842, which was one of the first settlements in the area. You can still see remnants of the old village as you walk through to the cellar door. It was the founder of Langmeil who planted the first Shiraz vines on the property that are still producing fruit today.
The cellar door is open 7 days a week, from 10:30am to 4:30pm. Once you enter the old stables, you can belly up to the tasting bar and work your way down their wine list, which includes a couple of whites, a rose, and quite a few reds.
Must Try:
Orphan Bank Shiraz – this wine is made from 10 rows of Shiraz vines that were planted before 1860 that were saved from destruction and replanted near the original Langmeil vines.
Jackaman's Cabernet Sauvignon – The vines used to make this wine were planted in the 1960s by Arthur Jackaman. The style is medium to full bodied, lots of deep blue fruits – blackberry and blueberry – with the hint of oak and silky finish.
Whistler Wines is a great spot for an afternoon picnic outside. They have a nice, sprawling lawn on which to relax. You don't even have to bring your own food, unless you want something more substantial than the typical meats and cheeses, which you can purchase from their pre-packaged supplies.
Pair the food with some of their fantastic (biodynamic and organic) wines and you have the prefect day. Plus, they have a kangaroo refuge near the winery.
The cellar door is open every day 10:30am to 5pm. They are very welcoming and helpful in the tasting room. Be prepared to love what you're tasting and want to take it all home with you. Their labels are fun and the names of their wines are even more fun.
Must Try:
Get in my Belly Grenache – If you like Pinot Noir, you'll love this light and fruity wine that is so light in color you won't recognize it as a Grenache. Super easy drinker
Thank God it's Friday Shiraz – Whenever wine has a distinct black pepper nose, I'm instantly in love. This wine is full of blackberry and pepper, yet it's still light and juicy.
Penfold's Barossa Valley Cellar Door
You've surely heard of Penfolds. It's one of the most recognized names in Australian wine. They have two cellar doors in the area – one in the Adelaide Hills wine region and one in Barossa. I used the photo above to show you that you get a two-fer by coming to Penfolds Barossa, because Barossa Distilling Company is right next door.
The cellar door is open 7 days a week from 9am to 5pm. You can stop by for an impromptu tasting of their regular line of wines. You can also book a tasting of their Grange line, or even book a blending experience where you get to try your hand at blending your own wine.
We stopped by for their wine blending experience, which is a fun change from the norm and is a pretty decent value. The experience includes a tasting of three types of wine – Shiraz, Grenache and Mataro (aka Mouvedre). From these three wines, you will form your own blend, based on Penfolds Bin 138.
It takes about an hour and a half to finish the blend and bottle your own 375ml bottle to take home. It cost $65 AUD.
Must Try:
Anything from the Grange collection – Did you know that a wine could be classified as a Heritage Icon? Well, these are. They are expensive wines, but well worth it.
St. Henri Shiraz – This wine consistently scores high with critics. It's a very well balanced and fruit forward Shiraz, but without the heavy oak profile. The minimal oak contact it receives allows the fruit to shine.
We liked all of the wines we tried at Elderton, which is a rarity, so we feel very confident in recommending it. The tasting room is new and bright, and the staff is very welcoming. They have a vineyard, just outside the tasting room, that dates back to 1894.
As with the other wineries on our list, you can walk in anytime and do a simple tasting of the wines the have open, which is usually around 10 or so.
They have a wide range including a few whites – Riesling, Semillon, Chardonnay, Rose, a few different Shirazs, Cabernet Sauvignon, Merlot and GSM. You can also book an "exceptional sites" tasting, or even a chocolate and wine or food and wine pairing experience.
Must Try:
Any of the estate family vineyards range, the Barossa GMS, Shiraz, Cabernet Sauvignon and Merlot – all of these wines are great. They do a great job of showcasing the different varietals and putting the grape first.
Barossa Rose – You won't often hear me recommend a Rose, but this one is pretty good. It isn't cloyingly sweet with too much strawberry, like many of the roses I've had. It's a dry style with just a hint of berry.
Another winery with a long history is Yalumba. You can see it clearly on display when you approach their tasting room and see the historic building and clock tower.
They are Australia's oldest family wine brand and their commitment to making exceptional wines has not faltered. They also have a cooperage on the property that you can sometimes see in action, if you stop by on the right day.
The cellar door is open every day from 10am to 5pm. You can just pop in for a tasting at the bar – they have many great wines you can taste through, or just pick you a few of your favorites. You can also order a cheese and meat platter to augment your tasting.
If you'd like a more immersive experience, they offer a variety of experiences where you can take a tour, learn more of the history, and taste the various ranges of wine.
Must Try:
Yalumba Carriage Block Grenache – This wine is made from grapes that were planted in 1954 and continue to be some of Yalumba's most celebrated. We really enjoyed the Grenache, and this one is a great.
Yalumba Organic Shiraz – If you're looking for a really good value and just a great Shiraz for everyday drinking, this is your wine.
If you're looking to try as many wines as possible while you're in the Barossa, you must make a stop at Artisans of Barossa. It's a collaborative space where six wineries share the tasting bench.
It's an excellent way to compare and contrast different styles of winemaking and expressions of the wine, back to back. They also have a kitchen, so you can stop by for lunch as well. Another plus – they're open until 6pm, an hour later than most of the cellar doors in Barossa.
The cellar door is open from 11am to 6pm every day. The small-batch producers you will find here are Hobbs of Barossa Ranges, John Duval Wines, Massena, Schwarz Wine Co., Sons of Eden, and Spinifex. They have a variety of different wines open every day for you to try.
Must Try:
Messena Howling Dog Saperavi – We like this wine so much because it's a completely different thing than is usually done in Barossa. The Saperavi grape comes from Georgia and takes on a different profile there than in the Barossa, so it's fascinating to try.
Sons of Eden Remus Shiraz – A lovely dark and brooding wine, with flavors of ripe blackberry and spices that wake up the palette. It has a smooth and tantilizing finish. And it can age for a long time so you can see how the fruit develops over time.
You're in for another history lesson at Rockford Wines. Not only will the grounds of the winery take you back to the days of the pioneers, but they still have vintage equipment from the early days in use at the winery.
You'll be tasting some of the wine made with the old basket press that you can see in the old barn that you pass on the way to the tasting room.
The cellar door is open 7 days a week from 11am to 5pm. It's a small tasting room, so be prepared for there to be a crowd if you go during the weekend. It's a very popular winery.
Must Try:
Rod & Spur Shiraz/Cabernet Sauvignon – The blend is just right for this wine – harkening back to the 50s and 60s when blending these two grapes was very popular – I can see why. It's destined to be popular once again.
Sparkling Black Shiraz – You have to try this wine at least once. It's a red shiraz, but it's a sparkling wine. You'll pretty much only find this wine in Barossa Valley. You'll have to decide for yourself if it's for you.
If you're visiting Rockford, you really should pop across the street and visit Charles Melton too. Their wines all have a theme, all based around the presence of an old church located at the front of the property.
Their wines range from a rose to a rich and full bodied GSM. They utilize the popular Grenache, Shiraz and Mouvedre alone and in the blend.
The cellar door is open from 11am-5pm daily. You can stop in any time to taste their their lineup of wines in the rustic farmhouse style setting. They also have an outdoor deck on which to enjoy a glass, plus a verandah where they serve small bites to pair with their wines.
Must Try:
Nine Popes GSM – it has smooth tannins and lingering red berry notes, but as it retails for around $84 AUD, so more of a special occasion wine than an every day drinker.
La Belle Mere is a nice substitute for the Nine Popes, also a GSM, but an every day drinker at around $26.
How to Get to Barossa Valley
There are many wine regions in South Australia, and most of them surround the city of Adelaide, as does Barossa Valley. In just over an hour, you can drive from the city to the heart of Barossa Valley. There are three towns that make up the bulk of the valley – Tanunda, Nariootpa, and Angaston. All are within 15 minutes of each other.
Flying into the Adelaide airport is super easy and you can rent a car from there to drive out to the Barossa. If you're staying in Adelaide, plan for a 1.5 hour drive. If you'd rather not drive yourself, you can hire a private driver for the day. We did a little of both.
If you're going to drive, remember that the legal limit is .05, so you'll need to be sipping and spitting most of the wine you try.
If you want to hire a driver, I highly recommend calling John at Getaways SA. He was our driver for a day in Barossa and we found him to be very knowledgeable, helpful and accommodating.
He recommended great wineries and had the schedule all laid out for us. You're definitely in good hands with John. To book a tour, email book@getawayssa.com or call (08) 85 63 1000.
Where to Stay in the Barossa Valley
There aren't a lot of hotels in Barossa. You certainly won't find any of the big chains. The best thing to do is to stay at a winery with a B&B or to get a cottage.
We stayed two nights at Mataro Cottage in Tanunda, which we booked through Booking.com – see it for yourself here. It was perfect for us. The house has 2 bedrooms with king beds and is updated in a high-end style, with everything you need for your stay (full kitchen, laundry facilities, outdoor seating). It was lovely. I highly recommend it.
Where to Eat in the Barossa Valley
The tricky thing about this area is that many of the restaurants are closed during the week and only open Friday and Saturday. Keep that in mind when booking. Despite that, there were some really nice places to eat.
My absolutely top pick restaurant in Barossa is FermentAsian. It's located in a house on the main street in Tanunda and the food simply can't be beat. We had the chef's tasting menu, which consisted of around 7 of their most popular dishes.
You can also order a la carte but if you have time, definitely get the tasting menu. Everything we had was incredibly good.
Address: 90 Murray Street Tanunda South Australia 5352
Hours: For lunch – Thursday to Sunday – noon-2.30 pm; For dinner – Wednesday to Saturday – 6-9.30 pm
If you're looking for somewhere to pick up some food supplies for a picnic, or to grab a quick bite to eat, Maggie Beer's is a farm shop that sells ready-made foods and all of their own products, like sauces and jams. You can pick up a quick lunch, or stay for a longer lunch in their restaurant. They also have daily cooking demonstrations.
Other Choices:
1918 Bistro & Grill: 94 Murray Street, Tanunda
Appellation At The Louise: 375 Seppeltsfield Road, Marananga
Artisans Of Barossa: Corner of Magnolia and Light Pass Roads, Tanunda
FINO Seppeltsfield: 730 Seppeltsfield Road, Seppeltsfield
Tours To Book:
CONCLUSION
We know you'll love the Barossa Valley. It's great for just about every type – whether you're there celebrating something, just to hang out with friends and have a nice time, or if you're a true wine connoisseur looking to discover the wines of Barossa.
We'd love to hear about your experiences at the wineries in Barossa Valley. Leave us a comment below. We're also happy to answer any questions you may have about visiting there.
Like this post? Why not save it to your Pinterest board?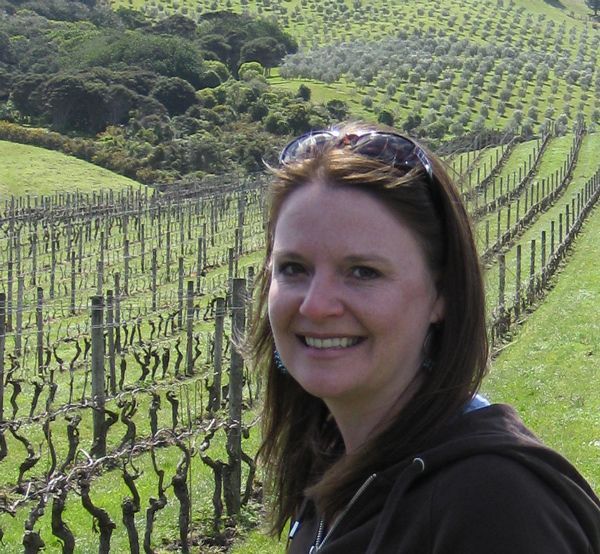 Laura Lynch, creator and writer of Savored Journeys, is an avid world traveler, certified wine expert, and international food specialist. She has written about travel and food for over 20 years and has visited over 75 countries.