Visiting Machu Picchu, the ancient Inca city, high up in the Andes of Peru, has always been at the very top of my travel list. Who wouldn't want to experience the almost mystical "Lost City of the Incas", situated so high up in the jagged Andes Mountains that it's unimaginable how it was even built, much less how they survived, and thrived, in such an isolated environment.
It holds the same mysterious appeal as far off ancient civilizations like Egypt and Jerusalem. Machu Picchu is, of course, a UNESCO World Heritage site. A trip to Machu Picchu is much more than just a vacation. It's a journey. There are many ways that this will be one of the most exciting and fulfilling journeys you'll ever embark upon.
» Start planning a trip today with this Perfect 10-Day Peru Itinerary: What to See & Do.
Planning your trip to Machu Picchu?
Where to Stay in Machu Picchu:
Belmond Sanctuary Lodge – The only hotel located right next to Machu Picchu. A great experience! Book on Expedia. Read more about it in this review.
Sumaq Machu Picchu – Located on the river at the base of Machu Picchu. Great location, great experience. Book on Expedia
Best Tours and Experiences in Machu Picchu
That's why we've put together these tips for visiting Machu Picchu. You'll likely fly into Lima from the U.S. and have an overnight stay in the capital city of Lima before going onward to Cuzcu. The stopover is a blessing, because once you reach Cuzco, you'll need time to acclimate to the altitude, and this task is harder while also dealing with jetlag.
Don't go in thinking that the journey to Machu Picchu will be an easy one. It can be a very tiring and long journey, all told, with flights, train, bus and walking distance. But don't be discouraged, because the end goal is well worth it.
Also be aware that the Machu Picchu park administration has made significant changes to the way they deal with tickets and visitors in 2023 moving forward for the preservation and conservation of this UNESCO World Heritage Site. If you've been before, things are different now. We'll explain the changes below.
» If you're planning to see other parts of the country, be sure to check out this backpacking travel guide to Peru for tips and inspiration.
Changes to Tourist Policy
Machu Picchu has new visiting rules starting in 2023, including the following:
The introduction of 5 different circuits to visit the Inca site.
There are only 4,500 tickets available per day for Machu Picchu.
All tourists must be led by a tour guide in order to preserve the site.
Tourist groups can have a maximum of 10 people per guide.
Reentry to the site is prohibited.
The guided tour duration is 2 hours in order to free up room for more groups.
Getting Tickets to Machu Picchu
Pro Tip: No tickets are sold at the entrance, so you must secure them in advance. If you're traveling during high season, I would purchase tickets a month or more in advance, to avoid disappointment.
You can buy tickets online through the official government website or authorized agencies, or you can opt for a tour package that includes entry fees (we recommend this one). As of 2023, tickets cost 152 soles ($40USD) for adults and 70 soles ($19USD) for children under 18. You'll be charged a %5 fee to book online.
When you buy the ticket, you'll choose a one-hour time slot to enter, say 9-10am, and you will have 2 hours to explore Machu Picchu with your guide. You can hire a guide at the entrance if you aren't with a group.
If you're looking to hike up Huayna Picchu or Machu Picchu Mountain (Montana), you'll need a special combination ticket that's 200 soles for adults (includes Machu Picchu ticket). The Montana ticket allows re-entry to the main citadel, while the Huayna Picchu one doesn't. If you want tickets for the Huayna Picchu mountain climb, try to buy them at least 3 months in advance because tickets are limited to 200 per day.
Machu Picchu Circuits
The Machu Picchu authorities have implemented specific circuits (or routes) for visitors to follow, aimed at safeguarding the archaeological site for years to come. The path you'll take depends on the type of ticket you purchase.
Options include a standard Machu Picchu ticket, as well as combo tickets that add on attractions like Huchuy Picchu or the Inca Bridge (same cost), Huayna Picchu Machu or Picchu Mountain (for an extra cost) .
Which Circuit is Best for First-Time Visitors?
We recommendation getting a 'Machu Picchu only' ticket and following Circuit 2. This route allows you to tour the upper and lower parts of the archaeological site and includes the main parts of the Inca citadel. It takes about 2 hours and 30 minutes. If this is a return trip, consider doing the 'Machupicchu with Huayna Picchu' ticket and taking Circuit 4. If you choose the Huayna Picchu tickets, you can only do Circuit 4.
Here is a really extensive guide on all the circuits if you're not sure which one to choose.
The Machu Picchu Experience – Start to Finish
Starting Out in Cuzco
Cuzco, a UNESCO World Heritage site, is a city located at just over 11,000 ft above sea level in the Peruvian Andes — once the capital of the Inca Empire. It is the main launching point for visits to Machu Picchu. And it's an authentic and vibrant city.
There is plenty to do in Cuzco, including hiking and adventure tours to nearby archeological ruins, such as the Sacred Valley of the Incas, and the Ollantaytambo ruins you'll find in the valley, learning about the culture and customs of the Incas, shoppping and exploring the ancient city, and dining on new and exciting local cuisine.
» Try this tour: If you're interested in spending more time in Cuzco and the surrounding area, book one of these tours with ExploorPeru.
» Read more about Cuzco.
Once you land in Cuzco, catch a bus or taxi to the town center and find your accommodations, you'll want to settle into a routine and get as much rest as possible in order to acclimate to the elevation.
If you're planning to hike the Inca trail to Machu Picchu, you'll need to arrive a few days in advance to prepare yourself. The elevation is no joke and symptoms can sneak up on you, so get plenty of rest and drink lots of water and the local remedy, Coca tea.
You can also get altitude sickness pills from your doctor before leaving home or from a local pharmacy, which will help. Really, the best way to acclimate is to slow down. Take it easy and build in time to relax.
» Read about what to eat while you're in Peru, land of delicious food!
Getting to Machu Picchu from Cuzco
There are several ways to get to Machu Picchu from Cuzco.
You can hike the Inca trail, following the route the Incas themselves took to reach the capital city. If you choose to hike, the trail is 26 miles long and trips range in length from one to four days, depending on what side trips are included. Only 200 visitors are allowed passes each day, so plan ahead, and be aware that this is a strenuous hike through a very mountainous region.
You can take the train.
You can go with a tour group.
The train is perhaps the easiest way of getting there. When I went, knowing that I didn't need to spend an enormous amount of time exploring, I chose the day trip option. The train leaves San Pedro station at 6:40am and takes about 3 hours to lumber up the mountain arriving at 10:52am in Aguas Calientes, the town at the base of Machu Picchu, where you'll catch the bus.
You'll arrive around 11am at Machu Picchu and have the entire day to explore before returning on the train to Cuzco in the late afternoon. If you're the type who likes to explore every nook and cranny, you may want to arrive in Aguas Calientes the night before and stay the night to get an early start up to the ruins, which open at 6am.
Another option is from Poroy station, which is a bit further north, which leaves at 6:40am and arrives at 9:54am.
Just be sure to plan ahead if you're visiting in high season, as tickets are limited and you wouldn't want to be disappointed after having traveled so far. Here's where to book the train tickets.
Arriving in Aguas Calientes
Once you've arrived in Aguas Calientes, the journey up to Machu Picchu begins. You'll need to catch a bus up to the top, which involves a whole lot of switchbacks and may not be pleasant for anyone who gets car sick. Another option is to walk up, but that is reserved for only the most fit, and it will take about an hour, while the bus takes only 20 minutes.
In high season (July & August), pre-book your bus trip, or risk waiting in an atrocious line (like 2-3 hours long) or being turned away altogether. Once you've reached the top, you can embark on a tour of the ancient city.
» Read more: "That Time We Had Machu Picchu (Almost) To Ourselves" by Television of Nomads
Book a Tour
What to See in Machu Picchu
NOTE: Be aware that there are no toilets in the historic area, so you should go before you enter (there's one at the gate). If you have to leave to use the bathroom, you will not be able to get back in! 
Machu Picchu Sanctuary is the designated area surrounding the famous Inca citadel of Machu Picchu in Peru. Nestled among the peaks of the Andes, this sanctuary serves as both a historical and a natural reserve, covering approximately 32,592 hectares.
It's not just the stone structures that captivate visitors; the surrounding cloud forest is a biological paradise, hosting a variety of flora and fauna that contribute to the area's unique biodiversity.
Though the main attraction is, of course, the ancient citadel itself, the surrounding area has a ton to explore. With the new circuits, you will be limited in what you can see based on which circuit you've chosen.
Circuit 1 allows you to visit the upper and lower parts of the archaeological site. This tour goes through the main buildings as well as the area of the terraces, plus the higher up terraces where you can get an iconic photo.
Circuit 2 includes the main buildings on the citadel, plus the upper and lower parts of the archaeological site.
Circuit 3 allows you to visit the lower main plaza of Machu Picchu, plus a visit to the Inka House, the Temple of the Sun, the Water Mirrors and the agricultural area.
Circuit 4 includes the lower main plaza of Machu Picchu, plus a visit to the Inka House, the Temple of the Sun, the Water Mirrors, the agricultural area, and the Sacred Rock.
Main Attractions
The Temple of the Sun: One of the most important structures, this rounded building served astronomical and religious purposes. You'll notice its intricate stonework, as well as windows perfectly aligned with the solstices.
Intihuatana Stone: Also known as the "Hitching Post of the Sun," this carved rock was used for astronomical observations. It's situated on a small hill and offers a panoramic view of the entire complex.
Room of the Three Windows: This structure, part of the Sacred Plaza, showcases the Inca's mastery of masonry with its trapezoidal windows and massive stones.
The Main Plaza: This central courtyard is surrounded by temples, residences, and storehouses. It was likely a social or ceremonial gathering place and offers some of the best photo ops.
Temple of the Condor: This fascinating temple is designed to represent a condor, a sacred bird in Inca culture. The stone "wings" and "head" are immediately recognizable, making it a must-see.
Agricultural Terraces: These are not just for show. The terraces were a functional part of Inca agriculture but now add to the breathtaking visual geometry of the site.
The Watchman's Hut: Right after you enter, you'll find this small structure offering a classic, postcard-worthy view of the whole Machu Picchu complex. Most people stop here first for that iconic photo.
Royal Tomb: Located near the Temple of the Sun, this area features a series of caves that were likely used for mummification or other ceremonial practices.
House of the High Priest: This is a two-story building that might have been the residence for the spiritual leader or high priest of Machu Picchu.
Temple of the Three Doors: Another part of the Sacred Plaza, this temple features a three-door entrance and showcases fine Inca craftsmanship.
Just remember, Machu Picchu isn't just about ticking off the major sights; it's about taking in the atmosphere and pondering the mysteries.
Where to Stay in Cusco
Cuzco welcomes many visitors every year, so they know how to do it right. You have a tremendous amount of choices for where to stay in this lovely city, including some pretty nice hostels. However, our days of hosteling are over, so we're looking for an affordable luxury stay in Cuzco.
Here are our top choices, all right in the center of town for easy walking to the square, the market, and the bus/train station. You can check out prices, read reviews, or book directly through the links below.
JW Marriott El Convento – this is a beautiful property really close to the main square and cathedral – Check prices on Expedia | Read reviews on TripAdvisor.
Palacio del Inka – This is a Luxury Collection Hotel. It's in the perfect location, and it's very beautiful inside, with incredibly comfortable beds – Check prices on Expedia | Read reviews on TripAdvisor.
Where to Stay Near Machu Picchu
There are quite a few advantages to staying near Machu Picchu. You'll have more time to explore and look around, and you'll beat the crowds who are coming from Cuzco. Take advantage of this by booking a room for a night or two.
We recommend the following nearby hotels. If you're adopting a "once-in-a-lifetime-experience" attitude about your trip to Machu Picchu, then you should stay at one of these two hotels:
Belmond Sanctuary Lodge – The only hotel located right next to Machu Picchu. A great experience! Book on Expedia. Read more about it in this review.
Sumaq Machu Picchu – Located on the river at the base of Machu Picchu. Great location, great experience. Book on Expedia
These are equally great hotels, but you won't have to spend quite as much:
Casa del Sol Machu Picchu – Beautiful property, very close to the train station Book on Expedia
Inkaterra – Hotel offers eco tours. Breakfast and dinner are included in the price Book on Expedia
Pro Tip: If you choose a hotel near the train tracks (which is most of them) be sure to ask for a room on the opposite side of the hotel from the train, or you'll hear and feel the trains lumbering buy until the early morning.
Useful Tips for Visiting Machu Picchu
Here are some useful tips and things to expect once you arrive at Machu Picchu:
Pack a sweater and/or rain jacket. The weather can change quickly from sunshine to fog, wind and rain.
You technically can't take drinks or food into the site, but do take water and a snack in your bag anyway. They often don't check your pack.
Plan to skip lunch. Eat a big breakfast so you can avoid eating an expensive lunch on site or wasting time going back to Aguas Calientes in the middle of your day.
Buy your train tickets and Machu Picchu tickets in advance online to avoid disappointment, especially during high season (April – August).
You can get your passport stamped at the tourist office once you arrive at Machu Picchu, not far from where the bus drops off.
Don't underestimate altitude sickness. Take it easy, don't overexert yourself.
Frequently Asked Questions
Can you visit Machu Picchu on your own?
Yes, it is possible to visit Machu Picchu on your own. While having a guided tour to enter Machu Picchu is not mandatory, it's highly recommended. Guides provide valuable insights into the history and significance of the site. Guided tours can be arranged in advance or hired on the spot at the entrance. Remember to purchase your tickets in advance and check current rules and regulations, as respect for the environment and historical site is essential.
How many days do you need to visit Machu Picchu?
Ultimately, the duration of your visit to Machu Picchu depends on your interests, the type of experience you want, and how much time you have available. Remember that it's a UNESCO World Heritage site, and many visitors find that spending more time in the area allows for a richer and more enjoyable experience. That being said, most visitors go for just one day.
How difficult is it to visit Machu Picchu?
Visiting Machu Picchu can be as easy or as challenging as you choose to make it. You can choose train and bus transportation if you prefer a more comfortable and straightforward experience. However, if you enjoy trekking and are physically prepared, you can choose one of the trekking routes. Regardless of your choice, it's essential to plan ahead, be aware of the altitude.
What is the best month to go to Machu Picchu?
If you prioritize good weather and are okay with crowds, the dry season from May to September is the best bet for your trip. However, if you prefer quieter visits, you might consider the shoulder or rainy seasons if you're prepared for wetter conditions. Keep in mind that weather patterns can vary from year to year, so it's a good idea to check the latest weather forecasts and travel advisories before planning your trip.
Visiting Sacred Valley, Peru
Most visitors to Cusco and Machu Picchu like to also visit the Sacred Valley on their trip. It's an essential experience if you're intrigued by Inca history or just looking to witness some of the most stunning landscapes in Peru.
The Sacred Valley of the Incas is located in the Andean Highlands of Peru, not far from the ancient city of Cusco. This valley stretches approximately 60 kilometers and is framed by steep, terraced mountains.
It's a region rich in history and culture, dotted with archaeological sites like Ollantaytambo, a well-preserved Inca urban center with a massive fortress with huge stone terraces, and Pisac, known for its impressive Inca ruins and vibrant market..
Getting to the Sacred Valley from Cusco is fairly straightforward. You've got several options: you could go by taxi, take a colectivo (shared van), or opt for a guided tour. Taxis offer the most flexibility, but colectivos are more budget-friendly. Guided tours usually provide comprehensive packages including transportation, guides, and sometimes meals.
Conclusion
Traveling in Peru is a very rewarding experience, and getting the opportunity to see Machu Picchu is one of the highlights. Take your time, look around, discover something new. Most of all, have fun!
Like this post? Why not save it on your Pinterest board?
Quick. Check these necessities off your prep list!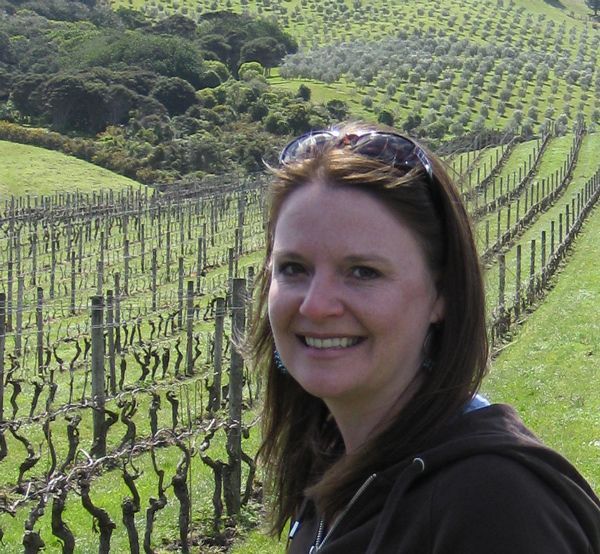 Laura Lynch, creator and writer of Savored Journeys, is an avid world traveler, certified wine expert, and international food specialist. She has written about travel and food for over 20 years and has visited over 75 countries.