Visiting Machu Picchu, the ancient Inca city, high up in the Andes of Peru, has always been at the very top of my travel list. Who wouldn't want to experience the almost mystical "Lost City of the Incas", situated so high up in the jagged Andes Mountains that it's unimaginable how it was even built, much less how they survived, and thrived, in such an isolated environment.
It holds the same mysterious appeal as far off ancient civilizations like Egypt and Jerusalem. Machu Picchu is, of course, a UNESCO World Heritage site. A trip to Machu Picchu is much more than just a vacation. It's a journey. There are many ways that this will be one of the most exciting and fulfilling journeys you'll ever embark upon.
» Start planning a trip today with this Perfect 10-Day Peru Itinerary: What to See & Do.
That's why we've put together these tips for visiting Machu Picchu. You'll likely fly into Lima from the U.S. and have an overnight stay in the capital city of Lima before going onward to Cuzcu. The stopover is a blessing, because once you reach Cuzco, you'll need time to acclimate to the altitude, and this task is harder while also dealing with jetlag.
Don't go in thinking that the journey to Machu Picchu will be an easy one. It can be a very tiring and long journey, all told, with flights, train, bus and walking distance. But don't be discouraged, because the end goal is well worth it.
» If you're planning to see other parts of the country, be sure to check out this backpacking travel guide to Peru for tips and inspiration.
Starting out in Cuzco
Cuzco, a UNESCO World Heritage site, is a city located at just over 11,000 ft above sea level in the Peruvian Andes — once the capital of the Inca Empire. It is the main launching point for visits to Machu Picchu. And it's an authentic and vibrant city.
There is plenty to do in Cuzco, including hiking and adventure tours to nearby archeological ruins, such as the Sacred Valley of the Incas, and the Ollantaytambo ruins you'll find in the valley, learning about the culture and customs of the Incas, shoppping and exploring the ancient city, and dining on new and exciting local cuisine.
» Read more about Cuzco.
Once you land in Cuzco, catch a bus or taxi to the town center and find your accommodations, you'll want to settle into a routine and get as much rest as possible in order to acclimate to the elevation.
If you're planning to hike the Inca trail to Machu Picchu, you'll need to arrive a few days in advance to prepare yourself. The elevation is no joke and symptoms can sneak up on you, so get plenty of rest and drink lots of water and the local remedy, Coca tea.
» Read about what to eat while you're in Peru, land of delicious food!
You can also get altitude sickness pills from your doctor before leaving home or from a local pharmacy, which will help. Really, the best way to acclimate is to slow down. Take it easy and build in time to relax.
While you can spend lots of time hanging around Cuzco, the point of this trip is to visit Machu Picchu, so make your way to the Tourist office to buy entry tickets and train tickets as soon as possible. In shoulder or low season, a day or so in advance is fine.
Pro Tip: No tickets are sold at the entrance, so you must secure them in advance.
If you're traveling during high season, I would even purchase tickets weeks in advance, to avoid disappointment. The number of tickets sold per day is limited, so to be sure you get one, pre-planning is essential!
The best way to purchase tickets is online. Go to this website, put in your date and check availability. If there are tickets available, you will be given time choices for when to enter (and it tells you how many tickets are still available for that time). The tickets are about $37 for adults.
Where to Stay in Cuzco
Cuzco welcomes many visitors every year, so they know how to do it right. You have a tremendous amount of choices for where to stay in this lovely city, including some pretty nice hostels. However, our days of hosteling are over, so we're looking for an affordable luxury stay in Cuzco.
Here are our top choices, all right in the center of town for easy walking to the square, the market, and the bus/train station. You can check out prices, read reviews, or book directly through the links below.
Getting to Machu Picchu from Cuzco
There are several ways to get to Machu Picchu from Cuzco.
You can hike the Inca trail, following the path the Incas themselves took to reach the capital city. If you choose to hike, the trail is 26 miles long and trips range in length from one to four days, depending on what side trips are included. Only 200 visitors are allowed passes each day, so plan ahead, and be aware that this is a strenuous hike through a very mountainous region.
You can take the train.
You can go with a tour group.
The train is perhaps the easiest way of getting there. When I went, knowing that I didn't need to spend an enormous amount of time exploring, I chose the day trip option. The train leaves at 6:40am and takes about 3 hours to lumber up the mountain to Aguas Calientes, the town at the base of Machu Picchu, where you'll catch the bus.
With this option, you'll arrive around 11am at Machu Picchu and have the entire day to explore before returning on the train to Cuzco in the late afternoon. If you're the type who likes to explore every nook and cranny, you may want to arrive in Aguas Calientes the night before and stay the night to get an early start up to the ruins, which open at 5:30am.
Just be sure to plan ahead if you're visiting in high season, as tickets are limited and you wouldn't want to be disappointed after having traveled so far.
Arriving in Aguas Calientes
Once you've arrived in Aguas Calientes, the journey up to Machu Picchu begins. You'll need to catch a bus up to the top, which involves a whole lot of switchbacks and may not be pleasant for anyone who gets car sick. Another option is to walk up, but that is reserved for only the most fit, and it will take about an hour, while the bus takes only 20 minutes.
In high season (July & August), pre-book your bus trip, or risk waiting in an atrocious line (like 2-3 hours long) or being turned away altogether. Once you've reached the top, you can embark on a tour of the ancient city by yourself using a map for guidance, or you can pay for a guided tour.
Guides cost around $20 for a couple hour tour, or you can hire a personal guide to walk through the ruins with you.
Touring Machu Picchu
I did the tour by myself and was glad to have the opportunity to go into spaces where there were no large tour groups, away from the noise and distractions that cloud the experience. I visited during the shoulder season in February, which I highly recommend because there are less crowds to contend with.
Other good times to go include April, May, June, late September and October. In February, I was able to snap photos that no one else was in. Not only did I get unobstructed photos, I enjoyed the surroundings more without having to listen closely to a tour guide.
» Read more: "That Time We Had Machu Picchu (Almost) To Ourselves" by Television of Nomads
How Much Time To Spend
I found that 3-4 hours was enough time on the mountain to explore and photograph the ancient city. Since food isn't allowed in, and any food available to buy on-site is expensive, after we felt we'd seen and done everything we wanted, we headed back down to Aguas Calientes for a meal before the train trip back to Cuzco.
If you choose to stay near Machu Picchu rather than heading back to Cuzco, you'll have a lot more time to explore and take your time.
Where to Stay Near Machu Picchu
There are quite a few advantages to staying near Machu Picchu. You'll have more time to explore and look around, and you'll beat the crowds who are coming from Cuzco. Take advantage of this by booking a room for a night or two.
We recommend the following nearby hotels. If you're adopting a "once-in-a-lifetime-experience" attitude about your trip to Machu Picchu, then you should stay at one of these two hotels:
Belmond Sanctuary Lodge – The only hotel located right next to Machu Picchu. A great experience! Book on Expedia. Read more about it in this review.
Sumaq Machu Picchu – Located on the river at the base of Machu Picchu. Great location, great experience. Book on Expedia
These are equally great hotels, but you won't have to spend quite as much:
Casa del Sol Machu Picchu – Beautiful property, very close to the train station Book on Expedia
Inkaterra – Hotel offers eco tours. Breakfast and dinner are included in the price Book on Expedia
Pro Tip: If you choose a hotel near the train tracks (which is most of them) be sure to ask for a room on the opposite side of the hotel from the train, or you'll hear and feel the trains lumbering buy until the early morning.
Useful Tips for Visiting Machu Picchu
Here are some useful tips and things to expect once you arrive at Machu Picchu:
Pack a sweater and/or rain jacket. The weather can change quickly from sunshine to fog, wind and rain.
You technically can't take drinks or food into the site, but do take water and a snack in your bag anyway. They often don't check your pack.
Plan to skip lunch. Eat a big breakfast so you can avoid eating an expensive lunch on site or wasting time going back to Aguas Calientes in the middle of your day.
Buy your train tickets and Machu Picchu tickets in advance online to avoid disappointment, especially during high season (April – August).
You can get your passport stamped at the tourist office once you arrive at Machu Picchu, not far from where the bus drops off.
Don't underestimate altitude sickness. Take it easy, don't overexert yourself.
Conclusion
Traveling in Peru is a very rewarding experience, and getting the opportunity to see Machu Picchu is one of the highlights. Take your time, look around, discover something new. Most of all, have fun!
Like this post? Why not save it on your Pinterest board?
Quick. Check these necessities off your prep list!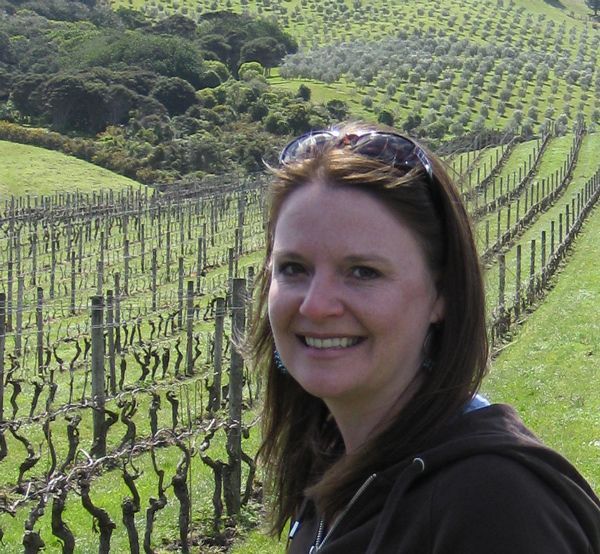 Laura Lynch, creator and writer of Savored Journeys, is an avid world traveler, certified wine expert, and international food specialist. She has written about travel and food for over 20 years and has visited 70+ countries.