Did you know that there are around 40 sake breweries to visit in Nada district of Kobe in Japan? When we learned this fact, and realized that Kobe is only a short 30-minute train ride from Osaka, visiting sake breweries in Nada became a must-do part of our Japan itinerary.
With so many breweries located within walking distance of each other, visiting the sake breweries in Nada is a fun (and easy) way to spend a day. The Nada district breweries produce nearly 30 percent of Japan's sake. A specially grown rice and the mineral-rich mountain water around Nada make it a great place to produce quality sake.
A few of the most popular of the Nada breweries open their doors to the public for tastings and to view the traditional method of brewing this popular drink. Some also have museums and tours and they are free to visit. The best part about visiting Nada sake breweries is that you don't need to make an appointment in advance.
Japan Itineraries
If you have longer to spend in Japan, you can expand this itinerary to any length you wish.
How to Visit Sake Breweries
The tasting rooms are open from 10am to at least 4pm most days of the year so you can just walk in and taste their sake whenever you want (though you usually do have to book in advance for a tour).
Depending on which sake brewieries you choose to visit, you can get off the train at a nearby stop and walk around from there. For instance, the Hakutsuru Sake Brewery Museum is just a five-minute walk from Sumiyoshi Station on the Hanshin Railways Line.
If you're staying in Osaka, you can take the Hanshin Railways Line to this stop. The train is included in the Japan Rail Pass, if you have one. If you don't know about it yet, check it out in our guide on where to buy the Japan Rail Pass and whether it's worth it or not.
Which Breweries to Visit
Here is a fantastic map of the area that we found really helpful for deciding on our route and which breweries to visit. Below is our suggested route, which takes about 3 hours to complete. You can always add, change, or remove breweries as you wish.
From the Hanshin Railways Line, we got off at Uozaki station and walked south. We visited the breweries in this order:
Hamafukutsuru Ginjo Brewery
Sakuramasamune
Kikumasamune Sake Museum
Hakutsuru Sake Brewery
Altogether, it was about 1.5 miles of walking on flat, paved streets.
Make a Day of It
If you want to make a day of it, I suggest going to a Kobe beef restaurant for lunch or for dinner, either before or after your touring. We opted for lunch, so we could fully enjoy it before tasting a bunch of sake. We chose a chain called Ishida that garners almost a full 5-star review on Trip Advisor.
There are many to choose from. We went to the one at 1-2-4 Nakayamate-Dori, because it was very close to the train and easy to get to. Read about our unforgettable Kobe beef experience.
Nada Sake Breweries to Visit
Hamafukutsuru Ginjo Brewery
The brewery has a large storeroom with all kinds of sake and gifts to purchase. At the back to the store is a tasting area where you can try for free many of the types of sake they produce, or you can pay for a tasting that includes 3-4 other options. They produce some of the best ginjo sake.
Upstairs is a self-guided production tour where you can also see the brewery production area. The information plaques are in Japanese, but you can still see the process.
Hours: 10:00 to 17:00
Closed: Mondays (following day if Monday is a national holiday), Obon and New Year holidays
Website
Sakuramasamune Sake Brewery
Sakuramasamune is one of the only locations that has a cafe where you can stop and rest for a little bit, and maybe get something to eat. On one side of the building is the cafe, and on the other is the shop and sake tasting bar. Such great deals to be had here!
Hours: 10:00 to 19:00
Closed: Tuesdays
Website
Kikumasamune Sake Museum
When you walk into this brewery, you'll immediately see the racks of brochures in many different languages that will be helpful to understanding the process and learning about the brewery. There is also a very nicely done video in different languages that you can watch and learn a bit from.
On the left is a large museum space full of brewing tools and equipment. And on the right is a large store and tasting bar.
Hours: 9:30 to 16:30 (admissions until 16:00)
Closed: New Year holidays
Website
Hakutsuru Sake Brewery
Hakutsuru is Japan's largest sake brewing company, so you've likely already tried it. They have a nice museum upstairs with full-size replicas of the brewing process and videos along the way that you can watch in English or Japanese.
Back downstairs, you can try many of their different sakes, shop for gifts and sake, and even sit and enjoy some sake ice cream.
Hours: 9:30 to 16:30 (entry until 16:00)
Closed: Obon and New Year holidays
Website
Take a Japan Guided Tour
If you're thinking about visiting Japan, but don't know where to start planning, I recommend looking into a guided tour with Japan and More. They offer a fully escorted 8-day Intro to Japan Tour that's perfect for experiencing the best of Japan. The itinerary covers Tokyo, Osaka, Kyoto, and Nagoya, plus the mountain village of Takayama.
The cost of the tour includes all accommodations, transportation, entrance fees, some meals, and pre-departure help and advice. The tour group is small, at just 8 people, so you won't feel like you're stuck on a bus or anything. They actually have three different tours that depart throughout the year.
CONCLUSION
We had such a great time walking around to the sake breweries and trying some of the famous brands that come out of Japan. It's easy to do, and walking between each gives you a chance to see the small district of Nada and enjoy a (hopefully) nice day outside.
Like this post? Why not save it to Pinterest?
FOLLOW US on Pinterest, Instagram, Facebook for more great travel inspiration and tips.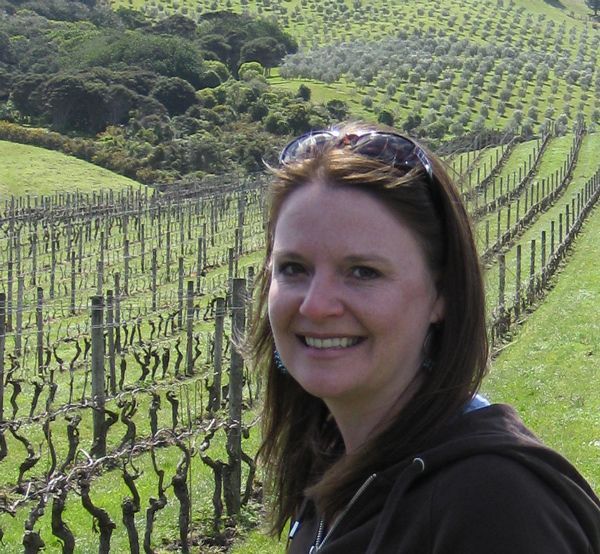 Laura Lynch, creator and writer of Savored Journeys, is an avid world traveler, certified wine expert, and international food specialist. She has written about travel and food for over 20 years and has visited over 75 countries.