After spending a few days touring around Havana, Cuba's largest city, we were ready to see some of the beautiful countryside we'd heard so much about. From Havana to Vinales Valley is a perfect day trip, and it enabled us to see what life was like outside the city in Cuba. The Valle de Vinales is one of the most picturesque places to visit in Cuba, and that's saying a lot. Plus, it's really easy to take a Havana to Vinales day trip.
Planning a trip to Cuba? Check out our comprehensive guide on traveling to Cuba for Americans.
⇒ Traveling to Cuba can be really overwhelming.
ViaHero
makes the process easy by having a Cuban local plan your trip – and make sure you're traveling legally. Let a ViaHero local help you find authentic experiences in Cuba. Use the coupon code 
SAVOREDCUBA
for a 5% discount at checkout.
Click to learn more about Viahero
Since we didn't have an abundance of time in Cuba to drive from town to town, as many people do, we wanted to stay close to Havana and take day trips outside the city instead. There are a number of great Cuba tour companies who can set up a private tour for you, so you can personalize every part of your day and make sure you're getting the most of your time. We highly recommend Havana Journeys.
We booked two tours – a Havana city tour and the day trip to Vinales. We had the same tour guide and driver both days and they were very professional and knowledgeable.
⇒ You can book these tours yourself before you go online. Here are the links to check them out: Havana city tour  |  Day trip to Vinales.
For our Havana to Vinales day trip, we were picked at at 8am at our apartment in Havana. If you're a fan of the old classic American cars, you will be in for a treat, because you will have the pleasure of riding in one for the duration of the tour. This was our car – a true beauty!
The trip to Vinales takes about 3 hours. You can catch a little nap on the way, or keep your eyes trained on the road to see varying forms of transportation pass you by. All along the way you pass through beautiful countryside and farmland. It's a great introduction to the non-city way of life in Havana, which actually makes up the majority of the country.
While a day trip suited our plans well, you might want to stay in Vinales for longer and truly get to explore the countryside and its many splendors. If you do plan to stay overnight, the best place to stay is in a private home. Learn how to find a good Casa Particulares.
There are a lot more things you can do in the area than you could possibly cover in one day. If you want to stay longer, check out this post from See Her Travel on staying in Vinales.
As you get closer to Vinales, you'll start to see the low mountain ranges of the Cordillera de Guaniguanico. The Viñales Valley has been listed as a UNESCO World Heritage Site and you quickly see why as you approach. The mountains are called mogotes, which means "haystacks." You can see why they're called that…
Not only are they exceptionally rugged and towering, they are one of the main attractions of the area for tourists because as the original limestone has eroded away, caves have formed in the mountainsides, many of which have been developed for tourism.
These caves (Cueva del Indio, Cueva de José Miguel, Cueva de Santo Tomás) allow tourist to walk and boat through them to see the stalagmite and stalactite formations that have formed within, or to do some real caving with a professional guide. We went inside Cueva del Indio and enjoyed the short walk and boat ride, though we all agreed it's sad that we turn natural sites like this into tourist destinations.
After seeing the caves, we were taken to one of the area's tobacco farms, where they showed us how they harvest tobacco, dry it and roll it into cigars. I'm not a cigar smoker, but Nick is, and he enjoyed the presentation and smoking one of the cigars from the farm.
Another popular activity to do in Vinales is horseback riding. I haven't ridden a horse in about 25 years. I stopped riding when I learned I was allergic to horse dander. Vinales is so beautiful that we didn't want to pass up the opportunity to ride through the countryside, so I loaded up on allergy meds and we headed out on our two faithful horses.
They walked us through newly sprouting tobacco and black bean fields and through the tobacco farm property to another cave, where we were led through with flashlights. The cave was really narrow, so we had to squeeze our way through. It felt more like a passage way than a cave, but it was really interesting to see.
After the cave, our horses took us to a little rum and coffee production area of the farm. Apparently this farm does all kinds of things! We watched them grind some coffee beans and then sat down for a tropical rum drink. Watch out! They let us pour our own rum!!
That was the final stop on our horseback riding journey. I think the horses were ready to not be carrying our fat butts around any longer. And we were certainly ready to get off the hard saddle. Next stop was lunch, and as it was already nearing 3pm, we were definitely ready to eat.
The best part about a private tour is the guide chooses the lunch spot based on your preferences and their own connections, so there's no research to be done, which is a huge win for me, because I've been known to spend days choosing one lunch spot for our trips. We'd already had a fantastic introduction to Cuban food in Havana and were really looking forward to what we would taste in the countryside.
We were taken to El Campesino, which is a restaurant built in the backyard of a private house, like all paladares in Cuba. Paladars are the way to go when eating in Cuba. They are privately-owned restaurants, not run by the government, which generally ensures a higher quality experience.
Our lunch at El Campesino was one of the best we had in Cuba. Most meals you order in Cuba come with a huge bowl of black beans and rice and probably also a plate of fresh fruits or vegetables. Our lunch here included a giant bowl of soup to start, the rice and beans, another large plate of special pineapple rice, a salad plate and a fruit plate, in addition to our entrees. We ordered the grilled lobster and the fried chicken. The total price with drinks was $35. Best value lunch ever. Plus it was incredibly good.
Following lunch, we were completely tuckered out and ready to start the 3-hour journey back home. As we drove up the hillside to get back to the main highway, we stopped off at Hotel Cubanacán Los Jazmines for a panoramic view of the valley.
This hotel has the best view in the valley, along with a stunning pool that overlooks the valley. We would have stayed there if we were staying the night. You can also just pay for a day at their pool if you don't want to stay. Read more about it, plus other things to do if you're staying over.
Vinales Cuba Hotels
As we mentioned, a day trip from Havana to Vinales is very easy to make, but it does involved a lot of driving to get to and from. If you don't want to do it all in one day, you can stay overnight at one of these Vinales hotels. Keep in mind that most of the hotels in Vinales are basic 2-star guestrooms with no frills. Set your expectations properly if you plan to stay there. (Note: Americans are not allowed to stay in hotels in Cuba. Get a Casa Particulares, instead. Read more here.)
Hotel Los Jazmines
4-star hotel in the middle of the countryside with a gorgeous view and a lovely outdoor pool.
Villa El Habano
2-star guesthouse in Vinales with two guestrooms and an outdoor terrace.
We loved our Havana to Vinales day trip and would recommend this side trip to anyone who's visiting Cuba. It's good to see what the rest of the Cuba countryside is like if you're just staying in Havana or the beach areas of Cuba.
Have you been to the Valley de Vinales?  What activities did you do there that you really enjoyed? Share it with us in the comments.
Like this post? Why not share it on Pinterest with this image?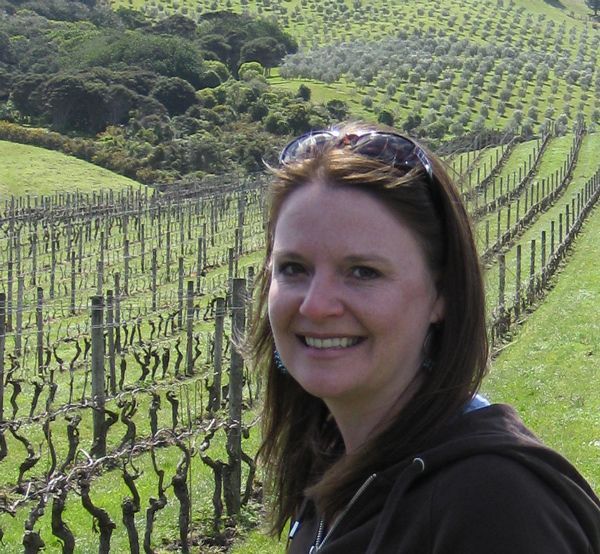 Laura Lynch, creator and writer of Savored Journeys, is an avid world traveler, certified wine expert, and international food specialist. She has written about travel and food for over 20 years and has visited 70+ countries.