This is part of a blog series called "Cool Things I've Done on Vacation", an exploration of the greatest moments I've had while traveling the world. Other posts in this series will be added soon!
If you've been to New Zealand, you've probably heard of the Waitomo Glowworm Caves. It's an attraction on the North Island of New Zealand, known for its population of glowworms, or Arachnocampa luminosa, which are found only in New Zealand. At the Waitomo Glowworm Caves, you board a small boat and get up close and personal with thousands of bugs.
I'm not entire sure how I talked myself into this activity. Being inside an enclosed space with thousands of bugs isn't an idea I cherish, especially since the glowworm isn't a particularly attractive bug, but I decided not to let that deter me, and I'm really glad, because floating through the glowworm cave was one of the coolest things I've done on vacation.
Imagine floating silently along on the slow-moving current, though a pitch-black cave, with thousands of glowing lights sparking above your head like a million stars at night. Don't worry, the ceiling is at least 10-feet above your head, so there's no chance of a too-close encounter with a glowworm web. All you can really see is the illumination of the glowworms. The cave in the grotto is completely dark, with no light entering. That's probably why the glowworms like it there so much.
The glowworm might not be an attractive bug, but it is an interesting one. It's part of the gnat family and its lifespan is rather short. The eggs hatch into a larva — the stage where the insect spends the majority of its life (about 6-12 months). According to Wikipedia, "During this stage, it spins a nest out of silk on the ceiling of the cave and then hangs down as many as 70 threads of silk (called snares) from around the nest, each up to 30 or 40cm long and holding droplets of mucus." The glowing occurs as a way for the larva to attract prey into the snare. A hungry larva glows brighter than one which has just eaten. Once the larva transforms into an adult, it uses its illumination skills to attract a mate. And the cycle continues.
If you're afraid of the dark, this might not be the tour for you! But if you can handle not knowing what's happening around you and allow the tour guide to weave you through the cave, then you'll be rewarded with one of the coolest experiences ever.
Of course, the glowworms are a fickle creature, like most, and it prefers its habitat to be quiet and light-free, so taking photos inside the cave is prohibited. Some people try their luck with no flash, using high ISO settings and wide aperture. I'm not very good it, so I've left the photography up to others who were able to get decent pictures of the glowworms. The most important thing is not to disturb the glowworms. It's their world and we're just visiting.
The Waitomo Glowworm Caves were first explored in 1887 by local Maori Chief Tane Tinorau and English surveyor Fred Mace. They knew the cave existed, but no one had gone in before, so they crafted a makeshift boat and used candlelight to light their way into the unknown. It wasn't long before they found the glowworm grotto and recognized an opportunity. The Waitomo caves have been open to tourists ever since.
Visiting the Waitomo Glowworm Caves
Visiting the caves is easy. Tours are given every half hour daily from 9am-5pm and take about 45 minutes. They'll give you some minor instructions, then lead you down to the entrance of the cave and into an awaiting boat. Then you'll spend the next 30 minutes floating quietly through the cave, admiring the handiwork of the glowworm before drifting out the other side and back onto dry land. The cost is $49 ($31USD) for adults and $21.50 ($14USD) for children.
If you're up for another adventure, you can combine the glowworm experience with a tour through the Aranui cave for and additional $22NZD, plus the Ruakuri cave for $44NZD. Or, if you're up for something entirely different, you can join a black-water rafting trip through the Ruakuri cave, where you'll have the chance to "abseil, weave, jump, climb, and float through a glowworm-studded subterranean wonderland at Waitomo Caves".
Aranui Cave
We chose to add the Aranui cave, which was also quite exciting. The Aranui cave was formed by an earthquake that created a rift in the soil above, allowing rainwater to seek into the caves below and form stalactites, stalagmites, flowstones and other, colorful decorative formations. This cave is the smallest and it doesn't have a body of water inside, so you won't find any glowworms there, but it is most impressive cave at Waitomo. The tour of the Aranui cave takes about an hour and ends with a short walk through the forest.
Ruakuri Cave
The name means "dog den" in the Maori language. When the cave was discovered, it was being guarded by a pack of wild dogs that drove away the hunter who came across the cave. This cave boasts the longest guided underground walking tour in New Zealand and there's plenty to see. "Marvel at the softly folding shawl-like limestone formations and crystal tapestries. Hear the distant thunder of the subterranean waterfalls and get up close to the glowworms." The tour of Ruakuri takes about 2 hours, with 1.5 hours underground.
Black-Water Rafting
For the truly adventurous, a tour with the Black Water Rafting Company is probably more your speed. There are three different tours to choose from, and each includes different activities, like abseiling, climbing, and rafting. The three tours are the Black Abyss, Black Labyrinth and the Black Odyssey. They range in price from $128 to $231. All of the tours are conducted in the Ruakuri Cave.  Here is a description of the Black Odyssey tour: "Test yourself as you twist and turn through the Ruakuri Cave's main network and hidden passageways. Conquer thrilling rock traverses and mind-blowing heights. Edge over crossings high above roaring streamways. You'll also spider-walk through ancient rift passages and experience the challenges of technical high rope work and flying foxes." It take about 5 hours, so be prepared to spend the day at the caves.
Other Services
The Waitomo complex includes a full-service restaurant serving local specialties, and a more casual cafe where you can grab a quick snack or a drink. There's also a cafe near the Black Water Rafting center.
A uniquely-designed visitor center was rebuilt after a fire and offers conference and event space. You can even stay in accommodations near Waitomo. There's pretty much everything you might need nearby.
Have you been to Waitomo Glowworm Caves in New Zealand? Tell us about your experience in the comments.
We're also looking for your stories to feature on our Cool Things I've Done of Vacation series. If you have a unique experience to share, let me know and you could be featured.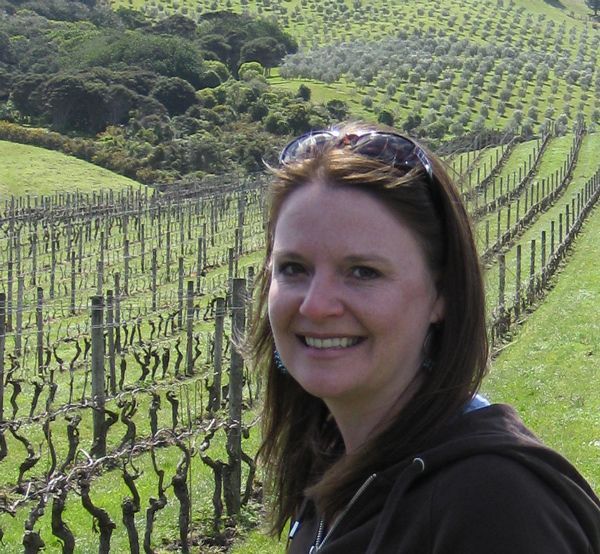 Laura Lynch, creator and writer of Savored Journeys, is an avid world traveler, certified wine expert, and international food specialist. She has written about travel and food for over 20 years and has visited 70+ countries.