If you're considering a wine tasting trip to the Walla Walla Valley wine region, you can find all the information you need to plan right here. We've been wine tasting in Walla Walla for many years and have visited nearly all of the wineries in Walla Walla.
A wine-tasting trip to Walla Walla is both rewarding and educational for wine lovers. It's a premiere wine growing region contained wholly within the larger Columbia Valley AVA, and some really great and high-quality wines are being produced there.
The Walla Walla Valley is one of the top producing vinicultural areas in the state of Washington. It extends into the northeastern part of Oregon and encompasses 1186 hectares of planted vines and over 120 wineries. There's now even a sub-appellation called the Rocks District in Milton-Freewater, which is located on the Oregon side of the valley.
You'll want to spend at least two days in the Walla Walla wine region, to get a good taste of the grapes and the terroir of this region. There are dozens of tasting rooms and wineries to visit. Some are close together, and some are spread across the region.
We've included 39 total wineries in our list. I know that sounds overwhelming, but there are just so many favorites. Don't worry though, we've narrowed it down even further in each of the areas by including an asterisk* next to the ones you absolutely can't miss.
» While you are in the area you should check out these 9 Great Wineries to Visit in Tri-Cities, Washington.
So Many Walla Walla Wineries, So Little Time
If you're a wine lover, and you haven't heard of this area, take note. Not only is there an abundance of amazing wine in Walla Walla, it's a quaint small town that exudes charm. There are so many wineries in Walla Walla that the region is split into five different areas.
Westside
Eastside
Southside
Downtown
Oregon side
Each of these separate areas holds more wine tasting possibilities than you could do in a whole week's worth of tasting. We're talking more than 120 wineries in total. Each area has 10-20 wineries you can visit.
Since this is obviously too many wineries to get to in a weekend, you're going to have to pick and choose. We recommend choosing one or two areas of town and focusing your attention there. You could also jump from area to area looking for specific varietals you like, but the distance in between will be greater.
However you choose to do it, you'll surely be overwhelmed. That's why we've created a list of our favorites, to help you decide. In each section, look for the * to indicate which wineries you really shouldn't miss.
How to Do Wine Tasting in Walla Walla
Before we get into the best wineries to visit, we want to give you a bit of a primer on the area. Walla Walla is a small city, but there's a lot of ground to cover.
You will need a car to get around to the more distant wineries. If you don't want to drive, you can go on a guided tour (either group or private), or call the local taxi service and try to arrange rides. If you don't want to do either of those, then I suggest sticking mostly with the downtown wineries. If you stay nearby (I highly recommend staying at the Marcus Whitman Hotel), you'll be able to walk to many downtown Walla Walla wine tasting rooms.
More tasting rooms are now requiring reservations, with a few exceptions. It's generally wise to take a look at the winery's website a few days before you wish to visit to book a slot. Tasting is often done at a table or lounge area with table service. You can still walk in during the week at most tasting rooms.
Westside Wineries
Some of Washington's most sought-after cult wines come from the Westside Wineries. Back in the 1980s, three popular wineries started it all for Walla Walla. These wineries are Leonetti Cellars, Woodward Canyon and L'Ecole No. 41. Today, these wineries still have some of the area's best wines.
The westside stretches quite a ways out of town on Highway 12. If you're going to make the trek out there, or you're headed to or from Tri-Cities, you'll want to stop at a few of the wineries out that way. Most of these wineries are open 10am-5pm every day except major holidays.
Here are the wineries you should visit on the westside.
NOTE: Asterisk next to the wineries you should prioritize
Woodward Canyon is the furthest out of town. We suggest starting there and working your way back into town. It's a 15-minute drive to Woodward Canyon, and 30 miles round trip.
Eastside Wineries
Most of the Eastside wineries are located near the airport in WWII-era military buildings that have been converted to warehouse space. The airport wineries now number in the dozens, with even a brewery and a distillery thrown in.
Aside from the individual wineries, you'll also want to visit the Wine Incubator. An innovative way of helping fledgling wineries get started, the Incubator acts as a launching point for new wineries to get their feet on the ground, until they reach the 6-year mark. The wineries are always changing in this location, as they grow, so you'll find something new each time.
In this area, it feels more industrial and warehousey. It's not the perfect wine country tastings with vines everywhere. Keep that in mind. You're not going here for the beautiful countryside experience. There are a few breweries nearby, especially Burwood Brewing, with great beer gardens. We also really like Walla Walla Roastery coffee shop in this area.
Here are the wineries you should visit on the eastside.
NOTE: Asterisk next to the wineries you should prioritize
Downtown Wineries
I love the downtown area for wine tasting. Not only can you walk from tasting room to tasting room very easily, the downtown streets are so cute and there's restaurants and shopping mixed in.
Most people stay at a hotel downtown when they visit Walla Walla. There are a number of good hotels, the best of which is The Marcus Whitman Hotel, located right in the middle of town. There's a remodeled hotel call The Finch that's a good choice too. If your main pursuit is wine tasting, these are the best places to stay.
Here are the tasting rooms you should visit downtown.
NOTE: Asterisk next to the wineries you should prioritize
Marcus Whitman Tasting Rooms
Just below the Marcus Whitman hotel is a handful of tasting rooms that are worth a visit.
North 2nd Ave Tasting Rooms
Across the street from the hotel on N. 2nd Ave is another stretch of winery tasting rooms you should visit:
*Spring Valley Vineyards – the family behind Spring Valley has been farming this land since the 1800s. 100% estate-grown collection of wines from their storied Spring Valley Vineyards.
* Maison Bleue (20 N. 2nd Ave) – Founded in 2007, Maison Bleue focuses primarily on Rhône varietals such as Syrah, Grenache and Viognier from The Rocks District of Milton-Freewater.
Cotes de Ciel (18 N. 2nd Ave) – A family vineyard that makes some of their own wine from Cabernet Sauvignon, Merlot, Cabernet Franc, Petit Verdot, Syrah, Mourvédre, Cunoise, Viognier, and Roussanne
East Main Tasting Rooms
While you could spend all of your tasting time just on that one street, you don't want to miss out on the wineries along E. Main Street.
Where to Eat in Downtown Walla Walla
Another thing to note about Downtown is that this is where you'll find pretty much the only food options in the tasting areas. Sometimes a food truck or two will show up in the other areas, but the majority of the restaurants are downtown.
We love to go to Saffron Mediterranean Kitchen for lunch in the middle of our tasting spree for a couple of their delicious tapas. They don't open until 2pm on the weekends, but it's well worth the wait.
Other great options for lunch or dinner are Brasserie Four, Graze and TMac's. My sister would want me to tell you about Bacon & Eggs too, so check that out for breakfast or lunch as well. She loves it.
For breakfast, you can't go wrong grabbing some pastries at Walla Walla Bread Company. If you're staying downtown, all of these places are walking distance from the wineries.
Southside Wineries
As you're headed out of town toward the Oregon border, you'll come upon the Southside Wineries. This is my favorite area in Walla Walla for wineries. It's a bit more of a countryside feeling and the vast and gorgeous tasting rooms are set among the vineyards.
At the southside wineries, the wine production happens on-site, as opposed to the downtown winery tasting rooms, so it feels more like an authentic winery experience.
Our favorites in this area are too many to name. Just about anywhere you stop for wine tasting is going to have great wines. If I had to pick only seven (which is the max you can taste through in a day if you're sharing a glass), I would recommend any of the following southside wineries.
NOTE: Asterisk next to the wineries you should prioritize
Northstar
Northstar has the best Merlot around. Their Merlots are consistently top rated (over 90+) from Wine Spectator and The Wine Advocate. We like to taste the Walla Walla Valley and the Columbia Valley Merlots side by side to truly see the uniqueness of the Walla Walla Valley grapes. At Northstar, you can also participate in a hands-on blending where you'll make your own blend to take home.
Caprio Cellars
Caprio Cellars is one of my favorite wineries right now in Walla Walla. It has an incredible outdoor area with a great view of the rolling hills. They have a really nice outdoor area on three sides of the winery, each with a different vibe that you can choose from. The wine tasting is complementary, which is very rare these days.
They are open Wednesday-Sunday by appointment and host tastings at 11:00, 12:30, 2:00 & 3:30. Tastings come paired with a chef-made food pairing that are fantastic.
Oregon Wineries
There aren't a lot of wineries on the Oregon side of the border, but now that The Rocks AVA has started gaining notoriety, there are more than ever. Some of the Oregon wineries are located just across the border from the Southside Wineries, and you may not even know you're actually in Oregon. Here are the wineries to visit in Oregon.
If you venture a little farther past Basel Cellars into Milton-Freewater, you'll find Zerba Cellars located along the highway. Watermill Winery and Blue Mountain Cider Company are in the town center. And Sevel Hills and Rotie Cellars are just a bit further into the countryside.
CONCLUSION
The abundance of Walla Walla wineries is astounding. I guarantee you won't run out of great places to taste. We go back at least once or twice a year and rarely taste at the same places twice (except our favorites, of course!). If you're into wine, even a little bit, you'll love the Walla Walla wineries. Give it a try.
Like this post? Why not save it to Pinterest?
FOLLOW US on Pinterest, Instagram, Facebook for more great travel inspiration and tips.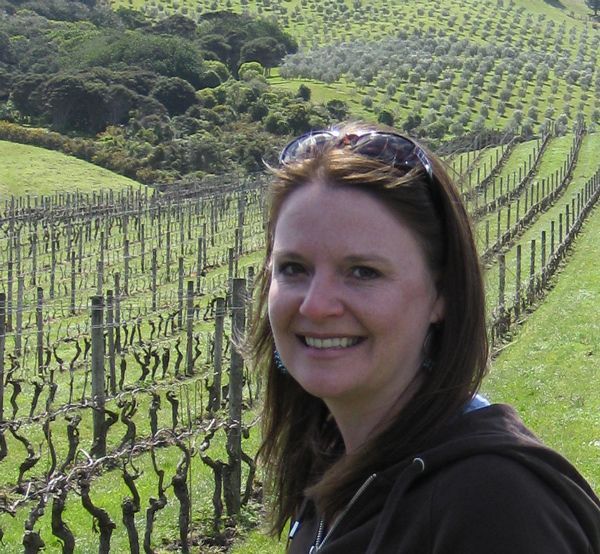 Laura Lynch, creator and writer of Savored Journeys, is an avid world traveler, certified wine expert, and international food specialist. She has written about travel and food for over 20 years and has visited over 75 countries.