There's a charming little town in Germany that has been flying under the radar for far too long. You've probably only heard of it if you've looking into or gone on a Northern Europe Cruise, many of which take you to the port of Warnemunde Germany – the best little town you've never heard of.
I've been to Germany a dozen times. I've visited a bunch of small towns, alongside large cities, and I'm happy to say I've loved them all. One of my favorite places in all of Germany is the small town of Rottenburg ob der Tauber. Cutest town ever. All this to say that I know Germany is packed full of cute towns, charming little places with picturesque storefronts and iconic countryside architecture. So, I was not at all surprised to find that Warnemunde, which appears as though it was going to be a boring port of call on our 12-day cruise around Northern Europe, turned out to be one of the best little towns of the whole trip.
Warnemunde, Germany, is a popular seaside resort town for the locals, located along the Baltic Sea, just two hours north of Berlin. The larger town of Rostock is close by. From Warnemunde, you can take a 45-minute tourist ferry or 20-minute train ride into Rostock. This is good because Warnemunde is quite small.
What To Do in Warnemunde Germany
When I saw Warnemunde on the itinerary for our cruise, I was a bit worried that it would be boring. I thought there would be little to do and we'd end up spending most of the day on the ship for lack of something better to do. Boy was I wrong. In fact, we burned up every second we had in port at Warnemunde and we were all sad that we couldn't stay longer.
If you go by what the travel guides say, there's nothing in Warnemunde to see except a lighthouse and a teapot building. Many cruise ship passengers choose to go to Berlin for a day trip rather than stick around Warnemunde. If you choose to do that, you can book the Berlin day trip in advance here. Just be aware that it's a long trip and will require a 3-hour train ride each way.
Why not stick around and enjoy this cute little town instead?
Thankfully, the guidebooks are wrong about Warnemunde. The lighthouse and teapot building are the least exciting things to see in Warnemunde. Read more about this little town.
The fun comes in the form of strolling about the seaside promenade, people watching, sitting down at the many open-air beer gardens for a pint and sampling the local food. You can tell this is a popular summer spot for locals. The beach was packed and the promenade was humming with activity – and those weren't just cruise passengers we were strolling along with. I can see why it's popular. It's a perfect day trip from the city; a great place to hit the beach and relax in a really beautiful environment.
The walking street along the canal is called der Alte Strom or the Old Channel. It's basically a promenade of pubs, restaurants and shops, lined with dozens of working fishing boats and tourist boats carting people out and around the area. Just walking along the canal is plenty of fun for one day.
⇒ You can book a half-day tour of Warnemunde and Rostock here.
Or just wander around, check out the shops, sit down for a beer and people watch, grab an ice cream cone from any of the dozen vendors, have a fantastic seafood lunch or stroll out to the beach and check out the pier.
What To Do in Rostock
Rostock is home to Germany's oldest university and also has a top performing arts school. Its income is mainly from cruise ship tourism and the manufacturing of ship parts, which you can see taking place along the waterways while on the tourist ferry.
Kropeliner Strasse, in the middle of town, is a lively pedestrian street, lined with shops, restaurants and bakeries. It's bigger than the promenade in Warnemunde and houses big brand stores, along with plenty of great local shops. You can easily spend a few hours window shopping. From there, it's an easy walk to the Cultural History Museum, St. Peter's Church, with its impressive observation tower, and St. Mary's Church, home to a famous astronomical clock.
Eating & Drinking in Warnemunde & Rostock
As you already know, eating and drinking are two of my favorite things to do while traveling. We take seriously our mission to try all the food and drink so we can bring it back home and share it with you through our Global Gourmet recipe series and our affordable luxury recommendations. Both Warnemunde & Rostock presented many delightful food & drink opportunities.
Before leaviing home, I heard that Fischbrotchen is the thing to eat in the area. I was not disappointed when we arrive and found that Fischbrotchen was being sold everywhere we turned. There were food trucks, restaurants and seaside food stands selling the famous fish sandwich. My problem wasn't availability – it turned out to be variety! There were so many choices, I wasn't quite sure which one to get. There was halibut, mackerel, butterfish, flapper, bismarck, herring and pickled herring, etc. As it turns out, this fish sandwich is what Warnemunde is most known for.
Of course, there are also the typical German foods one must eat while in Germany. Along with the obligatory beer that is brewed so artfully in Germany. For lunch, we found a fantastic little restaurant in the town square in Rostock where we sampled some Schweineschnitzel and Bratwurst. We also picked up a supplemental bratwurst while we were walking along the Kropeliner Strasse. Who doesn't like a hotdog stand!
For drinking, we were overwhelmed with choices. I've always been in love with German beer. You can order pretty much anything and it'll taste delicious. It's not as complicated as the microbrew scene we have in the U.S. You can just order a dunkel or a weissen and be ensured you'll drink a decent beer. There's no worry of extra-bitter hoppiness, intense coffee flavors or uber alcoholic Imperial bombs. Just a great beer.
With all these thing to do, it was extremely difficult to climb back on board that cruise ship and set sail for another town. I enjoyed Warnemunde and Rostock so much that it ended up being one of my favorite stops on the cruise, rather than one of the most boring. I hope to make it back there someday. If you're ever so lucky to be able to spend some time in Warnemunde or Rostock, I encourage you to do so. You'll love it.
More likely, you'll be on a cruise like the one I was on, where you'll dock in Warnemunde Germany and have the opportunity to take an excursion to Berlin. While Berlin is obviously a really great city that is worth visiting, it takes half of your time in port just to get there by train or bus. Why not spend the time leisurely enjoying the towns of Warnemunde and Rostock instead? You'll see a local side of Germany, enjoy some local food and drink and have a peaceful and relaxing day in port instead of a harried and crazy trip to Berlin. That's just my two cents.
Like this post? Why not pin this image onto your Pinterest board and share it with friends?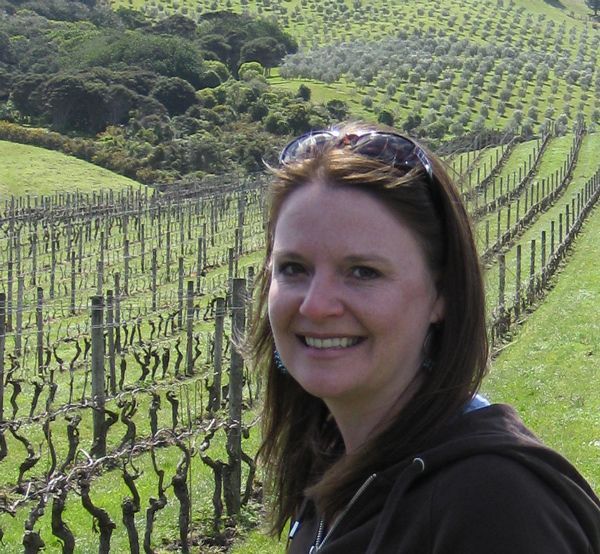 Laura Lynch, creator and writer of Savored Journeys, is an avid world traveler, certified wine expert, and international food specialist. She has written about travel and food for over 20 years and has visited 70+ countries.