I went to Montego Bay, Jamaica, on a mission to learn more about Jamaican cuisine and to finally try Jamaican jerk chicken straight from the source. I hadn't tried many Jamaican dishes before the trip, but I'd heard so much about how amazing authentic Jamaican jerk chicken was and I wanted to try it for myself.
My mission was to try as many different versions of Jamaican jerk chicken as I could during the trip to determine if it was anything like what I'd eaten before outside of Jamaica and to see what made it so amazing so I could recreate it in my own kitchen.
During the trip, we ate at local restaurants as much as possible to try a wide range of dishes. After eating at a dozen or more chicken places – both well known chefs and roadside stands – I learned that the authentic and real Jamaican jerk is so much more amazing in Jamaica.
I'm more convinced than ever that the versions I've eaten at home are not quite right. Let's be honest, the magic of Jamaican jerk chicken isn't the chicken – it's the marinade and the sauce. If you don't get those two elements right, you just have regular old chicken.
Believe me, Jamaican jerk chicken, done right, is anything but regular old chicken.
⇒ Want to go to Jamaica? Check out our Jamaica travel guide and get planning!
The seasonings that make Jamaican jerk chicken so perfectly unique are rarely used in American attempts at Jamaican jerk marinade.
There are a few key components like allspice, thyme, and garlic that are absolutely necessary to get the right flavor combination. And don't forget the key ingredient that really kicks it up a notch – the scotch bonnet peppers.
Learning Chicken From Scotchies
When I arrived in Montego Bay, one of the first things we did was head over to the jerk chicken empire called Scotchies. It's a roadside charcoal barbecue joint that makes and sells hundreds of Jamaican jerk chickens every day.
Their chickens are slow-cooked over an outdoor charcoal oven every single day. If anyone knows how to make authentic Jamaican jerk marinade and sauce the right way, it's them. I mean, just look at that chicken!
During the few hours we hung around at Scotchies, we learned a few key things. The chicken is marinated overnight in their spicy jerk marinade, then it's slow roasted over a charcoal fire pit on top of logs of pimento wood. This process imparts a delectable flavor and makes the chicken juicy and oh so tender.
History of Jerk Chicken in Jamaica
Jerk seasoning is used throughout the Caribbean today, but the origin of it dates back to the end of the 17th century when African slaves fled into the woods to escape their British captors. Adapting to their new challenges, they used what was available to them for preserving meat they caught, which led them to create the spicy sauce now known as jerk seasoning.
The term "jerk" is thought to have come from the Spanish word for dried meat, which translated as jerky in English. It also refers to the process of cooking that required you to jerk around the chicken on the grill.
How to Make Jerk Marinade and Sauce
Making this tasty dish starts with a super spicy marinade that is slathered on the chicken and left on for at least a few hours, but preferably overnight.
The marinade is a wet mix of spices, seasonings, and scotch bonnet chilis.
(Shh… don't tell on me, but I'm going to let you in on a little secret. You can actually purchase Jamaican jerk marinade on Amazon, and it's the exact same brand that the Jamaicans buy and use at home. I have it on good authority from a Jamaican that this is the closest sauce you can get to making it yourself. If you don't want to make your own marinade, you should purchase this sauce.)
Now back to cooking! This isn't a marinade for those who don't like heat. It's super spicy. That's what makes it truly Jamaican. Yes, you can leave the chilies out, but it won't be as authentic. Look at those delicious chilies!
If you can't get your hands on any scotch bonnets, you can substitute with habanero or jalapeno. Habanero chilis are actually very similar to scotch bonnets in heat, though scotch bonnets are a bit sweeter.
These peppers are screaming hot, but you can tone down the spiciness by removing the veins and seeds. If you don't like a lot of spice, remove all the seeds and veins.
Other ingredients in the marinade include olive oil, ground thyme, brown sugar, soy sauce, white vinegar, all spice, black pepper, sage, garlic powder, onion powder, chili powder, and dried ginger.
Put all these ingredients into a food processor or blender and mix it all up into a nicely ground paste. I've seen versions that aren't as ground up as mine is, but I prefer a finer grind because it spreads easier and doesn't burn.
About the chicken: the way it's done in Jamaica is to spatchcock it, which is to remove the backbone, and the breast bone so it lays flat. This makes the chicken cook at the same speed all around.
If you don't know how to spatchcock, here are some easy instructions.
Spread the paste all over the chicken and leave it to marinate in the refrigerator for as long as you can, up to 24 hours. This is what allows the flavor to really set in.
Scotch Bonnet Dipping Sauce
The next step is to make the scotch bonnet dipping sauce. In Jamaica, this extremely spicy sauce is typically served in a bottle alongside the chicken, so you can put on as much or as little as you like.
It should be pure, unadulterated scotch bonnet jerk sauce. Then you can decide to mix it with ketchup if you need to tone it down a bit. Yes, they do that in Jamaica!
Use the food processor to blend up all of your sauce ingredients.
Cook the Chicken
To cook the chicken, if you want it to be as authentic tasting as possible, you'd have to slow cook it over a charcoal fire pit on pimento wood. But who has set up available at home?
Unfortunately, in London we don't have access to an outdoor barbecue. You have to cook with what's available. The oven will never add that smoky charcoal and wood flavor, but I've learned to live with that.
You can cook your chicken over a charcoal barbecue, a gas grill, in the oven, or even in the air fryer. I think it comes out very nice from the oven. As you can see, the skin is crispy and covered nicely by the jerk marinade.
After allowing the chicken to rest for 10 minutes to hold in all the juices, you can cut the chicken into smaller pieces and move it to a serving plate with the sauce on the side.
Serve it with your favorite side dish, or make a Jamaican side dish to continue the theme. In Jamaica, that would be rice and peas (beans) and sauteed greens.
If you're not the sauteed greens type, we like to pair it with ears of sweet corn on the cob.
According to our tour guide in Jamaica, Willy, of Paradise Travels in Jamaica, you can't have jerk chicken without the national beer, Red Stripe.
He told me that Jamaicans think it's the perfect drink to pair with jerk chicken, to take away some of the heat of the sauce.
In Jamaica, you can get two flavored versions of Red Stripe – lemon and sorrel. I'm not sure if they are exported, but that's just one more reason you need to start planning a vacation to Jamaica right now!
Like this post? We'd love it if you would share it with your friends on your social networks! You can share it easily by clicking the share links at the side of the screen. If you'd like to see more, join us on Facebook, Twitter, and Pinterest.
Yield:

6 servings
Jamaican Jerk Chicken
Prep Time:
2 hours
25 minutes
Cook Time:
1 hour
30 minutes
Total Time:
3 hours
55 minutes
An authentic Jamaican jerk chicken recipe, straight from the masters in Jamaica
Ingredients
1 whole chicken, around 2 to 3 lbs, spatchcocked
For the jerk rub
1 tablespoon olive oil
1 tablespoon ground thyme
1 tablespoon packed dark brown sugar
1 tablespoon soy sauce
1 tablespoon white vinegar
3 teaspoons ground allspice
1 teaspoon black pepper
1 teaspoon ground sage
1 teaspoon garlic powder
1 teaspoon onion powder
1 teaspoon chili powder
1/2 teaspoon dried ginger
1 scotch bonnet pepper, seeds and veins removed for less heat (optional), chopped
For the Scotch Bonnet sauce
1 teaspoon reserved marinade
2 Scotch Bonnet peppers, chopped
1/2 onion, chopped
1/4 cup chopped pineapple or 1/8 cup pineapple juice
1 clove garlic
1/8 cup white vinegar
1 tbsp brown sugar
1 teaspoon salt
1 lime, juiced
Instructions
Spatchcock the chicken and set aside.
Combine all ingredients for jerk marinade in a small food processor and blend until a paste forms. Reserve 1 tsp jerk marinade for the sauce.
Cover the chicken with the remaining spice marinade. Make sure to coat the chicken well. Cover chicken and refrigerate at least 2 hours, preferably 24 hour.
Place all ingredients for scotch bonnet sauce in the food processor (no need to clean it between sauces) and mix until your desired chunkiness. Transfer the sauce to a saucepan and simmer over low heat for 15 minutes. Transfer to a serving dish and allow to cool in the refrigerator until you're ready to serve the chicken.
Preheat either the grill or the oven. Grill should be set to medium-low heat. Oven should be set to 400 degrees F (200 C). Remove chicken from refrigerator and place it on a pre-heated grill or oven roasting rack. Cook until the internal temperature reaches 160 degrees F. Remove from heat and allow to stand for 10 minutes before carving. Chop the chicken up into smaller pieces. Serve it with the scotch bonnet sauce.
Notes
You can store any excess spice marinade or sauce in the refrigerator for up to a week.
The chicken is best when slow roasted on a grill over medium-low heat, which is the authentic Jamaican way.
Recommended Products
As an Amazon Associate and member of other affiliate programs, I earn from qualifying purchases.
Nutrition Information:
Yield:
6
Serving Size:
1 serving
Amount Per Serving:
Calories:

308
Total Fat:

16g
Saturated Fat:

4g
Trans Fat:

0g
Unsaturated Fat:

10g
Cholesterol:

88mg
Sodium:

634mg
Carbohydrates:

12g
Fiber:

2g
Sugar:

7g
Protein:

28g
(My trip to Jamaica was hosted by Visit Jamaica in conjunction with Blogilicious. We want to thank the businesses and attractions we visited for their fantastic hospitality. As always, all opinions and views expressed in this guide are our own.)
Like this recipe? Pin it for later!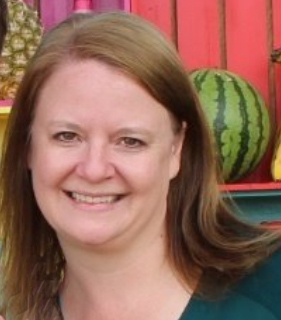 Laura Lynch, creator and writer of Savored Journeys, is an avid world traveler, certified wine expert, and international food specialist. She has written about travel and food for over 20 years and has visited over 75 countries. Her work has been published in numerous guidebooks, websites, and magazines.