For a well-preserved Medieval city not too far from Barcelona, I am surprised that more tourists don't make their way via train from Barcelona to Girona to check it out. I might even like Girona more than Barcelona.
Girona is a smaller city than Barcelona, so it's easier to wrap yourself around in a short trip. It's stunning and so easy to photograph. There aren't hordes of tourists bumping their way in front of you everywhere. And it has the ability to captivate you the way larger cities just can't. All of this is what makes Girona such a fantastic place to visit.
In just under an hour, you can zip from the center of Barcelona over to Girona on the high-speed AVE train. You'll be deposited right where you need to be to start exploring, no time wasted getting to and from a far away transportation hub.
If you've never explored the Costa Brava area of Catalonia, I very highly recommend creating a whole itinerary of the area that includes a stopover in Girona. The best way to do this if you're coming from the U.S. is to fly into Barcelona and rent a car. Then start the journey at the southern end of Costa Brava, in Blanes. You will be astounded by the views! We've already written a great 7-day itinerary of the area, so now we're going to focus in on Girona and what makes it so unique. We'll share with you where to eat (because that's my favorite part!) and what to do in Girona Spain.
What to Do in Girona
The first thing we always do when we arrive somewhere is take a walk around town, to get our bearings and scope out the things that first catch our eye. We look for restaurants that look intriguing, sights we'll want to see and neighborhoods that look fun. That's not always possible in a large city, but Girona is perfect for an initial scouting trip. We added so many places and things to see to our list that it took more than a week to see it all.
El Lleó Marketplace
One of my favorite things to do is walk around the local food market place. The market in Girona is located right in the center of town, between the old and new parts of the city. It's called El Lleó because of the huge lion station just outside in the square. Locals do their weekly shopping here at the market, where there are dozens of fish, meat and cheese stalls.
I wouldn't go on a weekend, because those locals are serious about getting their shopping done and you don't want to be in their way. But if you have 30 minutes on a weekday, you should definitely walk through and buy a few of the local products to try. There are cured meat shops offering slices of jamon and sweet sausage, cheese shops where you can pick up a chunk or two, along with a small baguette, and an olive stand from which you can mix and match your favorites.
Game of Thrones Walking Tour
We are huge Game of Thrones fans, so it was on the top of our list to see the filming locations in Girona from the 6th season. Luckily, there's a tour company in town that has arranged a fantastic tour of many of the Game of Thrones filming locations, all of which are within a small area in the old city. We loved seeing the spots and recreating the scenes in our heads. They also had iPads loaded up with key scenes in case we'd forgotten. It really brought the show to life seeing these spots. And it gave us an even greater appreciation for the very well-preserved architecture in the old city of Girona. It's such an enchanting place to walk through.
⇒ Pre-book your Girona Game of Thrones walking tour with Viator.
Girona Food Tour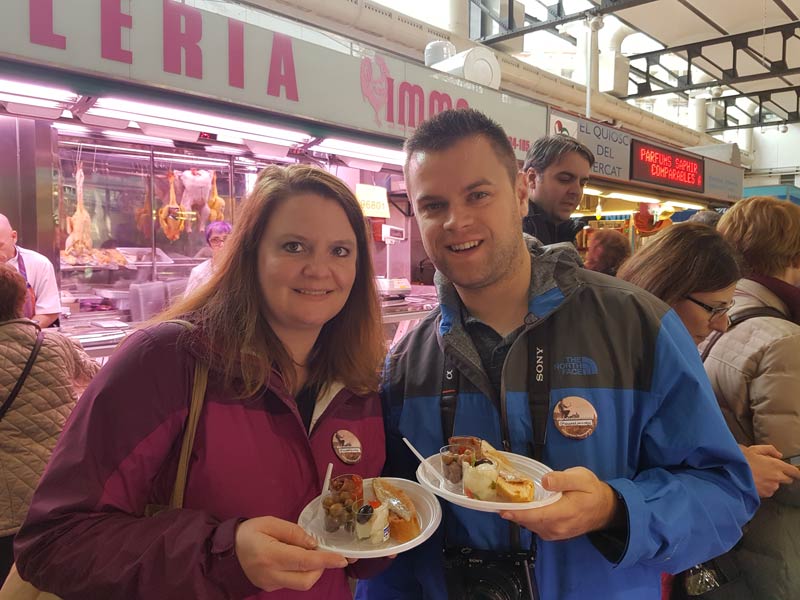 With all that incredible food, much of which we've never tried before, it's very important to take a food walking tour. We headed out on a Saturday with a small group on a Girona Food Tour, and were able to try specialties from many different shops and restaurants along the way. It was a great way to become more familiar with the foods and the wines of the area.
We quickly came to see that they cook with a lot of respect for specific ingredients in Catalonia. Dishes with just one or two ingredients were elevated in flavor and aroma just by the simple way they prepare it. That was what I loved so much about the food we ate in Girona. For a peak at the things you definitely should try while you're there, see our slideshow of local Catalan products.
⇒ Why not take a Girona cooking class while you're there and learn to make some of their specialties yourself?
The Old City
The Medieval Quarter of Girona dates back to the 14th century and has an enormous history to tell, from the old
Arab Baths
to the Jewish Quarter –
El Call
, and the
Basilica de Sant Feliu
. One of the most impressive cathedrals (
Girona Cathedral
) towers over the tiny streets. You can even still walk around sections of the old Roman city wall and climb up the towers for a better view of the city.
It's hard to imagine that this ancient city has been occupied for so long and still looks as incredible as it does. I could spend hours walking around on the stone streets, admiring the architecture, narrow alleyways and even the modern additions some residents have made to their houses.
⇒ Book a small-group walking tour of Girona.
Colorful Houses along the Onyar River
Many of the iconic images of Girona are taken on the Onyar River that cuts through town. There's a wall of colorful buildings that line the river and reflect into the still water, creating a kaleidoscope of colors. The river isn't just a great place to take photos, it's also a nice place for a stroll. You'll pass by the cities many bridges along the way and see some parts of both the modern and old cities.
Restaurants in Girona Spain
I spent a lot of time looking up the best places to eat in Girona and I didn't really find much. I don't know why it was so difficult figuring out which Girona restaurants to go to while we were there. But I vowed to try as many as possible and offer my own suggestions for the next traveler who goes looking for top restaurants in Girona. I think we found some really great places, so I'm glad to share them.
El Celler de Can Roca
I'm mentioning El Celler de Can Roca not because we went there, but because you can't really speak about food in Girona WITHOUT mentioning it. The problem for us was that we didn't know far enough in advance that we were going there and couldn't get a reservation. Of course, it's also extremely expensive. But if you are willing to spend that kind of money on an incredible dinner, you should make a reservation here as soon as you possibly can. It's easier to get lunch reservations, by the way. The restaurant is run by the Roca brothers and has been highly acclaimed as one of the best restaurants in the world. It's even on our list of top fine dining experiences to travel for.
Location: Carrer de Can Sunyer, 48, 17007 Girona, Spain
Rocambolesc
If you can't get in to El Celler, you should definitely go for a consolation prize at Rocambolesc in Girona. It's run by the Roca brothers, too, and it's really good ice cream. They make really interesting flavors, like baked apple with shortbread and milk ice cream with dulce de leche and cotton candy. If you'd rather have a popcicle, try one of their uniquely shaped pops, like the Rocanas, strawberry and rosewater sorbet nose.
Location: Carrer de Santa Clara, 50, 17001 Girona, Spain
Nu Restaurant
We wanted to have a nice meal for our anniversary, which we celebrated in Girona, so we made reservations at Nu Restaurant. It's a very small place, just a single row of tables and a bar area, so it doesn't get too loud or feel too crowded, even when the place is full. The service is very personable and the food is outstanding.
You can order a tasting menu with wine pairings, if you want to experience something a little different. Or you can order a la carte. We had a very nice meal there. Everything we ate was very tasty, from the guacamole starter to the beef filet.]
Location: Carrer d'Abeuradors, 4, 17004 Girona, Spain
Restaurant Sentits
Located in the modern part of town is a fantastic spot for lunch or dinner called Restaurant Sentits. It has a beautiful dining room that makes the meal feel special. They have a set menu of the day that includes a selection of small appetizers, a choice of main and a dessert, plus water and a glass of wine for 16,00€. Given the quality and presentation of the food, you'd expect it to cost much more. For dinner there is an 8-course menu for 39,00€. There is great variety in the dishes, and so much flavor. I can't recommend it highly enough. They also have a bar area, if you just want to go for a drink and small plates.
Location: Travessia de la Creu, 33, 17002 Girona, Spain
Nykteri's Cocktails
We saw Nykteri's cocktail bar while we were doing our initial stroll around town and vowed to go back for drinks while we were there. We were thwarted on a number of occasions due to the restricted opening hours, but we did manage to make it there and try a couple of the cocktails. We would have gone back every night before dinner, if we could have.
The cocktails are all handmade by owner and bartender Mariona Vilanova. Many of them include the beloved locale spirit, ratafia, but there's also a collection of 50 types of gin, just in case you're craving a G&T. It's an intimate lounge that's perfect for pre-dinner cocktails and conversation. Girona doesn't have many cocktail bars, and particularly with this great atmosphere and quality, so make sure you check this place out.
Location: Carrer de Santa Llúcia, 4, 17007 Girona, Spain
Occi
We were looking for a nice restaurant with modern food that could break us out of the tapas rut we were stuck in, when we came across Occi. What I like about this restaurant is that it's small, dark, intimate, and unassuming, plus the food is reliably good and well-seasoned. The plates are definitely more modern and creative than most casual counterparts in Girona, but less expensive than some of the other modern restaurants, like Nu.
Location: Carrer dels Mercaders, 3, 17004 Girona, Spain
There were, obviously, a few restaurants we had on our list that we didn't make it to, like La Fábrica and Divinum, so we can't tell you about those, but we do have some good friends who did go to those places, plus a few more, that you might want to read about here.
Have you been to Girona? Share with us your favorite places to eat and things to do in Girona. There are a lot of restaurants in Girona, Spain – lots more to see on a second trip.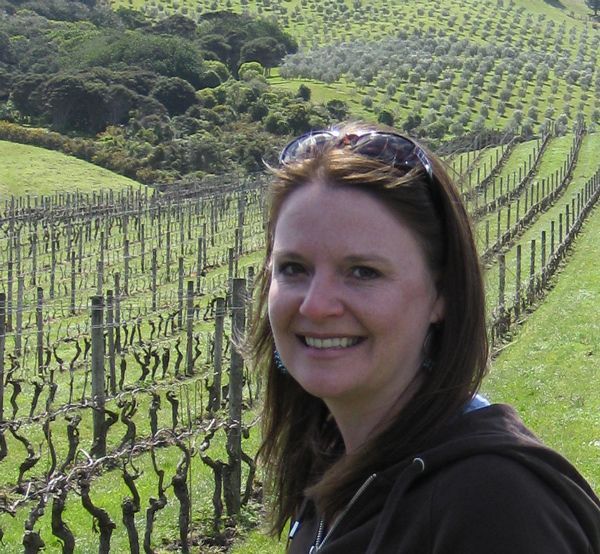 Laura Lynch, creator and writer of Savored Journeys, is an avid world traveler, certified wine expert, and international food specialist. She has written about travel and food for over 20 years and has visited 70+ countries.