On our trip to Texas for the Austin Food & Wine Festival, we decided that to get a good overview of the food in Austin, we needed to go on a self-directed food tour to discover great places to eat and drink in the city. We managed to get around to 6 top food and drink spots on the first day, and another 3-4 in the following days.
Here are our recommendations of where to eat and drink in downtown Austin. This is by no means a comprehensive list of the best Austin restaurants downtown. There are dozens of amazing places to eat in this city. Between breakfast tacos, some of the best Bloody Marys, dozens of top chefs doing awesome things and dozens of food trucks, Austin is a serious food mecca. (See this post on specific foods you should seek out in Austin.)
If you're thinking about taking a trip to Austin, consider going in November for the annual Austin Food & Wine Festival. It's a 4-day event that features tons of area restaurants and wines. We love it!
Where to Eat & Drink in Downtown Austin, Texas
La Condesa
You can tell straight-away that this is a popular place and one of the upscale restaurants in Austin. There's always a wait to dine at this upscale Tex-Mex restaurant on 2nd Street in downtown Austin. They serve modern Mexican dishes along with many types of margaritas and they have a very extensive collection of tequilas in the back bar. The food is served in small portions and is meant to share. We ordered a plate of Hamachi ceviche, some incredibly delicious Elotes (Mexican street corn) and classic margaritas. There are two outdoor patios to enjoy on a nice day, and lots of space inside for larger parties.
Address: 2nd Street District, 400 W 2nd St A, Austin, TX 78701
Lambert's
When you're looking for some good BBQ in downtown Austin, Lambert's is the place to go. Located in a brick building that really adds to the ambiance, this place is definitely doing something right. The dining room is always packed with people wanting to get a taste of the brisket, crispy wild boar ribs and enormous plate of short ribs. The deviled egg and caviar appetizer is also very popular. There's also a courtyard out back for outdoor dining. There's a small bar downstairs, but there's a much larger bar area upstairs where there's often LIVE music playing. Definitely one of the best places to eat in downtown Austin.
Address: 2nd Street District, 401 W 2nd St, Austin, TX 78701
Frank
Frank is that eatery that I expect every college town to have, only the food is a definite step up. They serve huge plates of waffle fries covered in cheese and other great toppings, alongside their signature hotdogs and sausages that are all made in-house. There are some pretty inventive options on the menu – like the Jackalope (a smoked antelope, rabbit and pork sausage) and the Notorious P.I.G. (with mac n cheese and BBQ sauce on the top). During brunch they serve one of my favorites, Chicken & Waffles. The portions are very generous! Definitely one of the best cheap restaurants in Austin.
Address: 407 Colorado St, Austin, TX 78701
Torchy's Tacos
If you're looking for some of the best tacos Austin has to offer, you must try Torchy's Tacos. There are multiple locations of this extremely popular taco truck around town, and it's a good thing. Their tacos are very creative and inventive. And the best part is that they are open for breakfast and have tons of options to choose from – seriously, there are 9 different breakfast tacos, alone! You'll definitely want to try the Trailer Park with fried chicken and chilies, and the Republican with jalepeno sausage and a poblano sauce.
Address: 2809 S 1st St, Austin, TX 78704
CU29
This cocktail bar is a slightly more upscale option to the bars on 6th Street in Austin, and they serve some of the best drinks in Austin. You'll find a bunch of great cocktails. One of their specialties is dessert cocktails, so you'll see people ordering things like the creme brulee cocktail I had, which has torched egg whites piled high, or the Samoa drink that's sprinkled with coconut flakes. They have LIVE music often and when when there's no music it's just a nice chill place to hang out.
Address: 720 Brazos St, Austin, TX 78701
Uchi Sushi
Uchi + Uchiko are Tyson Cole's impressive traditional Japanese restaurants, serving fresh and creative dishes and some of the best sushi you may ever encounter. There are both hot and cold dishes, sushi, sashimi and a omikasi selection that changes with the seasons. Both restaurants, though located in different sections of town, are very similar. You can't go wrong with either choice, just be prepared for a long wait if you don't have a reservation. The food is often referred to as "mind-blowing" so you know you're in for something special here.
Address: 801 South Lamar Boulevard, Austin, TX 78704
The Market
Located right downtown in the middle of the action is The Market, a perfect hangout place for when you want to grab a drink and relax. The inside space is cozy and inviting, with plush couches and a big screen TV. There's a balcony with additional comfy seating. And then there's the rooftop, where you can look out over the city as it bustles around you. The space is laid out really well with plenty of seating for groups. We loved the rocking chairs and the two-person swing.
Address: 319 Colorado St, Austin, TX 78701
Hanger Lounge
Directly across the street from The Market, and with a very similar vibe, you'll find Hanger Lounge. The concept of the space is based on an airport lounge. There are tables on the first floor, a lounge on the second and then the ultimate hangout place – the rooftop. On a nice day, you can't beat the location and the ambiance of the rooftop deck. There's a small food menu and a solid cocktail list.
Address: 318 Colorado St, Austin, TX 78701
Of course, we weren't able to make everywhere, but I think we found some pretty great places to eat and drink in downtown Austin. When we go back, we'll find the rest! Where you have you been in downtown Austin that we should add to the list? Any favorites?
Where to Stay in Austin, Texas
Downtown is a prefect location for tourists in Austin. It's easy to get around on foot, or get a Lyft. There are tons of restaurants and bars to check out and many good choices for hotels.
(The links below are our affiliate links, which costs you nothing to use, but earns us a buck or two when you choose to book a room through our link. We always appreciate your help in keeping the lights on around here).
Intercontinental Stephen F. Austin
4-star hotel in downtown Austin, fantastic location, great restaurant, indoor pool.
Hyatt Regency Austin
Comfortable 4-star hotel with 3 restaurants, and free wifi in fantastic downtown location.
Lake Austin Spa Resort
For some peace and tranquility, outside of downtown, stay at this charming resort.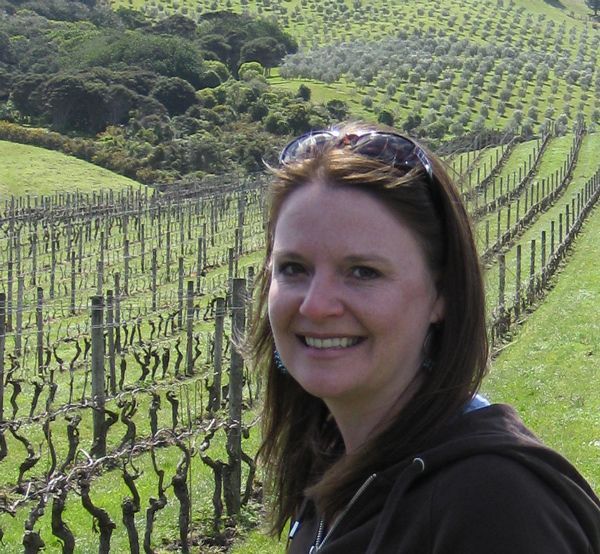 Laura Lynch, creator and writer of Savored Journeys, is an avid world traveler, certified wine expert, and international food specialist. She has written about travel and food for over 20 years and has visited 70+ countries.