Iceland is full of culinary surprises. If you love to travel for food, you have to check out Reykjavik's exciting food scene and see for yourself! Be sure to read through this guide to learn where to eat in Reykjavik (plus all the dishes you must order).
You're in for a real treat when it comes to the restaurants in Reykjavik. The variety is stunning, the food presentation is eye popping, and the atmosphere is fantastic.
Eating out in Reykjavik can be one of the highlights of a trip there (although rather expensive, so be prepared!). If you're a vegan or vegetarian, you'll be happy to hear there are plenty of choices for you too!
While there are dozens of choices for both what and where to eat, even in winter many Reykjavik restaurants are fully booked and require a reservation.
When you start planning a trip to Reykjavik, also plan what and where you're going to eat and make reservations, or you may end up being disappointed.
⇒ By the way, this Reykjavik food tour includes quite a few of the great eating spots we've listed below, in case you want to go along with a group and let a pro do the ordering.
What to Eat in Reykjavik
Let's start with what you should order in Reykjavik, and throughout Iceland, so you can choose what you'd like to try, then find the restaurant that serves it.
There are so many ingredients and products in Iceland that aren't used elsewhere, so it's a true adventure to eat there. As a foodie, you'll be blown away by the choices.
Langoustine – They call it lobster on almost every menu, but it's actually langoustine, a cousin of the lobster. Langoustine can be found in salt water and oceans, and they grow to only a quarter of the size of lobsters. They have a very sweet and succulent meat in their tails. Other seafood like salmon, cod and haddock are popular as well.
Lamb – One of the claims to culinary fame for Iceland. They use a lot of lamb and it's exceptionally tender and tasty. Lamb is an ingredient in the hot dogs you'll find in Iceland.
Lobster or fish stew – The lobster stew that is so famous around Iceland is really fantastic. It's a mix of lobster stock, cream and spices. Try plokkfiskur – a mashed fish stew.
Cured Shark – It's true that fresh shark meat can be poisonous, but once it's been cured, the poisonous issue goes away. Cured shark is consumed in Iceland as a snack.
Brennivín – This is the national liquor, which is a licorice-flavored schnapps.
Minke Whale – the debate rages on. It's on a lot of menus. It's up to you to decide.
Horse – You might be completely repulsed by the idea of eating horse, but in Iceland (and many other parts of the world) it's just what they do. If you're daring enough to give it a try, it's actually quite good. Served as a filet, it's tender and very much like a beef steak.
Icelandic rye bread, or rúgbrauð, is offered at most meals with butter (or my favorite, salted butter). It's a staple of the Icelandic diet and it's so good.
Where to Eat in Reykjavik
* For High-End Dining
Matarkjallarinn (Foodcellar)
Everything on the menu looks amazing at the Foodcellar. You're going to want to order too much. The only thing that might stop you is the price.
What we love about this restaurant is that the atmosphere and the food are stellar. If you're paying so much to eat at a restaurant, you want it to meet expectations and Foodcellar always does.
It's housed in a century-old building in the center of the city. They serve Icelandic regional cuisine and creative cocktails. They even have a piano player most nights to add to the ambiance.
You're going to want to order the Salt Cod, Arctic Char or Ribeye. I can't resist the langoustine. And if you're vegetarian or vegan, try the squash and polenta dish.
Grillmarkadurinn (Grill Market)
One of the best restaurants we went to in Reykjavik was Grillmarkadurinn (Grill Market). I am still thinking about that dinner. The restaurant has a really great atmosphere. The downstairs dining room is all slate and rock walls with slab wood tables. Plus they have the best bread and butter service anywhere.
They also have a chef's tasting menu, as most places in town do, which looked pretty amazing, but we had our sights set on specific menu items so we went a la carte.
For an appetizer, we had the trio of mini burgers, made with reindeer, langoustine and whale. It's one of their specialties, and practically required eating! For our main courses, we chose the Tenderloin of Horse and the Langoustine Tails with champagne sauce.
Our jaws dropped at the giant mound of tails that was piled on the plate. It was almost more than the two of us could eat in one sitting, but we did it anyways. It was expensive, yes, but worth every penny and I would order it again in a heartbeat.
Fiskmarkaðurinn ("Fishmarket")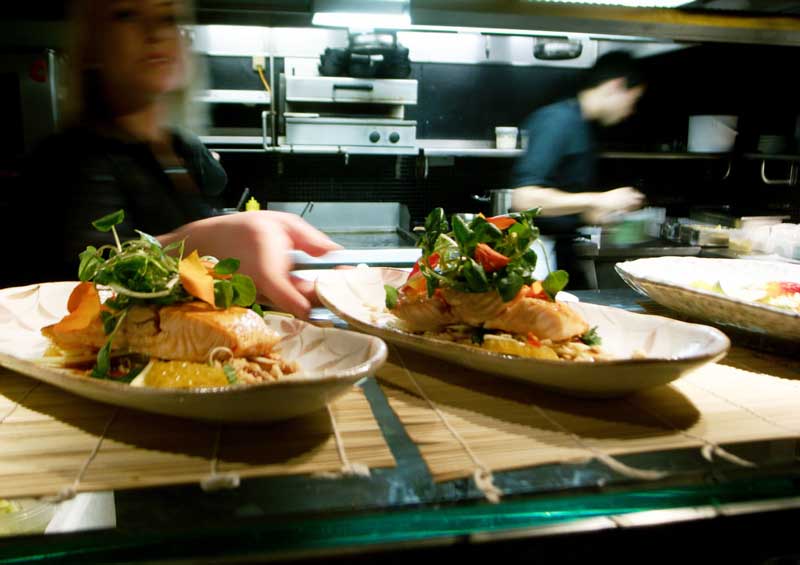 Another great spot in downtown Reykjavik for lunch or dinner is Fiskmarkaðurinn or Fishmarket. The presentation of the food here is nothing short of awesome. You'll be amazed. It's really not your typical fish market.
This is where you should go if you want to taste the best Icelandic fish. You can go all out and order the 9-course tasting menu, which features so many of the area's favorite fish, from shrimp tempura, scallop sashimi and salmon maki, to salt cod.
You won't find a better place to try it all. You can also order lobster soup here (in case you don't make it to Seabarin).
You can order a tasting menu for the whole table or try some specialties from the a la carte menu. No matter what you choose, you won't be disappointed. They really raise the bar here.
Sjavargrillid (Seafood Grill)
You are going to need a reservation to eat at the Seafood Grill pretty much any time of the day. It's very popular, and for good reason. While the entrees are quite expensive, the portions are large and the food is outstanding. It's not just seafood here either.
One of their best dishes is the lamb, alongside the fish of the day, of course. One of the best deals is the multi-course Taste of Iceland menu but there are so many great specialties on the a la carte list, along with wines to match. The atmosphere is relaxing and inviting, and the service is always top notch.
Tapas Barinn
Another popular spot to eat in Reykjavik is Tapas Barinn, a Spanish-style restaurant serving Icelandic specialties in tapas form. You can find some pretty interesting dishes here, so it's worth a stop to try these specialties.
They also have a special called the Icelandic Feast that includes 7 of their popular dishes, like Smoked Puffin in Blueberry Brennevin sauce, Icelandic sea trout and minke whale, plus a shot of the naitonal liquor, Brennevin, and dessert. I would highly recommend this place.
It's tiny inside, and it gets packed immediately upon opening, but it's definitely worth it to try such unique and delicious Icelandic dishes.
* For Fine Dining
Lava
Most travelers to Iceland stop by The Blue Lagoon for a swim in the thermal waters. But you can't stay in there forever! When the prune hands start to form, you done your bathrobe and go for a fancy lunch at Lava, the fine-dining restaurant located just steps away from the pool.
While it might feel strange at first to be dining in your bathrobe, you'll soon forget all about that as you fall instantly in love with the food on your plate.
The chefs at Lava focus on traditional dishes with local ingredients, melded with world flavors. For lunch, there are various options in a 2- and 3-course menu, like the Icelandic Gourmet Menu that features arctic char and lamb fillet. For dinner, there is a 4-course tasting menu with optional wine pairings.
Sægreifinn (Seabarin)
The Sægreifinn (Seabarin) bills itself as having the best lobster soup around. They also have skewers of all kinds of fish, including Trout, salmon, shrimp, cod, scallops, redfish, catfish, plaice and monk fish, among others.
The space is really small and can only seat so many people. This isn't a typical dining experiences. It's more like going down to the marina and stopping in the little cafe where the fisherman go on break.
If you're looking for a nice sitdown dinner, this is not the place. It can also get a bit touristy, so be prepared. They only accept reservations for up to 4, but if you want to get in for dinner, you should absolutely have a reservation.
When we went, just before the regular lunch hour, it wasn't fully packed yet, so we got a seat at one of the long tables. We ordered both the lobster soup and a few skewers of fish. Both were delicious.
The lobster soup was very good. Though it didn't have the creamy richness I was expecting, the flavor was definitely there.
If you want to try to make this soup at home, check out this really great tribute to the owner of Sægreifinn (who passed away in 2015), that includes a sneak peak at their recipe.
Sægreifinn – Geirsgata 8, Reykjavik 101, +354 553 1500
* For Street food
Icelandic Street Food
Now that you're in the mood for some fast and tasty street food, you have to stop in at Icelandic Street Food. Remember when we mentioned that lamb is a popular dish in Iceland? You can try a hearty, warming version of lamb stew here. And it comes in a bread bowl. And if you want more, they offer free refills.
One of the best things about this place is the atmosphere and the friendly service. It's also one of the more affordable lunches you can find in Reykjavik and it's very filling. They don't have an extensive menu – but you go there for the soup, so that's not a problem.
Bæjarins Beztu Pylsur
I'm not entirely sure why this small hot dog stand, located on a side street near the marina, is so famous. But it definitely is, and you'll figure that out first thing just by the line forming in front of it. It's been open since 1937 and has been serving the masses what has become known as the best hot dog in Europe.
You have to order the hot dog with "the works". The "works" simply means ketchup, mustard, onions and a special roumalade with relish. It sounds awesome, and I wanted it to be awesome, but the fact is, it's still just a hotdog.
Even Bill Clinton stopped by for a dog once (and his picture is hanging proudly at the stand). The dog did have a nice snap to it. But the best hotdog in Europe? Doesn't really matter, we'll still get in line for it!
Food tours you may enjoy:
Where to Stay in Reykjavik Iceland
Many visitors to Iceland start their trip in Reykjavik, which we highly recommend. It's a fun city, with plenty of things to do, and nice places to stay.
Here are our favorite places to stay in Reykjavik.
For more choices, check out these Hotels in Reykjavik, Iceland
CONCLUSION
Iceland is creating world-class cuisine and stylish, high-class dining experiences that certainly exceed any expectations I had for this small island. Now is the time to visit Iceland and experience the best in Icelandic cuisine.
If you're spending a bit more time in Iceland, outside of Reykjavik, check out this post for more places to visit in Iceland and a few more food options!
Like this post? Why not share it on your pinterest board? ⇓⇓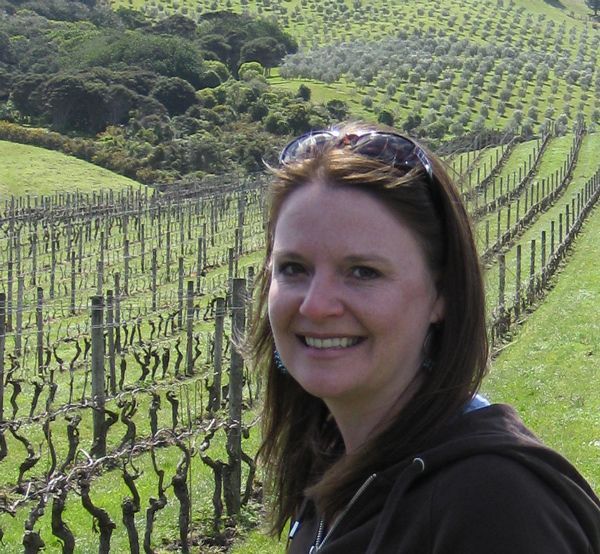 Laura Lynch, creator and writer of Savored Journeys, is an avid world traveler, certified wine expert, and international food specialist. She has written about travel and food for over 20 years and has visited 70+ countries.