Far up in the north of Spain lies La Rioja, a small province covered in green rolling hills, with little brown patches of darkened dirt poking out in between. It's best known for two things: its beautiful countryside, which changes from massive mountain ranges to desert patches reminiscent of the moon's surface; and, most importantly, for its wine.
La Rioja is one of the world's great wine-producing destinations, making close to 300 million liters of wine per year. It's covered in vineyards from head to toe, and is the prime destination for any budding sommelier or wine fanatic.
In La Rioja, you can visit the bodegas to try the wine, explore the sprawling and beautiful countryside, and feast yourself on delicious Northern Iberian cuisine. You needn't worry about where to stay in Rioja. We've got a fantastic list of places that we love to stay.
We've created this list of some of the best hotels in Rioja, from quaint and modern, to luxurious as you can find. All of these hotels are ideally located, to make traveling to and from wine farms (and embarking on tours) a breeze. Let's take a closer look.
Our Favorite Hotel in Rioja
Riojans don't just take their wine seriously, they take their hospitality seriously as well. Our list of places to stay in Rioja ranges from great to amazing, but there is one hotel that we feel is perfect for any stay in Rioja. It's our hotel of choice and we love staying there.
Hotel Viura
*Best as a base for wine tasting excursions*
Bar and Restaurant
Wine Cellar
Spa and Wellness Centre
Heating and Air Conditioning
Views of the Sierra de la Cantabria Mountains
Situated in Villabuena de Alava, a small village with 48 wineries, lies Hotel Viura, a boutique hotel and our top recommended hotel in Rioja. It's around 20 minutes from both Logrono and Haro, so it's a great location to base yourself for wine tasting in Rioja. 
Hotel Viura is hidden among the trees by the river, but if you can catch a glimpse of the front, you'll realize just what an innovative piece of architecture it is. It was designed by Designhouses, a group of Spanish architects, who sought to create superimposed cubes that seemed to rise out of the earth.
The rooms have French windows boasting a beautiful view of the mountains and are tastefully and simplistically designed. There are many great wineries within a few miles of the hotel, such as Luis Canas, Baigorri, and Ostatu. You can arrange a visit via the front desk.
We also enjoy Viura's restaurant, which often has a tasting menu with wine pairings, as well as an la carte menu. The dishes are anything but ordinary. Viura is our favorite for a reason. It has an amazing rooftop bar, affordable luxury in a modern, quiet setting, and is the perfect location for wine tasting. You can't really ask for more.
Book Here
Hotels in Haro, Spain
Haro is a small town in northwest Rioja, known for red wines, and its annual Haro Wine Festival. It's the capital of wine in Rioja.  Thus it's the perfect spot to start your exploration of the region. Here you'll easily find tours, day trips and expeditions to embark on.
As we mentioned in our article on the best bodegas in Haro, we recommend CVNE, Gomez Cruzado, and Lopez de Heredia ine Tondonia to start with – they're all over a hundred years old, and overflowing with Spanish wine history.
Hotel Los Agustinos
*Best for convenience and those not wanting to drive to wine tasting*
Beautiful old building with a glass roof
Free Wifi
Individually decorated rooms
Restaurant and Bar
Bridal Suite
Once a 14th-century convent, this gorgeous, historic stone building has been converted into one of the most tasteful blends of both old and new. The rooms are situated around a square central lounge area with a glass roof, and decorated individually with great care and taste.
It feels like a mix between a modern hotel, and the house of a rich long-lost relative. Located centrally in Haro, it's a good base for easy access to the surrounding region. The in-house El Claustro de Los Agustinos restaurant and bistro serves creative and innovative takes on Riojan cuisine, and the bar has a great stock of local wines.
Book Here
Wine & Soul Suites
*Best for a local experience that doesn't feel like a hotel, or for a romantic stay*
Tasteful Modern Design
TV, Fully-stocked Kitchen and Dining Area in each unit
Continental breakfast
Free WiFi
Spacious
The Wine & Soul suites are modern and tastefully designed.  They lack the usual extra amenities, like a restaurant and room service, but that makes them feel more like home than hotel. All the suites were designed with wine as the inspiration – all combined to create a stunning and cosy visual treat.
Each suite has a television, Wi-Fi, a dining area and a private bathroom. They also each have a kitchen, complete with a coffee machine, fridge, kettle, and oven. There's a hot tub on the premises, for the ultimate relaxing experience, as well as the offer of a continental breakfast. It's incredibly popular amongst couples, and has a distinctly 'romantic' feel.
It's centrally located, making walking to-and-from the local bodegas and vineyards a breeze. The host, Daniel, has made a lasting impression on many guests (which can be seen in just how many of them mention him by name). It's a great option for couples, or for anyone who wants to cook for themselves and live like a (luxurious) local.
Book Here
Hotels in Logrono
Logrono is another city in Northern Spain, located on the Ebro River. It's also the capital of La Rioja, and the center of the wine business. It's an ancient city by most standards, having been both a Roman settlement, and later home to the Celts.
Logrono is home to many fantastic pinchos bars, and we highly recommend you do at least one pinchos crawl, to try all different kinds of Riojan cuisine, paired with fantastic local wine (and beer). Logrono is best explored on foot, and is filled with small boutiques, restaurants, and bars.
There are also well-preserved architectural sites in the area, some dating back nearly a thousand years, like the Catedral de Santa Maria de la Redonda, and the Iglesia de San Bartolome – a 12th century church.   
Hotel Calle Mayor
*Best for foodies who want to partake in the Pinchos crawl*
Free Wi-Fi
Fitness Centre
Facilities for Disabled Guests
Bar & Buffet Breakfast (with vegetarian and gluten-free options)
If you're looking for a city hotel, within walking distance from the Pinchos bars in Logrono, then Hotel Calle Mayor is the place to stay. A former 16th-century mansion in the centre of Logrono, Hotel Calle Mayor has been tastefully converted into lovely modern rooms.
The air-conditioned rooms with parquet floors, each contain a TV, and mini-bar; some even have balconies. Not to mention the close proximity to Calle San Juan and Calle del Laurel streets – the Calle Mayor offers everything you need for a lovely, luxurious stay.
We recommend chatting to some of the staff about which tours, wines and farms are the hidden gems in the region. This family-owned hotel is perfect for those looking for a quaint yet comfortable central location.
Book Here
Eurostars Fuerte Ruavieja
*Best for convenience. Easy to drive to wineries from here. Close to Pinchos crawl*
Close to Laurel Street (Central Logrono)
Fitness center
Free Wi-Fi
Wellness Area with Sauna
The Eurostars Fuerte Ruavieja is a beautifully restored historic building that has been converted into a warm, cozy and spacious hotel. Combining modern interior design, with the starkly contrasted original stone walls make the Fuerte Ruavieja an unforgettable place to stay.
The hotel offers a good fitness center, spa and wellness center, and a well-rated breakfast buffet. The beds are extremely comfortable, there's free wi-fi and the rooms are soundproofed, as well. The central location of the hotel makes it easy to explore Logrono to its fullest.
There's plenty to see and do close by, and while breakfast is provided at the hotel, you can find your lunch and dinner with great ease in the myriad of Riojan-style eateries nearby.
Book Here
Echaurren Hotel
*Best for a unique foodie experience or escape from the city*
Close to Ski Slopes
Opposite Santa Maria Church
Gym & Free Wi-Fi
30-minutes drive from the vineyards
Located in Ezcaray, a small valley municipality in La Rioja, is the Echaurren Hotel Gastronomico – a true culinary experience. While you're there, you'll have an opportunity to try out the two highly-rated gastro restaurants inside the hotel.
The hotel itself is made up of tastefully-decorated rooms in a villa-style building. Compared to all of the restored-building hotels we've mentioned already, this one has a distinctly clean and modern feel. Each room as a television and private bathroom, and comes set with a welcome pack of snacks, and a bottle of wine.
There are two restaurants: Echaurren Tradicion and El Portal de Echaurren. The first serves Riojan traditional cuisine, from croquettes, to chickpea stew, fish soup to lamb legs. El Portal was the first restaurant in La Rioja to get a Michelin Star. It now has two stars. 
The restaurant serves innovate experimental dishes, from "Under a Blanket of Dry Leaves" which is an appetizer meant to recreate a walk through a forest, to "Heart Tartar", a preparation of foie-gras frozen powder, avocado and mustard. If you're looking for a foodie experience, you can't go wrong staying here.
We recommend eating lunch at the traditional restaurant and dinner at El Portal, then staying overnight. It's a great experience.
Book Here
Marques de Riscal
*Best for architecture lovers, and luxury seekers*
Swimming Pool
Bar and Amazing Restaurant
Spa and wellness centre
Great breakfast
Access to Marques de Riscal wine farm
Opened in 2006 in the Elciego Region of La Rioja, and designed by architect Frank Gehry, Marques de Riscal has an avantgarde design, which appears, on the outside, to resemble a smoothly twisted ball of metal sheets – quite an eyecatcher in a dry, green valley.
The hotel's rooms are spacious, well-lit, and provide a great view over the surrounding town and rolling hills. Each room is unique, but they all share the same zig-zag window seat from which to admire the view, and marble bathrooms.
The hotel also has a rooftop library-lounge and wine bar  – the perfect spot to unwind. The Vinotherapie Spa is home to a variety of unique grape-derived treatments. There's also a sauna, indoor pool, fitness center, massage service, and hammam.
The hotel offers tours of the wine farm and cellars. The Marques de Riscal restaurant has a well-earned Michelin star, serving explorative cuisines based on traditional Riojan food history. They have a great selection of wines from the region, and you can even book a table-side cooking experience with the chef, at the Chef's Table in a quiet corner of the terrace.
The 1860 Tradicion restaurant, on the other hand, is a sophisticated dining experience, using throwbacks to unique regional tastes and local produce combined with modern expertise and innovation to create a one-of-a-kind dining experience.
Here, you can experience the finest classic Iberian cooking, combined with excellent local wines. The glazed beef cheeks and hake with clams are some of the most popular choices here, so be sure not to miss them.
Book Here
BOOK A TOUR
If you don't want to plan out your own wine tasting tour or drive around the area yourself, leave it up to the pros and book a group or private tour.
Here are the tours we recommend (some leave from San Sebastian).
In Conclusion
You're now more than prepared for your stay in La Rioja. The decision of where to stay is an easy one, as you can choose any of the hotels above and be assured you'll have a great time.
La Rioja is a beautiful region with some incredible wines, and even better landscapes. Coincidentally, it's best enjoyed like a good wine – enjoyed slowly, with calm and precision.
» Want more info on what to eat in Spain? Check out our Spain travel guide. I highly recommend a pinchos crawl in Logrono or pintxos in San Sebastian, in Northern Spain. If you're going to Southern Spain, find out where to eat tapas in Seville. And don't miss a trip to the Rioja wine region.
Like this post? Why not save it to Pinterest?
FOLLOW US on Pinterest, Instagram, Facebook for more great travel inspiration and tips.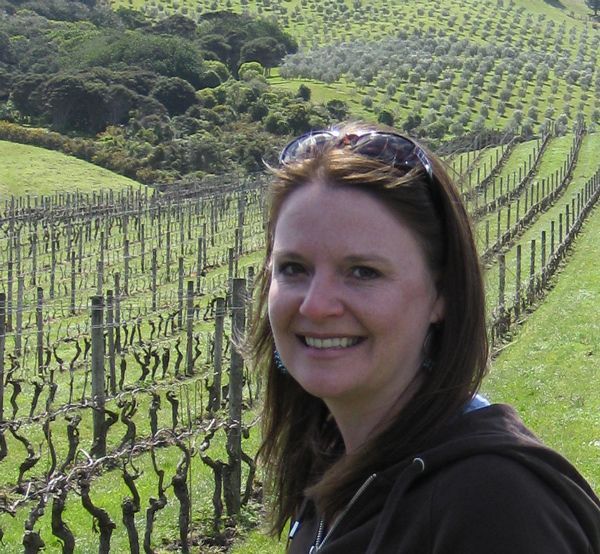 Laura Lynch, creator and writer of Savored Journeys, is an avid world traveler, certified wine expert, and international food specialist. She has written about travel and food for over 20 years and has visited over 75 countries.