When you think of amazing wildlife encounters around the world and the same experiences are bound to crop up time and time again. Going on safari in Africa, tiger spotting in India, diving with sharks in the Bahamas, or getting close to grizzlies in the US.
While these destinations certainly deserve their reputation as wildlife hotspots, there's one place unlike any other wildlife destination out there. A place where wildlife rules and seeing someone on the same stretch of beach is a surprise, not presumed. That place is the Falkland Islands.
A southern archipelago and British overseas territory, the Falkland Islands are home to over a million penguins, miles of untamed landscape, and magical wildlife encounters just waiting to happen. It's a land of rugged terrain and cliff-lined coasts, with hundreds of islands and islets to explore.
A Wildlife Holiday to the Falkland Islands
Did you know the Falklands are home to around 70% of the world's black-browed albatrosses? And that they have the largest population of both Gentoo penguins and southern giant petrels in the world? It's also the only place you'll be able to meet the Cobb's wren and the Falkland flightless steamer duck.
But these aren't the only reasons to visit the Falklands for your next wildlife holiday. The Falkland Islands are sparsely inhabited and are still very much a hidden gem. Meaning that the wildlife can really take centre stage.
It's hard to think of too many other places on this planet where you can be at one with nature – and a beach full of chattering King Penguins – without having to fight the crowds!
So what wildlife experiences can you expect to have in the Falklands? Here's an introduction to the wildlife of the Falkland Islands.
How to Get There
There are some direct flights from the UK and South America to the Falkland Islands, though these flights don't run year round. You'll want to plan far in advance for your trip so you can be sure there are flights running.
There are also some cruise ships that go to the Falklands, Argentina, and Antarctica. This is a great way to join an expedition that will have everything planned for you. Check out this cruise on Poseidon Expeditions to Falklands, South Georgia, and Antarctica.
The Wildlife You'll See There
Falkland Islands Penguins
There are 5 species of penguins that can be found in the Falkland Islands. Despite the seemingly prolific nature of both the Gentoo and Magellanic penguin colonies on the islands, it's actually the Rockhopper penguin that has the highest population of breeding pairs.
There are a smaller number of King Penguins in the Falklands, and Macaroni penguins are the most elusive of the bunch, with far fewer than 100 lurking among the Rockhopper colonies.
Where to Find Penguin in the Falklands
You don't have to journey far from the island's capital to find Magellanic penguins. Gypsy Cove is a fantastic viewing spot for these noisy characters! And Gentoo penguins can be found at over 80 beachside locations throughout the islands.
Likewise, Rockhopper penguins can be seen perching on promontories throughout the islands. And while the majority return to the uninhabited islands of Beauchêne and Jason Islands, there are prime viewing spots on both Pebble and Sea Lion islands also.
Macaroni penguins can sometimes be spotted among the Rockhopper colonies, so keep an eye out for their bright orange crest feathers!
The most accessible King penguin colony in the world is at Volunteer Point. A short 2.5-hour drive from the capital, Stanley. Here you'll find Gentoo and Magellanic penguins also, making it a perfect day trip destination!
219+ Species of Birds
There are over 219 species of birdlife that have been recorded in the Falkland Islands, making it a fantastic destination for birders!
Highlights include the Black-Browed Albatross, the Giant Petrel, the Striated Caracara (also known locally as Johnny Rooks), the Falkland Flightless Steamer Duck, the Rock Cormorant and the Upland Goose. But there are many, many more species to be found if you look keenly.
Where to Find Birding Experiences in the Falklands
Wherever you stay in the Falklands, you won't be disappointed with the range and abundance of bird species to be spotted. But one place really stands out as a bird watching mecca – Weddell Island.
Over 50 species of birds have been identified on the Falklands' third largest island, making it an excellent location to brandish the binoculars.
Jane and Martin Beaton, who are passionate about the island's bird life, manage Weddell Island. And they love to share their extensive knowledge with visitors. Be sure to print off a copy of the island's bird watching checklist before your visit!
Marine Mammals
The Falkland Islands are a magnet for marine mammals. From the migratory whales to false killer whales, the ocean is full of life. But you don't have to venture into the water to see the majority of the Falkland Island's marine mammals. Seals and sea lions commonly clog the coastlines and dolphins surf near the shore.
Where to Find Marine Mammals in the Falklands
The aptly named Sea Lion Island is an obvious place to start. Home to 95% of the Falkland's elephant seal population (during breeding season), these giant beasts put on a show as they fight for mating rights.
Sea lions are also in ample supply, and orcas are commonly sighted offshore, waiting for an easy meal. Both Sea Lions and Elephant Seals can be spotted on other Falklands coastlines also. And if it's dolphins you're after, head to Weddell Island to catch a glimpse of Peale's and Commerson's dolphins playfully putting on a show.
Other Curious Creatures
Patagonian grey foxes and reindeer might not be the kind of wildlife you'd expect to find in the Falklands! Both species have been introduced – the reindeer from South Georgia and the foxes from South America. A small population of both species still exists on both Beaver and Weddell Islands.
Conclusion
The Wildlife of the Falkland Islands is incredible in its diversity and amazing in its accessibility! It truly is one of the best places in the world to see wildlife up close in their natural environment. And that's exactly why it should be your go-to destination for an unforgettable wildlife experience.
To know more visit www.falklandislands.com  (Disclaimer: This post was produced in collaboration with Falkland Islands Tourism.)
Like this post? Why not save it to Pinterest?
FOLLOW US on Pinterest, Instagram, Facebook for more great travel inspiration and tips.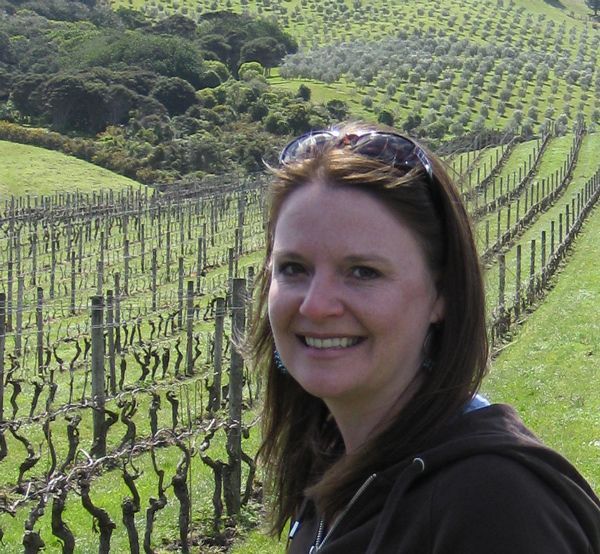 Laura Lynch, creator and writer of Savored Journeys, is an avid world traveler, certified wine expert, and international food specialist. She has written about travel and food for over 20 years and has visited 70+ countries.