If you're a Champagne lover, you won't want to miss the chance to visit the region where all those bubbles are produced, using the traditional méthode champenoise.
A day or two in Reims and Epernay, France, will give you an even greater appreciation for the bubbly, while learning the process from the winemakers themselves, and seeing the incredible wine caves that exist deep under the cities.
» Visiting soon? Check out our France travel guide. You might be interested in visiting the gorgeous town of Annecy, France for amazing food, as well as the Savoie wine region and these three jaw-dropping destinations in the French Alps.
How to Visit the Champagne Region
The best way to discover the region is by driving The Champagne Trail, which covers over 250 miles that wind through rolling hills, along vineyard covered valleys and past quaint little villages. All along the way you can stop to visit the growers and winemakers, to taste Champagne, and to learn as much as you like about the tradition.
There are two main cities in the Champagne region to visit, and the Champagne trail will take you between the two within just a 30 minute drive. In Reims, you can visit world-famous Champagne houses, such as Veuve Clicquot, Pommery, and Taittinger.
In Epernay, you can spend some time walking along the Avenue de Champagne, popping in at tasting rooms along the way. The easiest way to get to the Champagne region is by car from Paris. If you're already visiting, you can rent a car in Paris and take a day or overnight trip to Champagne.
You can take the train from Paris to Reims, but it's not very easy to get around to the Champagne houses without a car, and you'll definitely need a car to visit the countryside or to go into Epernay. Below you'll find all you need to know to plan a road trip in the Champagne region, for wine tours and tasting.
⇒ Interested in the other fantastic wine regions of Europe? Check out our guide.
Champagne Houses to Visit in Reims
Veuve Clicquot
TEMPORARILY CLOSED
You've likely already heard of this Champagne brand, as it's one of the most popular Champagnes being sold around the world. The underground cellars of Veuve Clicquot are one of the main highlights of a visit. It has been designated as a UNESCO World Heritage site.
They've been making wine since 1772, then bought the underground quarry in 1909, and turned it into a wine cellar. You will learn all about the fascinating history – including the cellars being used as a shelter during the war – on a guided tour.
When you purchase tickets for your visit, it can include a tour and a few different types of tasting options. Click here to see them all and book online. Prices range from 30€-50€.
Location: 1 Place des Droits de l'Homme, 51100 Reims, France
Hours: Tuesday to Saturday 10am-5pm
Email: visitscenter@veuve-clicquot.fr
Champagne Pommery
Jeanne Pommery built this incredible Elizabethan-style mansion in the 19th century. If you're looking for an experience you won't forget, a stop at Pommery is absolutely necessary.
You won't believe your eyes when you see the estate. Inside the estate, which you'll see on a guided tour, are ancient Roman caves, chalk caves that are accessed by an impressive staircase, and tasting rooms that look more like art galleries.
It's one of the largest Champagne house, making around 500,000 cases a year. There are a few differnt tours you can take at Pommery. Be sure to book in advance. The tours are given in English, French, and German. Prices range from 22€-35€.
Location: Place General Gouraud, 51100, Reims, France
Hours: Early April to mid-November: every day 9:30am-7pm. Mid-November to late March: every day 10am-6pm
Email:visites@vrankenpommery.fr
Champagne Taittinger
Another Champagne house with an impressive chalk cave that has been designated a UNESCO World Heritage site, Taittinger will stun you from the moment you arrive at the impressive entrance gates.
The estate houses the ruins of Saint Nicaise Abbey from the 13th century, as well as the chalk caves that are 18 meters below ground. In the caves is where they age their Champagne. After seeing a video that explains the history and winemaking style of Taittinger, you'll descend down into the cellars and walk through the long halls of aging Champagne.
Tours are given in English and French. You can also book a group tour in German or Spanish. Available tours include the following and can be booked online here. Prices range from 19€-55€.
Location: 9 Place Saint Nicaise, 51100, Reims, France
Hours: Daily 9:30am-5:30pm
Champagne G.H. Martel & Co
Located within a 5-minute drive of Veuve Clicquot and Taitttinger is G.H. Martel & Co. This Champagne house offers wine tasting and tours to their medieval chalk caves, which were dug between the 4th and 15th centuries, at a depth of 22 meters.
Along the tour, they have a collection of winemaking tools and machinery to see. The tour also includes a film of the Champagne house and winemaking process and an eco museum.
If you don't have the time for a full tour, you can stop into the wine shop for a tasting at any time. There are a few Champagne flights to choose from ranging from 12-20€.
Location: 17 rue des Creneaux, 51100, Reims, France
Hours: Daily 10am-1pm and 2pm-7pm. Tours in French and English until 5:30pm
Email:boutique@champagnemartel.com
Champagne House to Visit in Hautvillers
Located about 30-minutes south of Reims on the way to Epernay, you'll come upon the small town of Hautvillers. It is in Hautvillers that the monk Dom Perignon began the process of making Champagne in the 18th century.
You can visit the Saint-Pierre Abbey of Hautvillers where he lived and see his gravesite inside the abbey. Being the actual birthplace of Champagne, you can also find many tasting rooms and see the beautiful vineyards stretching across the surrounding mountains.
We recommend stops at:
Champagne House to Visit in Epernay
We highly recommend you drive all the way into Epernay and spend at least a day walking along the Champagne de Avenue, where you'll find nearly a dozen Champagne Houses to visit.
We really like that it's possible to walk between each of them, because the tastings are full glass pours. You'll want to have time to enjoy it, rather than skipping quickly between them.
Collard-Picard
Champagne Collard-Picard was founded in 1996 by Olivier Collard and Caroline Collard-Picard. It is a privately owned grower-producer Champagne house. They have both a cellar and a shop. To visit the cellar, you must make an advanced appointment for a visit and private tasting with Mr. Collard.
You can stop in at the stop on the Avenue de Champagne during opening hours for a tasting of their classic, prestige, and exceptional lines, as well as the Coteaux Champenois Rouge. Our favorite is their Premier Cru Rose Champagne, using the "de Saignee" vinification technique.
Location:  15 Avenue de Champagne, 51200 Épernay
Hours: Everyday 10 or 10:30-5:30 (open until 7pm Saturdays)
Website 
Moet & Chandon
TEMPORARILY CLOSED
One of the most well-known Champagne houses in the world is Moet & Chandon. In Epernay, they also have one of the largest Champagne houses. It's impressive to look at, even from the outside. If you take a tour, you'll have a chance to visit their cellars and see a bit of the over 28km worth of underground cave system they have.
You'll learn the history of the family, the Champagne and the area from the guide as you walk along. The tour ends with a tasting. You can choose between a Traditional Tour, Imperial Tour or Grand Vintage Tour. Prices range from 25-40€.
Location: 20 Avenue de Champagne, 51200 Épernay
Hours: Sunday to Wednesday 9:30-11:30 and 2pm-4:30pm
Email: Contact form
Champagne de Castellane
You'll see the giant tower of Castellane the moment you enter town. This is one of the larger Champagne brands, so you can expect there to be a full and large tour group. When you arrive, you can visit the museum of winemaking and climb the tower.
The tour lasts around 45 minutes and goes through the winemaking process, into the underground cellar and back to the bar where you'll try a few different Champagnes.
Location: 63 Avenue de Champagne, 51200 Épernay
Hours: Every day from 10am-noon and 2pm-6pm
Email: visites@castellane.com
How to Get Around
The best way to get around the region is by car, so be sure to book a rental car in Paris and drive yourself along the Champagne Trail. It's about 1 hour 45 minutes from Paris to Reims, then another 40-minute drive between Reims and Epernay on good roads that are well marked.
It's usually wise to create a road trip map and book appointments with producers in advance, but you'll also see signs along the way directing you to producers that are open for tastings. It's possible to stop at these spots along the way, without an appointment. Within Reims, it's easiest to get between the Champagne house by car.
The distances between are typically about a 5-minute drive. In Hautville, you can park your car at the carpark area and walk to everything from there. In Epernay, you can park your car near the Avenue de Champagne and walk to many Champagne houses and tasting rooms.
Where to Stay in the Champagne Region
In Reims If you're staying overnight in Reims, you'll quickly learn that there isn't a huge selection of hotels. We stayed at Best Western Premier Hotel de la Paix. If you're looking for a more luxury stay, try the Chateau Les Crayeres.
In Epernay I loved Epernay so much that I wanted to stay a few days longer than we'd planned. If you have the time, I highly recommend staying for a day or two. We found Le Suites du 33 to be the perfect place to stay. It's located at 33 Avenue de Champagne, so it's within easy walking distance of everything. There's also a tasting bar for Champagne de Venoge that you won't want to miss.
CONCLUSION
With so many Champagne houses to visit in Reims, Epernay and in between, you'll definitely want to make a road trip to the area from Paris. It's easy to get to and fun to explore. We're sure you'll find many Champagnes you love along the way.
Like this post? Why not pin it on your Pinterest board to share with others.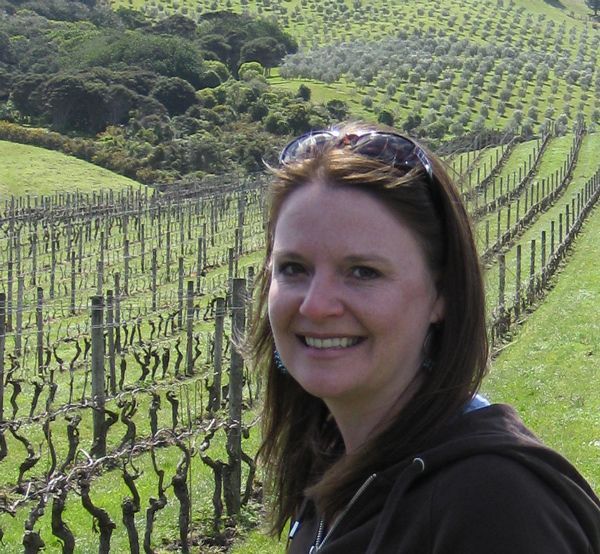 Laura Lynch, creator and writer of Savored Journeys, is an avid world traveler, certified wine expert, and international food specialist. She has written about travel and food for over 20 years and has visited 70+ countries.