As a food and wine lover, there's no better treat than to visit the wineries that your favorite wines come from, and since France is the world's epicenter of Old World wine, it's highly likely that a few of your favorites are in France.
A great way to discover the incredibly rich and fertile wine regions in France is to visit the vineyards and taste wines from prestigious wineries you've always dreamed of visiting. France is, after all, one of the top wine regions in Europe.
» Learn more about these 13 Beautiful Cities in France to Visit.
Whether you want to plan your own France wine tour or go along with a knowledgeable guide, a wine tour in France is the perfect vacation for wine lovers. Below you will find the top winemaking regions of France.
We've done our best to provide you with information about how to get there, when to go and what wineries to try in each. You'll also find a few recommended guided France wine tours to join if you'd rather leave the planning to someone else.
» See our France Wine Regions web story.
French Wine Region Map
Since there are so many different wine regions in France, it helps to look at a French Wine Region Map to get the lay of the land and understand how everything is situated.
On this map, you can see each of the regions in different colors.
Best Time to Visit France for Wine
The best time to visit France's wine regions is from August to November. Harvesting takes place in late August through early November and that can be a very busy time for the wineries, but it's also the best time to see the grapes at their peak and see some of the harvest activities.
You'll also find that there are a good number of wine festivals and fairs going on all through the high season, and visitors are always welcome.
⇒ Since you're interested in French wine, check out these 10 French drinks you can enjoy on your next trip to France.
Where to Go Wine Tasting in France
Alsace
The Alsace wine region is located on the border of France and Germany, which gives the wine produced there a slightly different twist than you might expect. The main grape varietals used are Gewurztraminer and Riesling, though the wine-making style is quite a bit more dry than Germany's wine made with the same grape.
The Alsace wine route takes you through charming villages like Dambach-la-Ville, Ribeauvillé, Mittelbergheim and Riquewihr. Here is a wine map of the Alsace wine region for you to see and download. Because of its peaceful, easy terrain, the area is popular for cyclists and is one unique way you might consider for your Alsace wine tour.
If you want to see as much of Alsace as possible, you'll need a car to drive from one end to the other, stopping at wine villages along the way to do wine tastings. If you start in Strasbourg, you can drive all or some of the 100+ miles down to Thann.
Another option would be to fly into Basel and start your journey at the southern end of the region. Alternatively, you could choose a middle ground and base yourself from there, while driving out to various wineries each day from your home base.
Colmar is the largest central location, but we like Hunawihr more because it's quite charming, has lots of restaurants and dozens of wineries to visit nearby. Also visit Riquewihr, one of the most beautiful Alsace villages.
⇒ Book Your Tour: Alsace Wine Route: Tasting Tour from Strasbourg
---
Bordeaux
If you're a wine lover, you've likely always wanted to visit Bordeaux, the wine capital of the world. Not only is Bordeaux reaching near mythical wine status, it has a fantastic blend of history, culture, and food that just can't be rivaled.
It's one of the best wine tour destinations in France and perfect for wine lovers looking to expand their knowledge and palate for fine wines.
Due to the number of famous wine regions in Bordeaux on both the left bank and right bank of the river, you could easily stay for a whole week and not even begin to scratch the surface.
The top wine regions include Medoc, Haut Médoc, Saint-Estephe, Margaux, Saint Julien, Pauillac, and Pessac-Leognan, Graves, Saint Emilion, and Pomerol. Each region has its own conglomeration of wineries and you will have to decide where to go and how many wineries you can make it to in a day.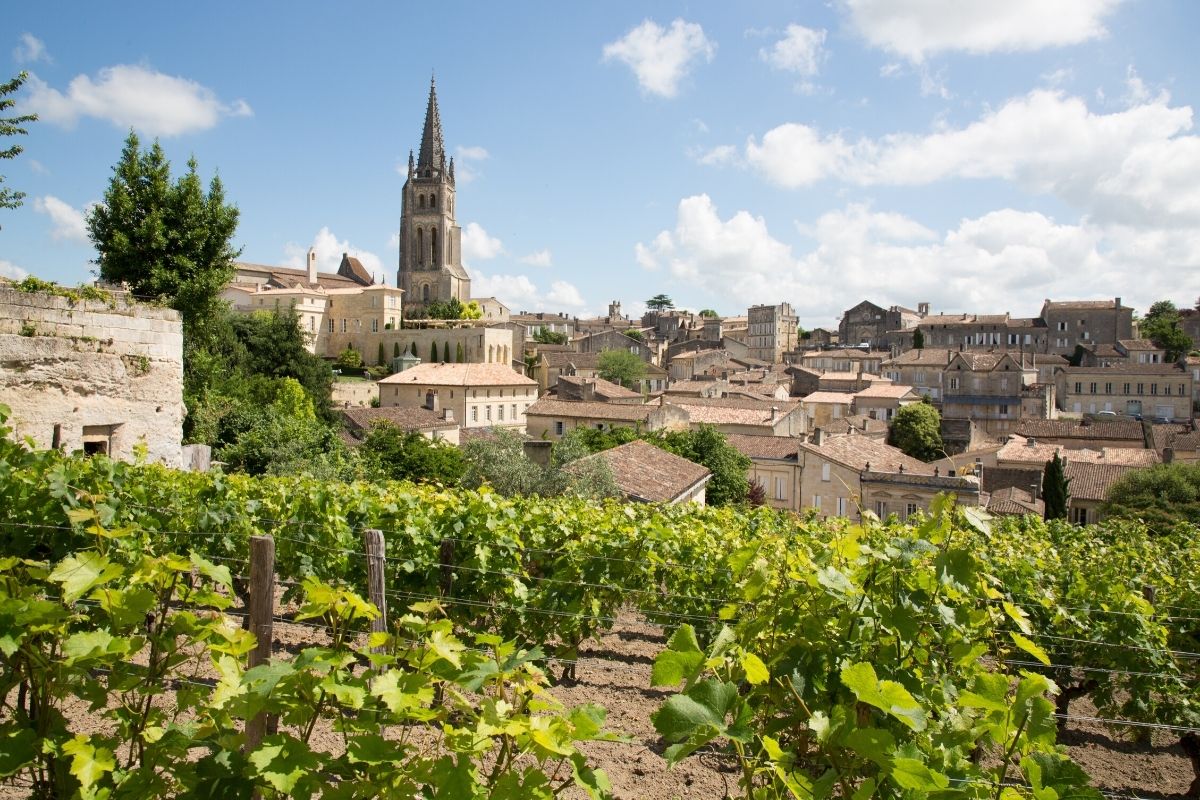 It's much easier to visit multiple wineries in Saint-Emillion, which has wineries placed much closer to together than Medoc.
Pomerol and Graves are great areas to visit because competition to get in for wine tasting is less fierce, the pace is laid back, and the prices are often lower. Our recommendation would be to spend at least 2 full wine tasting days each in Medoc and Saint-Emillion.
You can do that easily on full-day guided wine tours leaving from the town of Bordeaux (which is central to both regions). It is less likely to be able to find a tour to the smaller areas. You'll need a car to get around.
Where to Stay in Saint-Emillion: Chateau Grand Barrail | Book on Expedia
Where to Stay in Bordeaux city: InterContinental Bordeaux Le Grand Hotel | Book on Expedia
Where to Stay in Left Bank: Chateau Pape Clement

Book your Bordeaux wine tour:
---
Burgundy
Speaking of wine capitals of the world, Burgundy (or Bourgogne, as it's said in France) is another wine-lovers dream destination, especially for Pinot Noir and Chardonnay fans. As one of the main regions for Old World wine, Burgundy is steeped in history.
The narrow valley in eastern France runs along a steep mountain range from Dijon in the north to Lyon in the south, encompassing several famous sub-regions:
Terroir is taken very seriously in Burgundy and labels are given to designate between the most prestigious plots of land, from Grand Cru vineyards, like Puligny-Montrachet, Pouilly Fuissé and Gevrey Chambertin, to village-specific appellations.
The wines produced in the best plots in Burgundy can bring in top dollar, and is considered to be some of the most prestigious wine in France.
You can visit any of the regions throughout Burgundy, but two of our favorites are Côte de Nuits and Côte de Beaune. For a central location, you can base yourself in the charming city of Beaune and branch out to the various areas for wine-tasting day trips.
At the north end of the wine region is Dijon, which also makes a good home base for visiting the more northern wineries.
Where to Stay in Dijon: Grand Hotel La Cloche Dijon | Book on Expedia
Where to Stay in Beaune: Le Montrachet | Book on Expedia

Book your Burgundy wine tour:
---
Champagne Wine Region (Reims & Epernay)
Champagne is one of the most famous wines in Europe; it's no wonder adoring fans flock to this wine regions in France. The region is easy to reach from Paris and makes a great day trip for visitors to the city of romance. Many of the Champagne houses can be found in either Reims or Epernay.
In Reims you'll find prestigious Champagne houses like Veuve Clicquot and Tattinger. In Epernay you'll find an array of tasting rooms along the Avenue de Champagne, including Moet et Chandon.
The Champagne region has been named a UNESCO World Heritage site. That, along with the beautiful rolling hillsides of vineyards, and the chance to taste some of the best Champagne in the world directly from the source is reason enough for us to visit.
You can make a visit to Reims and try plenty of Champagne to make you happy, but if you're a dedicated wine lover, you'll want to rent a car and drive from Reims down to Epernay.
It's a very easy 30-min drive and there are cute little towns, vineyards, and more Champagne houses all along the way. We particularly enjoyed a stop in Hautvillers, which has enough wine and Champagne tasting to filled an entire day on its own.
Where to stay in Reims: Best Western Premier | Book on Expedia
Where to stay in Epernay: Les Suites du 33 | Book on Expedia
Book a wine tasting tour in Champagne:
---
Rhone Valley
For wine connoisseurs, the Rhone Valley is a little slice of paradise. Many of the French wines we love come from the Rhone Valley – like Côtes du Rhône, Hermitage, Côte-Rôtie, and Beaumes-de-Venise. The area is divided into two main sub regions – the northern and southern Rhone. 
The northern sub-region produces red wines with the Syrah grape, and white wines from Marsanne, Roussane and Viognier grapes.
The southern sub-region produces many different blends of reds, whites and roses. The Rhone Valley is where the prestigious Châteauneuf-du-Pape is made. When planning a wine tasting trip, you'll want to look to the Côtes du Rhône region first.
As with Burgundy, Côtes du Rhône has many different layers to their wine classification, which includes the basic AOC, villages, named villages and crus.
There are 21 villages that are allowed to be named on the bottle, along with 17 distinctive crus. Some of our favorites to look out for are Châteauneuf-du-Pape, Côte-Rôtie and Crozes-Hermitage.
Where to Stay
Book your wine tour:
---
Savoie Wine Region
A smaller, lesser known wine region in France is the Savoie, stretching from Geneva, Switzerland down to the city of Chambery, France. The vineyards of Savoie are often planted on very steep slopes in order to maximize on the terroir and the sun.
The region produces mostly white wines from the Altesse and Roussanne grapes, but you can also find the unique red Mondeuse, Pinot Noir and Gamay.
If you speak French, you'll easily be able to set up your own wine tasting appointments with wineries in the area just by emailing in advance. However, if you don't speak French, it can be more difficult. In this case, we recommend contacting a wine guide to show you around.
We can highly recommend Bernard Vissoud of Alpes Flaveurs. He can set up any type of wine or food experience you wish. Be sure to stop by Philippe Grissard and Yves Girard Madoux, where you'll find some of the best expressions of the wine in the Savoie region.
Where to Stay in the Savoie Wine Region:
---
Jura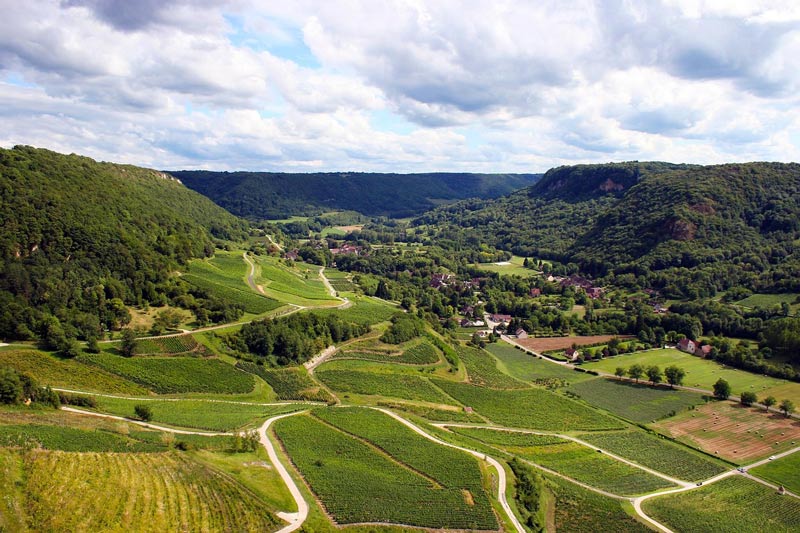 From the longest to the smallest – The Jura is the smallest wine region in France. But it shouldn't be overlooked. It's located between Burgundy and Switzerland at the foothills of the Jura Mountains.
It contains only about 2,000 hectares of vineyards, but among those vineyards are a wine variety of grapes, many that you've probably not heard of before.
This variety leads to some unique and interesting wines that are different than the French wines you're probably used to. That makes this region especially unique and interesting to wine lovers who want to try something new and different.
The five main grape varieties you'll find in Jura are Pinot Noir, Poulsard, Trousseau, Chardonnay and Savagnin.
You'll also find Vins jaunes, a dry "yellow" wine that is similar in characteristic to fino Sherry, however it's not a fortified wine. It is made with the late harvested Savagnin grapes. To get to the Jura, you can fly into Lyon or Geneva. It's about a 2-hour drive from either.
Where to stay in the Jura Wine Region: Chateau De Germigney | Book on Expedia
Book a tour: Les Jewels of Jura – all-inclusive wine and culinary day-tour
---
Loire Valley
Loire Valley wine region is the longest wine route in the country, stretching over 1000 kilometers along the Loire River in France. It's not only well known for its incredible wine, but for the beautiful vineyards and Chateaux.
A trip through the Loire Valley will give you insight into many top wine designations, like Sancerre, Pouilly Fumé, and Vouvray.
Of course, it's nearly impossible to see the entire valley in just one trip, especially since you'll be sidetracked all along the way with fantastic activities and wineries to visit.
There are over 1000 wineries in the area that are open to visitors. Some of them are famous Chateaux that you must stop at. Many of them offer accommodations where you can stay among the vines, great wining and dining experiences, even the chance to pick grapes, participate in harvest, or make your own blend.
Just check around, you'll find more things to do than you can possibly fit into your itinerary.
The prominent grapes in the Loire Valley are Cabernet Franc, Gamay, Chenin Blanc, and Melon de Bourgogne. The styles of wine vary as much as the terroir along the river. Villages you'll want to visit include Touraine, Bourgeuil, Nantes, Chinon, Savennières, Saumur and Anjou.
Where to Stay in the Loire Valley
Book your Loire Valley wine tour here:
---
Provence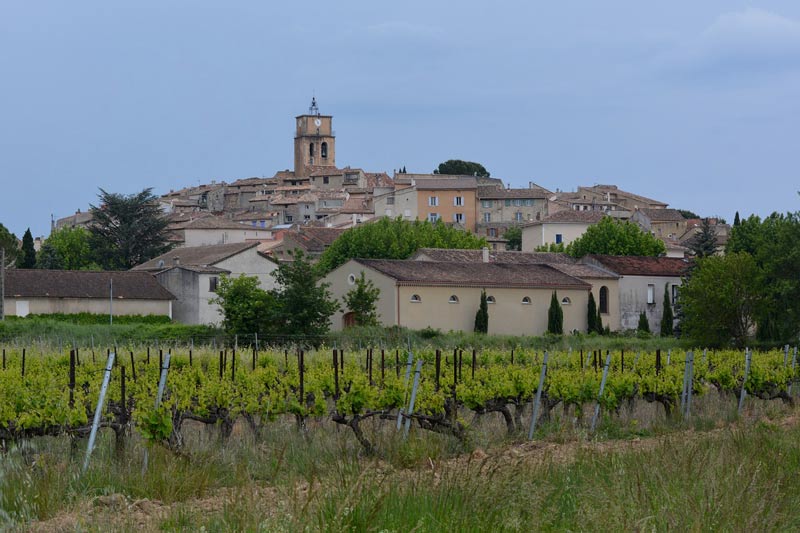 If you're a rose wine drinker, you will love the Provence wine regions, which is often overlooked. At least 80% of the wine production in Provence is rose. Wine has been made in this region for over 2,600 years, making it one of the oldest wine regions in France.
It's location on the Mediterranean gives it perfect growing conditions for many varieties of grapes. In Provence there are 9 AOC regions, the largest being the Côtes de Provence.
The second largest is perhaps best known for its rose production: Coteaux d'Aix en Provence. Here, a blend of Grenache, Mourvedre, Cinsault, Syrah and Counoise grapes are used to gain that perfect balance. A good place to base yourself in Provence for wine tasting is the city of Marseille.
Where to stay in Marseille: InterContinental Marseille – Hotel Dieu | Book on Expedia
Book your wine tour:
---
Languedoc/Rousillon
This wine region is likely to be the one you haven't heard about before. But it is growing in popularity in recent years and has become one of the most watched wine regions in France, for a number of reasons.
The Languedoc AOC is one of the fastest-growing in France, thanks to their recent shift in intentions, from quantity to quality. The Languedoc-Roussillon region accounts for about a third of all French wine production, and it's also one of the largest for organic production.
If you're looking for quality and value and you like the thrill of a "discovery", then this region is going to be your new favorite.
There's a wide variety of grapes grown here, including Carignan, Grenache, Cinsault, and Syrah for reds and Maccabeu, Grenache Blanc, Roussanne and Marsanne for whites.
For a wine tasting trip in the Languedoc region, start in Montpellier from where you can reach a lot of the area's wineries. The Pic Saint-Loup and Montagne de l'Hortus are located to the north and to the west is Mont Saint-Baudile with views of the vineyards of Montpeyroux.
Where to stay in Montpellier:
Book your wine tour:
CONCLUSION
We know you're going to love all of these lovely wine tours in France. There are enough experiences listed here to go back time and time again to enjoy the vineyards and the lovely French countryside. If you have a favorite wine tour in France you've done and want to share it with us, we'd love to hear from you. Drop us a comment below.
Like this post? Why not save it to Pinterest?
FOLLOW US on Pinterest, Instagram, Facebook for more great travel inspiration and tips.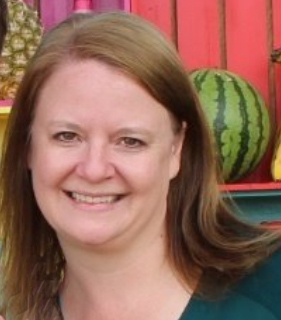 Laura Lynch, creator and writer of Savored Journeys, is an avid world traveler, certified wine expert, and international food specialist. She has written about travel and food for over 20 years and has visited over 75 countries. Her work has been published in numerous guidebooks, websites, and magazines.