This post will help you plan a fun and informative self-guided wine tour in Puglia, Italy.
We've always found that traveling to a wine region is the best way to learn about its wine and the industry in a short amount of time. If you're just beginning to research a wine tasting trip to Puglia, you're in the right place.
Puglia is one of Italy's main wine regions, located in the heel of the country. If you're a Primitivo fan, you've probably already tasted wines from this region, as it's most well known for its Primitivo and Negroamaro grapes.
Here's more to help you plan
Within the Puglia wine region, there are 25 DOCs (Denominazione di Origine Controllata), where you'll find up to 200 wineries. The region is vast and covers a lot of area, so unless you've got a lot of time, it'll be difficult to cover it all.
We recommend settling into one region that interests you the most, which is what we did. Thus this post will focus on the Gioia del Colle area and some of the surrounding wineries. If you're looking for a longer trip, check out this Puglia road trip itinerary, which might help you plan to cover more of the area.
The majority of the wines produced in Puglia are dry white and red wines, made from traditional varieties like the red grapes Primitivo and Negroamaro and white grapes Falanghina, Verdeca and Muscat.
In the past, much of the large quantity of wine produced in Puglia was shipped off to be blended with other wines, but that is no longer the norm. A focus on quantity has been replaced with a desire for quality.
The Gioia del Colle DOC and Primitivo di Manduria DOC produce what is considered the best of Puglia Primitivo.
If you're hitting up Italy as part of a larger trip to Europe, be sure to check out our 2-week Europe Itinerary.
Self-Guided Puglia Wine Tour
The wine tourism industry is not very developed in this region, so it's both difficult to find a tour and to find a driver. For that reason, you'll need to drive yourself around the area.
Luckily, the driving there is very easy and well signposted. The only issues are a potholes and some narrow streets.
All of the wineries on our list to visit require advanced appointments. Some of the wineries have forms to fill on their website, but we've found that emailing gets a better response.
In some cases, you may even need to call to get a response. Contact them at least a week in advance to allow time for them to get back to you.
Must-Visit Wineries in Puglia
As mentioned previously, the Puglia wine region is very large. We've found that most visitors to this area are coming here for more than just wine tasting.
They want to see the beautiful white-washed towns on the hillsides, and enjoy the sea views. Combine that with the desire to try some of the best wines of the region and you'll find yourself in one of the two regions, Gioia del Colle or Manduria.
The Gioia del Colle region centers around the town of the same name, located on top of the Murgia plateau and is considered to be the home of the Primitivo grape. Manduria is located further to the south.
Giovanni Aiello Winery
You'll be hard pressed to find a winemaker with more passion for the vines and the wines. He doesn't yet have a dedicated space, but he is happy to walk you through his vineyards and give a taste of his wines at his base in Castellena.
His production is currently 26,000 bottles per year. Giovanni grew up in the countryside near Valle d'Itria in Puglia, and has worked in nearby wineries, but he also studied and worked in wineries in both Australia and the U.S., which inform his winemaking style.
To show the handcrafted nature of the wines he produces, Giovanni only uses grapes that are native to Puglia and he hand-stamps every one of the labels that adorn the bottles.
One of his prized wines is Chakra Essenza, a 100% Verdeca white wine, made from 100+ year old vines in the Valle d'Itria IGT, that have been maintained for decades by 88-year-old Tonetta and 91-year-old Toniuccio.
Other wines from Giovanni that you must try are the bright and easy-drinking Chakra Verde, a 100% Verdeca from Canale di Pirro, and Chakra Rosso, a 100% Primitivo, using a vinification method from Burgundy called vendanges entières, in which whole bunches of grapes are used, allowing the stems to add structure to the wine.
To make an appointment:enologoperamore@gmail.com or fill out the online form.
A Mano
We have a great love for Zinfandel from California and were excited to find a winemaker in Puglia – originally from California – who applies a similar winemaking style to Puglia's Primitivo as California's Zinfandel.
The story behind the winery is quite endearing. The winemaker, Mark, met Elvezia – a marketing specialist – in Sicily in 1997, and together they went on holiday to Puglia to see the old Primitivo vines.
They were so enchanted by the idea of working with those grapes that they never left. They've been producing wines in Puglia ever since. Their first vintage in bottle was in 2004 and they're now producing around 600,000 bottles per year.
The focus at A Mano is on producing elegant wines that fully express the terroir, but also reflect Mark's unique style of winemaking. Elvezia takes care of the marketing and hospitality side of things and makes sure the tasting experience is just as wonderful as the wines.
The tasting room is in the historic center of Noci. Their white Bianco, made from a blend of 20 to 40-year old vines of Fiano Minutolo and Greco is a light, yet crisp wine with whit peach flavors.
The 100% Negroamaro comes from a single vineyard and is cold fermented in order to enhance the flavor and elegance of the dark fruit and earthy flavors of the grape.
You'll also want to try the Imprint label wines, which include a Primitivo Appassito made from dried Primitivo grapes and a Susumaniello, a rare, ancient red grape that is grown in the Salento Peninsula.
The Prima Mano is a 100% Primitivo made from 70- to 90-year old vines.
To make an appointment, fill out their online form. They are available Monday to Friday from 9:30-5:30 for tastings, booked in advance.
Polvanera
The largest of the wineries we recommend visiting in is Polvanera. They have just completed construction of a new outdoor facility that will allow them to produce 1 million+ bottles per year.
For this reason, you will find Polvanera wines at most restaurants in Puglia. As you can imagine, this is a large production facility, with a large dedicated space for wine tasting, though you still need to make an appointment to visit.
During the visit, you'll have a chance to see the large steel fermentation vats and underground cellar where the wine is aging. Then you'll try 5 wines for 15€. The range of wines at Polvanera is large.
They do everything from sparkling using the Charmat method, to still whites, rose, and reds, plus sweet wines.
Our favorites are the Spumante Brut White using 100% Minutolo grapes, the easy-drinking Polvanera 14, a 100% Primitivo that has been aged for 24 months in stainless steel vats and 1 year in the bottle, with 14.5% alcohol, plus the heavy hitting Polvanera 17, a 100% Primitivo that comes from 70-year-old vines, aged the same amount of time as the 14, but comes in at 16.5% alcohol level.
To make an appointment contact degustazioni@cantinepolvanera.it. Closed Sunday.
Terra Jovia
Terra Jovia is a historic winery located in a manor house in the town of Gioia Del Colle that dates back to 1788. The manor house has been involved in wine making on and off throughout the years, most recently being bottled again in 2004.
They produce two wines – a Primitivo and Primitivo Reserva. Both wines are made in cement tanks, with no wood contact. You can buy them in bottles, of course, but they also produce wine in bulk for locals at a great value.
You can visit Terra Jovia for a tasting, but we also recommend staying for lunch, which includes an array of local specialties and products, served in the lovely garden outside the manor house (in nice weather), or in the home restaurant.
To book an appointment, email info@terrajovia.it. We found that calling directly was a better way to get in touch.
Amastuola
Located in the Amastuola Wine Resort, their wine cellar is a great addition to your itinerary, especially if you're staying there.
They produce organic wines that have won a number of awards over the years. They pride themselves on being wine artisans, thus don't allow the production to get so big they can't continue with that tradition.
Amastuola offers a number of wine experiences that you can partake in. You just need to make a reservation in advance. They offer a basic package of a wine tour through the gardens along with a tasting.
You can also add a snack to the experience. They have the option of having lunch with your tasting, from April to October, but you do need 10+ people to schedule this.
To book an appointment, use the contact form on their website.
What to Eat in Puglia
This region has an amazing variety of food, as does every region of Italy. You'll find specialties that you can only get in this region, so be sure to try a different dish for every meal.
Some of our favorites include:
Orecchiette
Each area of Italy has their pasta specialty. In Puglia, it's orecchiette, which is made with just flour and water. You'll find it served in many different ways, but perhaps the most popular is orecchiette con cimi di rapa (broccoli rabe).
A dish with peppers, tomatoes, and onions. According to TravelWorldOnline.de, it is not clear where the recipe originally came from. Some say it comes from Sicily. The others consider Calabria or Puglia to be the place of origin.
Acquasala
This is a simple take on a bread salad, though really more of a soup. Slices of wet bread are rubbed with fresh tomatoes then sprinkled with salt, oregano and plenty of olive oil. Chopped onions are added along with more chunks of tomato.
Where to Stay in Puglia
When in wine country, we prefer staying somewhere surrounded by vineyards in the countryside, rather than in the city center. We have found that Alberobello (home to Puglia's unique Trulli), is a great center base for tasting wine at the wineries listed above.
These two hotels below are where we recommend staying, though you can also find accommodation in the city at Monopoli or Locorotondo.
Masseria Rosa Trulli in Alberobello
If you want a countryside experience, Masseria Rosa Trulli is a great option, just outside the historic city of Alberobello. They have both traditional Trulli rooms and stone houses. We stayed in a stone house with jacuzzi and large sunken patio with table and chairs. They also have a lovely outdoor pool. Be aware that this is a 3-star, rustic Italian accommodation.
★ Compare prices and read reviews on TripAdvisor or book a stay with Booking.com.
Amastuolo Wine Resort
If you'd rather stay in luxury, then we recommend Amastuolo Wine Resort in Crispiano. It has an estate winery right on site, so your first tasting is already booked. Not everyone loves the traditional old style of Italian accommodations and if that's you then Amastuolu is where you should book. It's a very nice modern affordable luxury hotel located on a farm that is completely surrounded by greenery.
★ Compare prices, and read reviews on TripAdvisor or book a stay with Booking.com.
How to Get to Puglia's Wine Regions
Getting to Puglia is easy because there are two airports in the region. Ryanain and EasyJet fly into both airports, so if you need to take a connection flight from a major airport, like Rome or London, you can fly into these airports very cheaply.
Bari airport is in the north of the region. It's about an hour drive to the area in which you'll find all of the wineries listed in our guide (with the exception of Amastuola, which is 1.5 hours away). Brindisi is about the same distance away, but in the south.
Driving
You will need a car to get around this area. There is no public transportation except for inside some of the major cities.
As previously mentioned, it's difficult to find a driver to take you around to these wineries, but if you're staying in a hotel (rather than an apartment) you can ask the front desk or concierge to find you a driver.
For us, the best option is to rent a car. You can find good deals on Rentalcars Connect. They'll find the best deals from all the rental companies, so you don't have to do the leg work.
Conclusion
As you can see, visiting Puglia for wine can be very rewarding and educational, especially because it's a wine region that is ever expanding, but not overrun by tourists.
Using the above information should help you iron out a good itinerary for wine tasting in Puglia. Then all that's left to do is get there and enjoy the wine!
Let us know if there is anything we can do to help with your planning!
For more great wine regions, see our Discover Wine series, which focuses on regions of the world you can visit for wine tasting.
Planning for an Italy wine trip? Here's more
Like this post? Save it to Pinterest.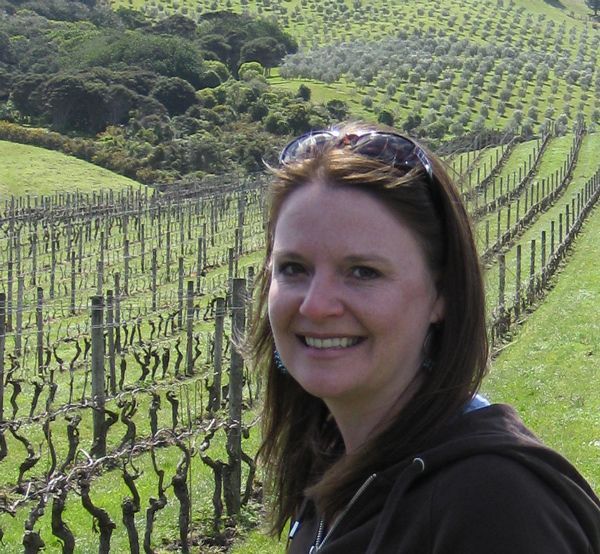 Laura Lynch, creator and writer of Savored Journeys, is an avid world traveler, certified wine expert, and international food specialist. She has written about travel and food for over 20 years and has visited over 75 countries.