This Discover Wine series focuses on regions of the world that you can visit for wine tasting.
Some of Europe's most sought after, and expensive, red wines come from the Ribera del Duero wine region of Spain, an area most casual wine drinkers are not so familiar with.
If you like to travel for wine, you'll definitely want to check out Ribera del Duero and become familiar with its many treasures — not just the wine, but the history, the culture and the one-of-a-kind foods that will knock your socks off.
The Ribera del Duero is located just a couple hours north of Madrid on the main highway, along the famous Duero river, and a couple hours south of the Rioja wine region, which is also packed with great bodegas to visit. It's easy to get to, but being that it is a world-class wine region, it's largely undiscovered, so you have to work a little harder for your tastings.
There aren't many tourists in the area, and the wineries are open by appointment only. But don't let that keep you away. It's quite easy to set up appointments.
Most of the people who will be helping you at the Ribera del Duero wineries speak at least some English, so it's not difficult to set your own itinerary. If you need a tour of the facility in English, you'll have to be flexible because they often only offer one per day, or every couple of days. Just hop on their websites to book an appointment at least a day in advance (much earlier if you don't want to be disappointed) through an online form or through email.
Planning Your Own Wine Tour
It can be time consuming because you have to contact everyone and determine when they will be having a tour in English. Then you have to work out your schedule. I wouldn't recommend more than 3 wineries in a day. While some of them are quite close together, some of them are very far apart.
Consult a map before deciding where to go. I did find it difficult to find many of the smaller wineries on Google Maps, so I had to ask the winery for their address when contacting them for appointments.
Book a Group Wine Tour
To make it easier on yourself, there are plenty of tours being run in the area. Many of them visit 2-3 wineries with a stop at one of the lechazo asado restaurants for lunch. If you only have a little bit of time in the area, and don't mind paying the rather high price for a tour, it's a good way to go!
You can even book wine tours from Madrid to Ribera del Duero if you don't want to do the leg work. The wine tours of Ribera del Duero are mostly all the same – you visit 2 wineries, eat lunch, visit one more, then drive back. If you're hoping to see more wineries or choose which ones you want to go to, that won't be possible on a group tour.
Where to Taste Ribera Del Duero Tempranillo
Vega Sicilia's famous Unico wines are some of the most expensive and highly valued wines in the world, and a handful of other wineries in the area, like relative newcomers Pingus and Abadia Retuerta, are quickly becoming the established names in the region. But there are lots of smaller producers and family-owned bodegas to visit that will give you a down-to-earth picture of the region without breaking the bank.
Many of the larger wineries have started to build architecturally stunning buildings that you'll want to have a look at, as well. So do make sure that you have a balance between the older, family-run, and the larger, more commercial bodegas.
Near Aranda de Duero, you'll find a higher proportion of older wineries, some with elaborate underground cellars that you can visit, to get an idea of how wine has been made and stored here for centuries.
El Lagar de Isilla
El Lagar de Isilla has two locations. Wine making began in 1995 in the restaurant in Aranda de Duero where the owners stored their first production of wines. They later opened the bodega, located about 15 km outside of Aranda de Duero, occupying a colonial farmhouse in the small town of La Vid.
El Lagar de Isilla offers a very well-rounded experience. You can tour the winery and taste the wines at the Bodega, then head back to Aranda where you can enjoy a traditional lunch of lechazo in the restaurant, and then take a look at the ancient underground cellar that is part of the restaurant.
Bodega Portia
Located right along the freeway, Bodega Portia is hard to miss. It looks like a UFO has landed in the middle of a field. There's an English tour you can take of the facility and there's a restaurant that offers local and modern lunch options.
Legaris
The Legaris winery is built in the shape of a cross and the winemaking goes on around the extensions and the center courtyard. It's a very tranquil and lovely. The tasting room is painted all white to allow you to see the colors and textures of the wine.
Bodega Protos
The Protos tour takes you into the old underground cellars which are located within the hillside underneath the Penafiel Castle. The cellar connects with the new spectacular winery building that was designed by Sir Richard Rogers. You won't want to miss this one, as it combines the old, rich culture of the area, with the new, modern winery.
Cepa 21
Owned by the Moro family, Cepa 21 is a beautiful building surrounded by Tempranillo grapes. It's a great place to visit for a view of the valley and to see the Moro family winemaking prowess in action. They also have a very nice restaurant that serves a tasting menu for lunch, paired with their wines.
Emilio Moro
Emilio Moro is a family owned business that has been making wine for over 120 years. They own a large area of old and newers and have been expanding over the years. Being one of the older producers in the area, the family's winemaking skills are very apparent in their wines.
Where to Stay
Visitors either choose to stay in Aranda de Duero, a centrally located city along the freeway, or to the west in Penefiel, located along the Duero river where many of the top wineries are. Since we didn't have much time in the area and didn't want to do a lot of driving, we chose to stay in Aranda de Duero in the beautiful and comfortable Hotel Torremilanos (Finca Torremilanos, Aranda de Duero; 34/94-751-2852; www.torremilanos.com).
The Bodegas Peñalba Lopez is located near the hotel and guests are offered a free tasting tour with their stay. It's a great location from which to explore the area. And it's close to the center of Aranda de Duero, where you're going to want to eat at least once while you're there. We'll get to that in a moment.
⇒ Read reviews on Trip Advisor.
About 30 minutes further along the N122, is the small town of Peñafiel, where you'll find the Hotel AF Pesquera. They also have a bodega, La Bodega de Alejandro, and a nice restaurant and wine bar. Staying here will put you in close proximity to some of the best wine tasting in the area.
⇒ Read reviews on Trip Advisor.
Where to Eat
Now we get to the really good part! The lechazo asado. A specialty of the area, this roast suckling lamb is served in the traditional restaurants only in this region. It even has an IGP (Protected Geographical Indication) status because of the unique way the lamb is raised only on milk, which is said to make the meat especially tender and delicious. You don't want to miss this. Aside from the wine, it is the second most important reason to visit this area.
There are a number of restaurants that serve this specialty. At El Lagar de Isilla, the traditional Castellano menu includes Sopa Castellana (Garlic Soup), Pinchos de Chorizo and Morcilla (Tapas with chorizo and blood sausage), and the infamous Lechazo Asado en Horno de Leña (wooden stove). The meal is served with wine from the bodega. And it's AMAZING.
The lechazo is so moist and flavorful and the skin is incredibly crispy and rich. Each of the accompaniments were unique and exciting. It was one of the best meal we ate in Spain, and believe me, that's saying a lot. Another popular restaurant in Aranda de Duero serving lechazo is Meson el Pastor. In Penefiel, you'll find this specialty at Asados Alonso or Molino de Palacios.
For winery lunches, the top places to visit are Bodegas Portia and Cepa 21. Check out their menus online and reserve a table before you arrive.
There are really so many great things about the region. You could easily spend three to four days here and not run out of things to do, wineries to visit and different local foods to try. No wine lover should miss a trip to the Ribera del Duero wine region.
Like this post? Why not save it to Pinterest?
Pin it for later!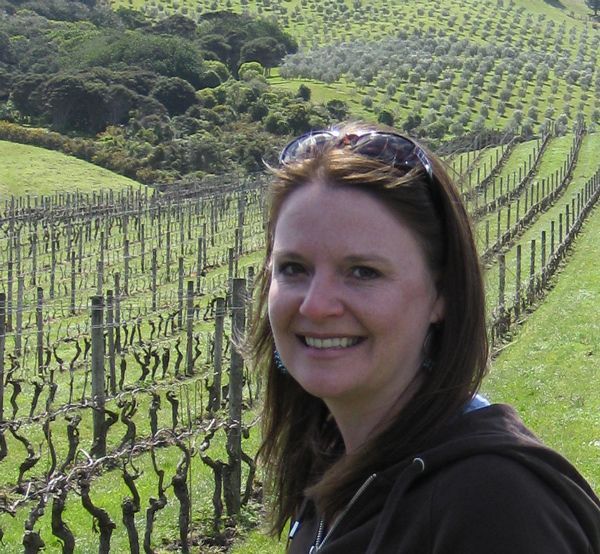 Laura Lynch, creator and writer of Savored Journeys, is an avid world traveler, certified wine expert, and international food specialist. She has written about travel and food for over 20 years and has visited 70+ countries.