Have you ever wondered where the tradition of winemaking began? Wine has been produced for thousands of centuries, but the actual root of wine remains a bit of a mystery. In order to get a glimpse into the ancient history of winemaking, you need to take a trip to the wineries of Georgia (the country!).
It is widely believed that the tradition of winemaking began in the country of Georgia, as long ago as 8,000 years. Archaeological discoveries in Georgia suggest that grape juice was being fermented and turned into wine as early as 4000 BC in clay jars called qvevri that were stored underground. It is this incredible history that led the area to be designated a UNESCO World Heritage Site.
Georgia's wine culture is prevalent all throughout the country, but there are obvious pockets of wine that you must visit in order to get a real feel for how wine was — and is still — being made using the traditional method of underground qvevris.
Wine making in Georgia differs greatly from the European style of winemaking you're probably used to, so a trip to see the wineries of Georgia will be a real treat for any wine lover.
Book a Wine Tour
The best way to get around in the Georgia wine regions is to book a tour. We went on a tour with a company that's sadly no longer in business, but the good news is that I have a friend who runs wine tours in the area and you'll even get a 5% discount if you book with them using my coupon code SJ5!
Eat This! offer grass roots experiences with expert guides, modern vehicles, small groups (Up to 7 people for our scheduled wine country tours, larger groups possible for private tours) where you meet the winemakers themselves, try elevated and unique homemade food and have a personal, immersive trip.
Here are the type of tours they offer:
A scheduled tour (join a group that is already scheduled – see the schedule here
On-demand – Book a new date with a minimum of 2 people. Once your date is confirmed, it will become a scheduled tour and get listed so others can join.
Private tour. You can book a private tour just for your group (min 2 people)
Request a completely unique custom itinerary learn more about the options here.
For more great wine regions, see our Discover Wine series, which focuses on regions of the world you can visit for wine tasting.
How to Visit Georgia's Wine Regions
There are six wine-making and viticultural regions in Georgia. They are:
Kakheti
Kartli
Imereti
Racha
Black Sea Coastal Zone
Maskheti
Of these, Kakheti and Kartli are the closest to Tbilisi, where most visitors begin their trip, so they are the easiest to visit. Luckily, they are also the most important.
The Kakheti region produces more than 70% of all Georgia's wine. It is said to best express the terroir, and many of the main grape varietals used in Georgian wine today come from this area. They use both European and traditional winemaking technology in Kakheti.
Grape Varietals You'll Find in Georgia
As for varietals, there are over 500 unique grape varietals in Georgia, so don't plan on getting to know all of them. Of course, a handful are most typically used today in Georgian winemaking, so you won't have to bring along a handbook to keep from getting lost.
I have to admit, even as a student of wine I was unable to even pronounce many of the grape varietals we tried. It helps to write them down.
The most notable of the Georgian grapes is Saperavi, which is the most widely planted, and is used to make red, rose, and sparkling wines. They call it a black grape because both the pulp and the skin of the grape are red.
The resulting wines are high in acid and tannins, as well as very deep in color. In Kakheti, you'll find both traditional qvevri and European-style Saperavi, but we prefer to stick with the traditional style.
For white wine, the most notable grape is Rkatsiteli. This grape produces white wines with good balance, full body and the flavor of crisp green apple.
Rkatsiteli is most often used to make Georgian amber wine, often referred to elsewhere as orange wine.
Amber wine is made in a qvevri. It differs from the European method in that the juice is kept in contact with the skins, seeds and stems during fermentation. This contact allows the wine to be naturally fermented without the use of chemicals and preservatives.
The difference in the glass is that the color is much deeper (amber) and the wine has more structure, tannins, and body. I call it the white wine for red-wine drinkers.
Other local red grape varietals you'll find in abundance in Georgia are:
Aleksandrouli
Chkhaveri
Dzelshavi
Mujuretuli
Tavkveri
Usakehlouri
For white, some of the more common varietals are:
Chinuri
Goruli Mstvane
Kakhuri Mtsvivani
Khikhvi
Kisi
Mtsvane Kakhuri
Tsolikouri
How Wine is Made in Georgia
The traditional method for winemaking in Georgia has been preserved through the centuries by families who pass their techniques down through the generations and it is staunchly adhered to by most of the winemakers in Georgia, so they don't lose this fascinating part of their heritage.
How does it differ? Wine maceration and fermentation take place in qvevri instead of stainless steal tanks or barrels. Qvevri are clay vessels that have been used in traditional Georgian winemaking since the 7th century BC. They are hand-formed out of sticky clay in numerous stages and are then fired in a special hand-built furnace.
Once the clay becomes set, the qvevri is finished by adding a layer of beeswax to the inside, to keep away bacteria and outside pollutants. If well maintained, a qvevri can last through dozens of years of winemaking – and it's a good thing because they take as long as 3 or 4 months to make, and are quite expensive to purchase.
We saw many different set ups for winemaking during our visit. Some of the smaller wineries are still producing wine in the backyard or basement of their homes, where they've buried a few qvevri, while the larger producers have a dozen or more qvevri buried in their cellar. The qvevri they use vary in size from 20 to 5,000 liters.
We invite you to watch our short video on the winemaking process in Georgia.
How to Get to Georgia's Wine Regions
The most convenient way to reach Georgia is by flying into the capital city of Tbilisi. The city is located in the middle of the two main grape growing regions we just mentioned, making it a very convenient place to base yourself while visiting the surrounding wineries.
I wouldn't recommend driving yourself around in Georgia. Sure, you can, but if you're planning to do any wine drinking at all, it's not a great idea. From watching our driver over 4 days, I noticed quite a few differences in the driving pattern on busy highways and streets, especially in the city.
In any case, it's not necessary to drive yourself. You can hire a private driver for a very reasonable rate. Our guide picked us up at our hotel, took us around to our arranged tours, and dropped us off safely at the end of the tour.
How Much Time to Spend
We stayed in Georgia for 5 days total. We spent two days in Tbilisi, and then took a 3-day wine immersion tour out to the wine regions, where we stayed for two nights. It ended up being just the right amount of time for an overview trip.
You could certainly spend a lot more time exploring. For this reason, I wouldn't really recommend less than 3 days. There are so many interesting sights in Georgia to see, besides wineries, like the Jvari Monastery, pictured below.
Where to Go Wine Tasting in Georgia
As discussed earlier, there are two wine regions you should plan to visit in Georgia. You can visit wineries in both of these regions, and some of them are close enough together that you can visit two or three in one day, if desired.
Many of the wineries in Georgia are privately owned, small family wineries, many of whom started their wine business by making wine at home for personal use. This is another thing you'll quick learn in Georgia – everyone makes their own wine at home.
The absolute best way to go about touring the area is to book a tour with EatThis! You can get in on a pre-scheduled tour with others, or plan a private tour with them. See the schedule here. They offer pre-set day trips to wineries that are all-inclusive.
If you want to put together a more wine-centric itinerary that will take you to multiple wineries in both of the wine regions, we highly recommend contacting them to get a custom quote for a private tour.
If you'd rather just visit a few wineries on a day trip out of Tbilisi, they can arrange that too.
Wineries to Visit in Kakheti
Orgo
One of the most well known of Georgian winemakers, Gogi Dakishvili, the head winemaker at Schuchmann Wines, started the Orgo wine label of the Teledo Winery with his son, who now has his own winery, Vita Vinea
. You can see that wine runs in the blood of the Dakishvili family, and they are kind enough to share the fruits of their labors with adoring fans, like us.
They make Rkatsiteli and Tsolikouri amber wines, vibrant Kisi white wine, Mtsvane Kakhuri, and a bold and fruity Saperavi, using estate-grown grapes from 50+-year-old vines. Their wines are some of the best we tried in Georgia.
Vita Vinea
Although we weren't able to visit Vita Vinea while we were in the area, we did have the opportunity to try it at a wine bar in Tbilisi. Their Saperavi was one of our favorites.
This company is owned by the son of the winemaker at Orgo, and there are three generations of the Dakishvili family are working in the winery. The vast winemaking experience shows in the bottle. They make Rkatsiteli, Kisi and Saperavi using only their own estate-grown grapes.
Marani Milorauli
Sometimes you have the good fortune to come across one of those wineries that has it all – good wine and great hospitality. Our visit to Marani Milorauli was one of those experiences. The owners, Tamara and Sandro Milorava, invited us into their home winery and we immediately could sense the passion for winemaking, and even a bit of experimentation, that was going on there.
They started making wine for resale in 2015, and now with 7 qvevri, Sandro makes a new varietal of wine every year – from Saperavi, Kisi, Syrah and even Montapulciano, all made in qvevri.
Before and during the delicious lunch we had with Tamara and Sandro, we tasted the wines that were freshly bottled, and even some that were still in tanks. We tried the Rkatsiteli amber wine, with its fruity aroma and slight earthiness, and we tried the light-bodied Montepulciano, bursting with raspberry and cherry flavors.
We tried the Syrah that had appearance and flavors reminiscent of a Pinot Noir. Each wine had its own story to tell. If you can make a visit to Marani Milorauli, I can guarantee you will learn a lot about great Georgian wine and great Georgian hospitality.
Mosmieri
Mosmieri is just the right place for wine lovers. The name, in Georgian, means someone who drinks and loves wine.  Joining the ranks of winemakers in 2015, Mosmieri started out only making European-style wines in stainless steel tanks and barrels.
In 2017, with the growing demand for Georgian-style wines, they started their qvevri wine production. In any case, they started big, with a yearly production just under 100,000 bottles. Once their qvevri wines are added, they will exceed that number.
Their new, rather large, winery is also a testament to their dedication to the business. Not only can you stop in at Mosmieri for a wine tasting and tour, you can stay for lunch or dinner, and even host your event in one of their meeting spaces. The views are incredible!
While you're there, be sure to try their Saperavi Rose, which is not only gorgeous in the glass, but vibrant and fruity – everything you want in a rose. They also make a dry white Tsinandali, a Kakhuri amber wine, and a Saperavi.
Pheasants Tears
The amber wine produced by Pheasants Tears was the only Georgian wine we had tried before arriving. We went in with high expectations based on that wine, and we were not disappointed.
Located in the small, mountain town of Signagi, they excel in pairing their wines with typical Georgian foods in a lovely dining experience. Of course, you can stop by for a wine tasting only, but then you would miss out on combining the two, which is an almost essential part of the wine experience in Georgia.
Pheasant's tears was founded in 2007 by John Wurdeman and Gela Patalishvili. They produce artisanal wines fermented in qvevri, including a dry, amber wine made with Mtsvane, and one made with Rkatsiteli, plus a few different Saperavis, and even some cha cha (Georgia's version of Grappa).
Wineries to Visit in Kartli
Gogi Dvalishvali
Gigi Divalishvali started making wine at home in 2001 for his family and friends, and then his excitement for wine experimentation took him in may different directions, including the production and sale of his wine to others.
His production is still small, and is performed entirely in the small cellar connected to his home, but what he's doing is truly unique. He's using local grapes like Atenuri to make amber wine, and a rose, by adding Tavkveri skins to Atenuri juice.
Another interesting experiment he made by introducing bees to his vineyard. He found that the bees help pollinate the vines and increase yield. You may be wondering what he's doing with all that honey.
Aside from selling it in small amounts to the neighbors, he adds it to his white wine to make a remarkably good sparkling wine, and he adds it to vodka as well. We like it so much we bought a bottle to drink at home.
Ori Marani
Ori Marani is a small artisan producer with a strong focus on sparkling wines. The winemaker, Bastien — from the Champagne region of France — and his wife Nino — who is Georgian — started the winery in 2017 in a small village in the Kartli region in order to realize their dreams of starting a winery and blending their two distinct winemaking styles.
While their main focus is on traditional method sparkling wines made from indigenous grapes, they also make a few interesting still wines.
The grapes they use (like Chinuri) come from the nearby Imereti and the sub-zone of Shida Karlti regions, which has the perfect growing conditions for sparkling wine. Fermentation is done in both qvevri and old French oak barrels, depending on the style.
Their delicious dry rose, called Pink Revolution (at left in the picture), was just bottled. It features a unique blend of Kakhetian Aladasturi, Tsitska and Chinuri grapes. It was vinified in both French oak barrels and qvevri to add texture and interest to the wine. This should give you a good idea of the type of wines you can expect to see from Ori Marani.
Where to Stay in Georgia
When deciding where to stay, take into account driving distances and how much wine tasting you'll be doing. It's tempting to stay in Tbilisi, because the distances aren't too far, but you might wish you'd stayed in the wine region instead. Here are two options, depending on what you decide.
In Kakheti
Schuchmann Wines Chateau & Spa
The perfect place to stay among the vineyards in the Kakheti region is at Schuchmann Wine Chateau. The building is lovely and quite new, with luxury rooms, an outdoor pool, and a very nice traditional restaurant. The hotel has stunning views of the Caucasus Mountain Range, so be sure you get a room with a view.
Since Schuchmann Wines is also a winery, guests can go on a winery tour and/or do some wine tasting during their stay. You can also take advantage of the full wine spa.
⇒ Read reviews and see booking options on Trip Advisor.
In Tbilisi
Ibis Styles Tbilisi Center
We don't typically choose to stay at an Ibis, because it's not in our usual affordable luxury range, but the Ibis Styles Tbilisi Center surprised us and changed our minds about this brand. This hotel is new, in their Styles range, and it has charm, personality and surprisingly nice rooms.
We were not only very happy with the room and the exceptionally comfortable bed, we were impressed by the location as well. You really can't get a better location in Tbilisi if you want to be close to tourist activities, wine bars and restaurants. Plus, there's a giant sheep in the lobby.
⇒ Read reviews on Trip Advisor or make a booking on Expedia.com
CONCLUSION
With an 8000-year winemaking history, there's nowhere in the world where you can taste wine from a more historic perspective than Georgia. You can see it in the way the wine is made, unique to anywhere else in the world, and even in the clay qvevri that holds the wine.
Yes, it's a very ancient way of making wine, but the product is a very unique and sophisticated wine that has a huge bouquet of aromas and an age-worthy robustness that can stand a few years is the cellar and still come out tasting fresh and summery.
If you haven't tried Georgian wines, you must in order to full understand the breadth of wine and how different styles and techniques can affect the flavors and characteristics of wine. Without this unique perspective, it is hard to grasp the intricacies of the wine.
Like this post? Save it on your Pinterest board.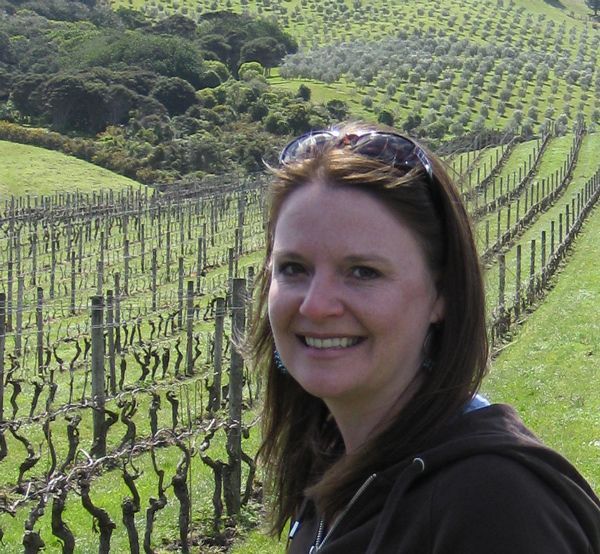 Laura Lynch, creator and writer of Savored Journeys, is an avid world traveler, certified wine expert, and international food specialist. She has written about travel and food for over 20 years and has visited over 75 countries.