The Rioja wine region in Spain is one of our favorite wine growing regions in the world. The center of the wine region in La Rioja is the town of Haro, where you'll find some of the oldest and largest wineries in the area.
It's a must-visit spot for wine lovers visiting Spain. While there are hundreds of wineries in Haro Spain to visit as well as throughout the Rioja wine region, there are at least a dozen in Haro alone that are, in my opinion, not to be missed if you want to get an educated overview of Rioja wine and taste some of the finest vintages around.
In order to make your wine tasting trip to Haro the best it can be, you'll need to know a few important things about the area and the way they conduct wine tasting. You'll find all that information, and more, below in our guide to Haro wine tasting.
At first it might not seem very easy to plan a wine tasting trip in Haro on your own, because you'll need to contact the various wineries for appointments, but don't let that discourage you.
It's actually quite easy to make those wine tasting appointments and the rest of the planning is a breeze.
Planning a Rioja wine trip? Here's more
How to Plan a Wine Tasting Trip in Haro Spain
You don't need to book a guided tour of the wineries in Haro, because it's incredibly easy to do it yourself. Many of the wineries to visit are within walking distance of each other and they each offer their own guided tours with experts to tell you about their wine production.
It's best to base yourself right in the center of Haro and plan your wine tasting from there. If you'd like to branch out from Haro, it's easy to rent a car and drive around the surrounding area, or set up a broader Rioja wine trip with a tour company.
BOOK A TOUR
If you don't want to plan out your own wine tasting tour or drive around the area yourself, leave it up to the pros and book a group or private tour.
If you're hitting up Italy as part of a larger trip to Europe, be sure to check out our 2-week Europe Itinerary.
How to Get to Haro, Spain
Getting to Haro is also fairly easy. Renting a car is the fastest and most convenient mode of transportation for this area. Driving is really easy and the roads are great, and well marked!
The nearest major airport is in Bilbao, about an hour drive from Haro. There are buses you can take from the airport to Haro. You can drive from Madrid in about 4 hours.
Other options to get to Haro include the high-speed RENFE train or the bus from various points around Spain. Find more details about the train and bus options on the Haro Tourism site.
Within Haro, you don't really need a mode of transportation. You can walk from the town center to where the wineries are within about 1/2 mile and you can walk between wineries easily – many of them are on the same street.
How to Book Wine Tasting Appointments
It might seem like a lot of work to contact each of these wineries and set up appointments, but it can be pretty easy through email. Another way to go about this would be to first book your hotel and ask the concierge to book the appointments for you.
This is obviously the easiest way, but not all hotels offer this service. To make the appointments yourself, send an email to the wineries you wish to visit at least a week in advance of your trip (even earlier, if you can).
You'll find the email addresses you'll need in the descriptions below. During busy times, they may not get back to you right away, and the tours can get filled up quickly (especially ones in English), so it's best to do this as far in advance as possible.
If no one is getting back to you, send another email, call, or see if they have an online form you can fill out. Online forms were not as successful for me. If you submit an online form and don't hear back right away, send an email instead.
English tours are given less often than Spanish tours, so you'll have to be flexible and able to take whatever appointment you can get. Some of the wineries also have a tasting bar so you can just walk right in and have a tasting, without scheduling or taking a tour.
Top Haro Wineries to Visit
There are quite a few wineries in Haro that you can visit. Some are historic. Taking a tour of these older wineries is a highlight of visiting the wineries of Haro.
The cellars are built underground and use the natural humidity to support and protect the wine. It's an incredible thing to see. Here are our top choices for wineries to visit.
If you're walking or driving, CVNE is a great place to start. There is a public parking lot directly across from the entrance of the winery, and from there you can walk to the other wineries listed here (in the order given).
⇒ CVNE
Bodega CVNE (Compañía Vinícola del Norte de España) has been around since 1879. It was started by two brothers who were pioneers in the wine industry.
The company has continued to grow and expand, adding additional space and labels to the empire. A winery visit at CVNE, located right in the center of the Barrio de la Estacion, where many of the major wineries in Haro can be found, includes a walk through the facilities and a peek at the cellar building that was designed by Gustave Eiffel.
Deep within the cellar you'll witness the white mold growing all around the stacked bottles aging peacefully. It's really a sight to see. The tour and tasting is €15 per person.
If you don't wish to take a tour, you can walk right into the tasting room at CVNE and try a few of their wines, which range in price from €1-5 for a tasting. They have a few different labels to try.
You can also schedule a winery lunch or take one of their tasting courses (wine and chocolate anyone?)
Address: Barrio de la Estación, s/n, 26200 Haro, La Rioja, Spain
Phone: +34 941 30 48 09
Email:visitas@cvne.com
⇒ Muga
Muga was founded in 1932 and you can expect to find some very nice wines here. The tasting room is very modern and inviting, with a cool train outside!
Tours takes place Monday to Saturday and cost 15€. The visit includes a trip through the winery and tasting of 2 wines. It lasts around 60 to 90 minutes. Make an appointment in advance on their online form. If you don't wish to take a tour, you can walk in at any time and have a tasting at the bar.
There are a few choices of flights, and the tasting prices are very reasonable.
Ever wanted to take a hot-air balloon ride? Muga offers it as one of their activities! I think a balloon ride over the vineyards in the fall would be one of the most beautiful ways to see the vineyards at their peek. They also offer full-day wine tasting courses.
Address: Barrio de la Estación, s/n, 26200 Haro, La Rioja, Spain
Phone: +34 941 31 18 25
Website: http://www.bodegasmuga.com/en/
Email:visitas@bodegasmuga.com
⇒ Gomez Cruzado
This winery was founded in 1886 and has been run by a few different people along the way. The current owners have been the driving force that ushered Gomez Cruzado into the spotlight.
The winery is housed in the original structure in the Barrio de la Estacion, and while it's one of the smallest, it has a lot of personality to make up for it. You can walk in for a wine tasting (no reservation needed) any day of the week and ask for a tasting flight, which includes five wines for 18€.
You can also taste on a per-glass basis. They have a guided tour and tasting for 25€ that includes wines of the Gómez Cruzado's central family of fine wines and the Terroir Selection village wines, accompanied by an appetizer and olive oil.
There's also a premium tasting for 50€ that includes the exclusive wines from the winery and charcuterie. You must book in advance.
Address: Av. de Vizcaya, 6
Phone: +34 941 31 25 02
Website:www.gomezcruzado.com
Email:bodega@gomezcruzado.com
⇒ Lopez de Heredia Vina Tondonia
The history of R. López de Heredia Viña Tondonia can be traced all the way back to 1877 when the founder came to La Rioja looking to start up his winery business and grow grapes.
He planted the vineyards and followed it up with the establishment of the winery, the first in Haro, shortly after. It remains a family-owned winery to this day. A visit to Viña Tondonia is an absolute must when in Haro.
If you only want to do one full tour in Haro, this is the one to choose. They are open for visits from Monday to Saturday (except holidays) and the tour lasts around 2 hours with a tasting.
If you don't have time for a tour, the wines can be tasted and purchased in the unique modern shop in front of the winery from 10am-7pm, email works best.
Address: Av. de Vizcaya, 3
Phone: +34 902 123 904
Website:www.lopezdeheredia.com
Email:bodega@lopezdeheredia.com
⇒ Roda
Next you can visit a winery without the vast history of the others. Roda was founded in 1987 and didn't open in Barrio de la Estacio until the 2000s. The winery has three different cellars, each using different techniques for aging the wine according to varietal.
You can visit the winery with an appointment Monday – Saturday. There are two tour times, 10am and 12pm. The visit costs 20€ and includes a walk through a photo exhibit and tasting of two wines and olive oil.
They also provide private tours with a tasting of 4 newer wines, or historical wines. Without a tour, you can stop by the wine bar at Roda at any time for a tasting without an appointment. The wine bar is open on Sunday, but closed on Thursday.
Address: Av. de Vizcaya, 5
Phone: +34 941 30 30 01
Website:www.roda.es
Email:rodarioja@roda.es
⇒ La Rioja Alta
The Sociedad Vinecola de la Rioja Alta was started by 5 families from La Rioja and the Basque country in Haro in 1890. They've been making wine under the name La Rioja Alta ever since, with a number of prestigious brands that have earned them top honors.
Their location in Haro has been there for over 125 years. As one of the oldest wineries in Haro, it's definitely one to add to your visit. The premium guided tour lasts 2 hours and costs 30. It runs Monday to Friday at 10am and Saturday at 11:30am, by appointment only.
They also have a weekend guided tour that's 1:30 for 17. You can make your reservation in their online form. There's a dining room where you can have lunch with an advanced appointment.
If you'd rather walk in for a tasting only, you can belly up to their wine bar that's open Monday to Friday from 9am – 6pm for wines by the glass and wine sales.
Address: Av. de Vizcaya, 8
Phone: +34 941 31 03 46
Website:https://www.riojalta.com/
Where to Eat in Haro
Of course, after all this wine tasting, you'll want to find some great food choices to soak it all up with. While none of the Haro bodegas have restaurants, you can schedule a traditional lunch at CVNE in advance.
Other restaurants can be found in the city center, which will require about a 1/2 mile walk from the wineries, or a quick drive.
There is a pinchos crawl in Haro, but it's not as exciting or as good as the
pinchos crawl in Logrono
. If you want to experience something really spectacular for lunch, head to Logrono. You can thank us later.
⇒ Terete Restaurant
The specialty at Terete Restaurant, which is located just a block from the center square, is the oven-roasted leg of lamb. You'll see many clay pots filled with lamb pass through the dining room as they are taken to the wood-fired oven to be cooked.
It comes to your table sizzling and steaming, and the waiter will cut it and serve it for you. Of course, there are plenty of other things on the menu, but the lamb is the star. You really need a reservation here, unless you arrive at the very beginning of service and are lucky enough to snag an opening.
One of the top places to stay in Haro is also one of the top places to eat. Originally a 14th-century convent, this beautiful, historic building is right in the center of Haro and a great location for wine tasting.
They serve creative Riojan cuisine at El Claustro de Los Agustinos restaurant and bistro. Book yourself a room at Hotel Los Agustinos, then plan to eat there as well.
⇒ La Vieja Bodega
Located just outside of town, La Vieja Bodega is a great way to spend a leisurely lunch. You'll have over 400 bottles of wine and an extensive and tasty menu of traditional and modern dishes to choose from. The restaurant is large, but can get packed with tour groups, so make sure to have a reservation (starting at 2pm for lunch).
Where to Stay in Haro
If you don't have a car in Haro, it's best to stay in the city center. That way, everything is within walking distance, or you can catch a bus to another nearby town easily. If you stay outside of town, you'll need to take a taxi, which can get expensive.
If you do have a car, you can consider the hotels that are a little further out, which includes a few winery hotels. See our full post on where to stay in Rioja for more options.
⇒ Hotel Los Agustinos
The hotel is located in a beautifully converted, centuries-old monastery in the center of town. The location is fantastic for walking around Haro and enjoying the town.
The central courtyard has been converted into an atrium. While it does get a bit noisy in the streets around the hotel on the weekends, you'll find the rooms to be clean and comfortable.
Read Trip Advisor reviews | Book on Expedia
⇒ Hotel Viura
Located about a 20-minutes drive from Haro is the trendy and modern Hotel Viura in Villabuena de Alava. We LOVE this hotel. The design is very unique and the rooms are large. There is a lovely restaurant downstairs with a tasting menu that can be paired with Rioja wines. And there is a bodega on the property as well.
If you're wanting to go beyond Haro, we highly recommend Hotel Viura. It's in a great spot for wine tasting!
Read Trip Advisor reviews | Book on Expedia
⇒ Hotel Eguren Ugarte
Just a 25-minute drive from Haro is a really nice bodega called Eguren Ugarte, just outside the hilltop town of Laguardia. Not only does the winery have a fascinating tour and tasting, they also book out very nice rooms on the property, and they have a restaurant on sight.
It's a great place to stay because of its proximity to so many great wineries and the town of Laguardia. Also, the views are spectacular!
Read Trip Advisor reviews | Book on Expedia
Final Thoughts on Haro Wine Tasting
You can easily spend a week in Haro, visiting a winery or two per day, strolling around town, and visiting other nearby towns. It's a great place for a relaxing vacation, but you can be as adventurous and busy as you want without running out of options.
Have you been to Haro? Tell us what your favorite wineries are!
Like this post? Why not save it to Pinterest?
FOLLOW US on Pinterest, Instagram, Facebook for more great travel inspiration and tips.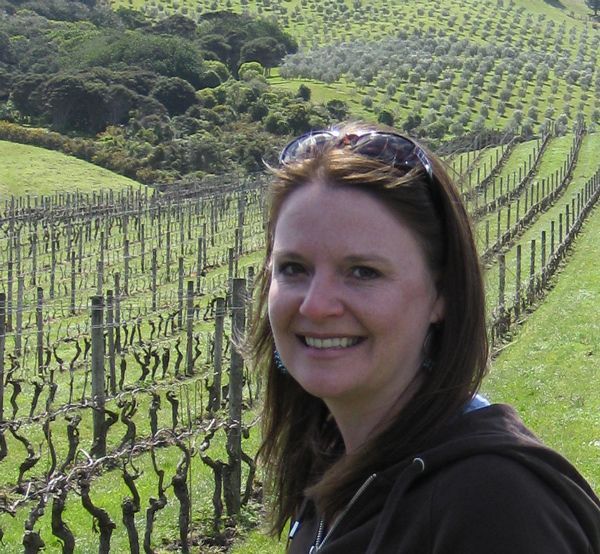 Laura Lynch, creator and writer of Savored Journeys, is an avid world traveler, certified wine expert, and international food specialist. She has written about travel and food for over 20 years and has visited 70+ countries.