If you want to get to know Australia's wine, spending time visiting the wineries of South Australia is a must! From Clare Valley, to Barossa Valley to Adelaide Hills, and McLaren Vale – there's so much to see and taste. The winery experiences in these regions are second to none. Home to dozens of world-class wineries, you'll want to spend plenty of time exploring the South Australia wine trails.
It's a tall order to try to see all of these wine regions in one trip, but that's just our style! If you're traveling from as far away as the United States or Europe, you'll want to take advantage of the time you have, since flights are not short or inexpensive. Don't worry! It's not only doable to get around to all these areas, it's a fantastic adventure!
A South Australia wine road trip is a great way to learn about the wine and grapes that make this area unique, but it's also a great way to experience the Australian countryside. As long as you are up for sipping and spitting your way around the wineries, driving through the area in an RV is one of the best ways to experience the area to the fullest.
Preparing for a SA Wine Tour
We suggest you spend at least 10 days in the area, as you'll be visiting five different South Australia wine regions, plus driving (even though it's fairly short distances in between). If you can't do 10 days, you can shorten the itinerary by spending less days in each region. Or you can lengthen it to suit your plans.
You can do it by car at your own pace, stopping for a few days in each region and staying in one of the many fantastic wine lodges along the way, or you might prefer to travel in a campervan or RV. If you're already in Australia, check here for RV options.
» Looking for more Australia wine region information? We've been everywhere! Check out our guides to McLaren Vale, Adelaide Hills, Barossa, and Margaret River.
10-Day South Australia Wine Tour Itinerary
Below you'll find a 10-day suggested road trip itinerary that will take you to all of the most famous wine regions in South Australia. We suggest starting in the Clare Valley and working your way south to McLaren Vale, but you can easily swap it around and go in whatever direction you wish to next.
The entire trip will cover 180 kilometers. If you drove it all at once, it would take around 2.5 hours. Of course, driving around to each of the wineries we suggest will add more kilometers to the trip, but you can see it's not a huge amount of driving involved.
You will hear us mention the words "cellar door". In case you don't know what that is, we'll give a short explanation. In Australia, this term is used in place of "tasting room", which you will be more familiar with in Europe or North America. It's a combination wine tasting space, where you can sample and purchase the wine from a particular winery.
Tour To Book:
How to Get There
The best place to start your 10-14 day wine tour is Adelaide. If you're already in Australia, you'll have to get yourself to Adelaide. From anywhere else, you can sometimes find direct flights from the U.S. or U.K. to Adelaide, but you may have to layover in Melbourne. Adelaide is the front door to the wine regions of South Australia and the perfect starting point.
To start your journey, you'll drive north through the Clare Valley, where you can stop at some of the region's most loved wineries along the 22-mile Riesling Trail. There are a smaller number of cellar doors here – it's not a big area – but it's one you can't miss in your exploration of South Australia's wineries.
Although it's actually famous for its Rieslings, you'll see more Shiraz and Cabernet in the area than ever before. The Clare Valley is also well-known because it has many of the oldest wineries in the area. You'll want to visit a few with time for a tour to learn the history, which will give you a good starting point for the rest of your wine journey.
You won't have a lot of time, with just one day to spend, but here are four wineries we think you should try while you're there (see the map below for driving directions:
Now it's time to enjoy the great food and wine of the Barossa Valley, one of Australia's most prestigious and popular wine regions. We recommend spending at least 3 days in the Barossa Valley, to experience everything it has to offer.
From Clare Valley, it's about 1.5-hour drive to Barossa. Once you arrive, the big challenge is deciding where to start. There are 80 cellar doors and 150 wineries in the Barossa Valley, ranging from major production to small boutique wineries. There's even some producing wines from 150+-year-old vines!
Tours To Book:
There are a few other things that foodies shouldn't miss in Barossa. You'll want to try the beer at Barossa Valley Brewing and stop for a gin tonic at Barossa Valley Distillery. And be sure to stop at Maggie Beer's Farm Shop to discover great local products.
Don't miss these fantastic restaurants: Appellation, Hentley Farm and St. Hugo.
For wine tasting, we recommend stopping at any/all of these wineries. Many have tours, tastings, and extra activities and events like blending your own bottle of wine, cooking classes and restaurants with wine pairing meals.
Right next door to Barossa is the small, but lovely Eden Valley. The two main grape varietals used in Eden Valley are Riesling and Shiraz, but many others are used in lesser quantity.
The best part about the Eden Valley is the vast amount of winemaking expertise there is to be enjoyed. For instance, Henschke is one of the pioneers of wine in the Barossa, with five generations of winemaking history. You can visit the cellar door in Keynoton, just a short drive from Eden Valley township. Another you must visit is Fernfield Wines, owned by the founding family of the Eden Valley township.
Finally, you must make a stop at the Taste Eden Valley collaborative cellar door, where many small and prestigious producers from the region can be found. It's a great way to see many in one place.
Henschke: 1428 Keyneton Road, Keyneton. Open M-F 9am-4:30pm, Sat 9am-noon. Plan Your Visit.
Fernfield Wines: 112 Rushlea Rd, Eden Valley. Open Friday-Monday 11am-4pm. Plan Your Visit.
Located just 30 minutes from Adelaide, the Adelaide Hills area is incredibly easy to get to, and is home to more than 60 cellar doors. It's the closest wine region to a major city in the world – in case you ever need that bit of trivia for pub quiz night.
You can expect to find cool-climate wines in the Adelaide Hills, particularly Sauvignon Blanc and Chardonnay, but even some exciting ones like Grüner Veltliner and Blaufränkisch.
We recommend taking at least two days to see the Adelaide Hills area to properly indulge in the wine experiences. Click here for a list of all the cellar doors in Adelaide Hills. If you tire of wineries, there's also like Prancing Pony Brewery and Hills Cider Company.
When visiting Adelaide Hills, it's probably best to stay in the city of Adelaide, which has a lot of services. Check out the best things to do for foodies in Adelaide.
Tour To Book:
» Small Group Adelaide Hills and Hahndorf Hideaway Tour from Adelaide
Below are five wineries to try in Adelaide Hills.
There are more than 70 cellar doors in McLaren Vale and it's a favorite among wine lovers. It's less than an hour's drive from Adelaide, with incredible sprawling vineyards and stunning views. There are plenty of wineries to explore and places to eat – especially for those wonderful long lunches that are so popular in the area.
The McLaren Vale region produces world famous red wines in a very fertile environment, which leads additionally to the production of olive oil, vegetables and a whole host of other gourmet products. This abundance attracts innovative and creative chefs and winemakers, so be prepared for a lot of great food and wine while visiting McLaren Vale.
We suggest visiting these four wineries and restaurant for a complete range of McLaren Vale tastes and terroirs.
Tour To Book:
» McLaren Vale Winery Small Group Tour with Wine Tasting and Lunch
Here are some wineries to try in McLaren Vale
CONCLUSION
Whether you can spend 4 days or 14 days, this road trip around the wineries of South Australia is one you can't miss as a wine lover. The region is packed full of wonderful wineries, restaurants and gorgeous views. Have you already been? Share your experiences with us in the comments.
Like this post? Why not pin it to your Pinterest board?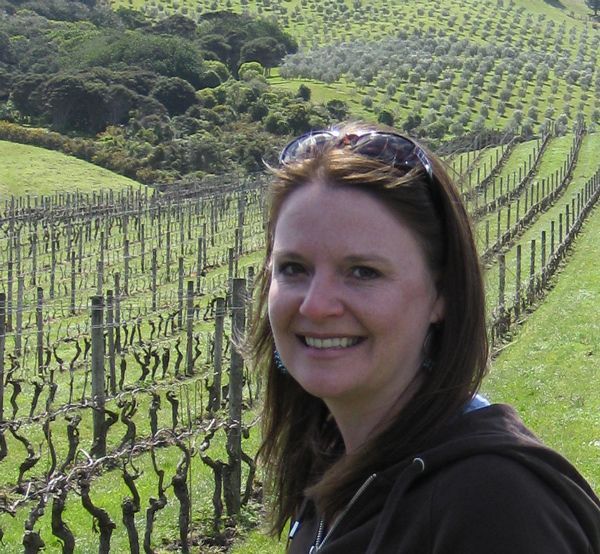 Laura Lynch, creator and writer of Savored Journeys, is an avid world traveler, certified wine expert, and international food specialist. She has written about travel and food for over 20 years and has visited over 75 countries.