You might not have heard much about the Tri-Cities area of Washington in terms of wine making, but when you visit you'll be surprised to see how developed the area is for wine and how many great wineries there are to discover.
Washington is the second largest wine producing state in the United States and Tri-Cities is known as the Heart of Washington Wine Country with more than 200 wineries within a 50 mile radius.
We've written a guide to nearby Walla Walla wineries, but today we're putting together a guide to help you discover some of the best wines of Tri-Cities, and the Red Mountain AVA in particular.
For more great wine regions, see our Discover Wine series, which focuses on regions of the world you can visit for wine tasting.
How to Get to Tri-Cities
This is probably the first question on your mind. Most people have not heard of this area before and don't know quite how to get there. If you're coming from afar, you can either fly into the Pasco airport or fly through Seattle into the Pasco airport. This is a very easy airport to navigate and there is car rental on site.
If you're driving, from Seattle it's about 3:20 on I-90 and I-82. From Portland, it's 3:30 minutes on I-84. From Spokane, it's 2:08 on I-90 and and US-395.
If you want to stay overnight, and you probably will, see our recommended hotels and restaurants at the bottom of the article.
We Love a Good Wine Club
Introducing Picked by Wine.com – The wine club that comes with a personal somm, and provides endless wines picked just for your palate. → Sign up here
What do the Picked subscribers get?
You're in Control. Cancel or change your subscription at any time.
Free Shipping. And Free Expert Advice. Because free is good.
100% Satisfaction Guarantee. If any bottle misses the mark, we'll give you a full credit to apply to a new bottle.
New subscribers get $50 OFF their first box with code PICK50
Wineries to Visit in Tri-Cities
Fidelitas
One of my favorite wineries to visit in the Red Mountain AVA in Tri-Cities is Fidelitas. I've had this wine many times while living in Seattle and have always enjoyed it, but being at the winery – especially on a really nice day – elevates the experience quite a bit.
If you're lucky enough to visit on one of those gorgeous Tri-Cities days, you'll want to sit outside in their wine barrel chairs with a view over the vineyard. We were there just at sunset and it was heavenly. They have a nice wine tasting lineup and amazing charcuterie trays too. They are open 11am to 5pm with a reservation.
Col Solare
Col Solare is one of the most stunning wineries in the Red Mountain AVA, in Benton City. It feels like you just stepped into Tuscany and are visiting one of the large estate wineries. In a way, you are.
If you've spent any time around Washington wine, you already know Chateau St. Michelle. They partnered with a Tuscany winery, Marchesi Antinori, to build Col Solare. So those Italian vibes you were getting were not imagined. Their joint goal is to bring together two unique viticultural and winemaking cultures into one amazing wine.
While the tasting fee here is higher than any other I know of in the area at $50, you are tasting wine from a world-class collaboration. You'll try 3 wines in their signature tasting and get a chance to check out that gorgeous winery.
J. Bookwalter
This is also one of my favorite wineries in the Tri-Cities. They are located in a little area off Highway 12 where there are a few other wineries and things to do, so it feels a little like a destination in itself. The winery has a beautiful atmosphere, friendly service, and knowledgeable staff.
One unique fact about J. Bookwalter is that 10 generations of the Bookwalter family have been involved in agriculture in this area, and they've used that vast knowledge to build a great brand. It was even named one of the best tasting rooms in the United States by Sunset magazine.
The complex includes a fine-dining restaurant now, called Fiction that should be on your itinerary for where to eat. Tastings are available every day from 12pm to 5pm (or 6pm on Fri and Sat).
Barnard Griffin
Located right next to J. Bookwalter is this fine winery, Barnard Griffin. As with all many great success stories, the winery was started by a couple in 1983 with borrowed grapes and a rented cellar. They are now an award-winning winery that has withstood the test of time.
Fun fact about Barnard Griffin is that they also have a fused glass art gallery on site where you can take a glass fusion class. They get most of their grapes from the Red Mountain AVA, which lends itself to Cabernet Sauvignon, Petite Verdot, and Syrah.
The tasting room is open daily from 10am to5pm. The also have a restaurant, The Kitchen at Barnard Griffin, so you can enjoy lunch with your tasting.
Hightower Cellars
Tim and Kelly Hightower are the co-owners and winemakers at Hightower Cellars. They opened the winery in 1997 in Woodinville Washington using grapes primarily from Red Mountain to make their first vintage. They then bought some acreage in the Red Mountain AVA to plant their estate vineyards.
Their story inspires me and their wine excites me. I think you'll feel the same after you've tried some of their Cabernet Sauvignon. This is a great small winery to visit in Tri-Cities to really see how dedicated the small winemakers in this area are. They make the experience special.
You'll get majestic views of the vineyards at the winery, which pairs really well with their wine flights and small bites menu. Reservations are recommended.
Frichette
Another small husband and wife run winery that you should visit in Benton City is Frichette, run by Greg and Shae Frichette. Their vision is to be a destination winery known for stellar hospitality, beautiful views, and premium wines.
This is a winery that is growing and expanding. They started with their first vintage of 2011 with 650 cases of wine and now they are making nearly 3,000 cases. The experience at the winery is personalized and unique to each visitor, so we know you'll have a great time there.
The tasting room is open daily (reservation recommended) and they have a few different flights you can choose from, and they have light bites to go with it.
Red Mountain Trails
If you're looking for something a little less flashy and commercialized, Red Mountain Trails is where you should go. Red Mountain Trails has another unique feature in that they offer horse-drawn wagon rides through the vineyards on Saturday and Sunday, as well as firepits that you can cozy up to in the colder months, complete with S'mores kits so you can roast your marshmallows after your wine tasting.
We had such a warm welcome at the winery and very much enjoyed the ride through the vines to see what was growing and learn more about what was planted nearby. The whole experience is very down to earth and super friendly, which can be quite refreshing after visiting larger wineries like Col Solare.
The winery is open for wine tasting Thursdays through Sundays 11am-5pm from April to October, and on Saturday and Sunday for the months of November and December.
Muret-Gaston Winery
The Muret-Gaston Winery was started by a husband and wife team as well – Amy and Kyle Johnson. Their story began nearly 15 generation ago. They discovered that their ancestors lived in neighboring villages in southern France. This is what inspired them to start their winery, joining the two family names.
Their wine is made with Red Mountain and Wahluke Slope AVAs, which are two of the best in Washington. The Cabernet Sauvignon and Syrah are just what you want from a wine made from these regions – full bodied and juicy. They also have a notable Picpoul (a variety of grape grown primarily in the Rhone Valley and Languedoc regions of Franc).
When you visit, you can try one of their 4 wine flights, one of which includes wine and cheese, or wine by the glass. They also have a wine bar in downtown Kennewick if you can't make it to the winery.
Kiona Vineyards & Winery
It would be wrong to write a guide to Tri-Cities wine without including Kiona Vineyards. In 1961, friends John Williams and Jim Holmes decided to plant vineyards on some deserted land on the edge of town. What decision is what started the Red Mountain AVA and was a very pivotal moment in the beginnings of wine in this region.
What I like most about Kiona is that they care about the land and the history of the area, as well as the experience of drinking their wines. They haven't sold out to a major conglomerate, like many others. They're still just making great wine.
The tasting room is open daily 12pm to 5pm and they typically have 5-6 wines available for tasting for $15. Reservations are recommended.
Where to Stay
One of the best places to stay that's near the airport and close to the wineries is The Lodge at Columbia Point. It's located right on the Columbia River and marina, and there are views and balconies from some of the rooms. It also has three great restaurants, Drumheller's, Anthony's and Lulu Craft Bar + Kitchen, which also have great water views.
Where to Eat
You'll see that we included some of the restaurants at the wineries above. These are definitely where we recommend eating, because they are at the wineries, which enhances the experience.
Conclusion
With so many tasting options in Tri-Cities, it can be difficult to choose where to go and we're not saying this is anywhere near a complete list of the ones you should visit, but it will give you a great start and it pairs both larger and smaller wineries so you can get a feel for the whole area. We hope you love it as much as we do.
Like this post? Why not save it to Pinterest?
FOLLOW US on Pinterest, Instagram, Facebook for more great travel inspiration and tips.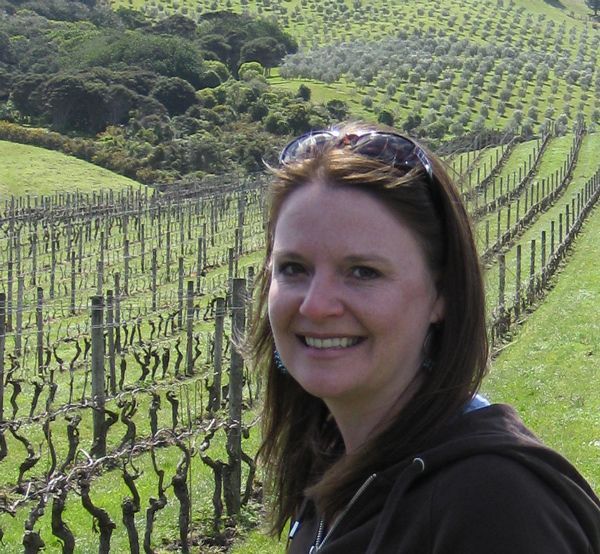 Laura Lynch, creator and writer of Savored Journeys, is an avid world traveler, certified wine expert, and international food specialist. She has written about travel and food for over 20 years and has visited 70+ countries.