Although the grapes aren't actually grown there, Woodinville, Washington, is one of the top wine tasting destinations in Washington State, drawing crowds of tourists to more than 100 wineries with tasting rooms in the area.
Located just 30 minutes northeast of Seattle, wine tasting in Woodinville, Washington, is exciting because a huge conglomeration of Washington's best wineries have come together to offer wine tasting in one central location.
Though Woodinville is not itself a wine region, it has become one of the most prominent spots for wine tasting in Washington. Rather than having to drive out to each separate wine region, located mostly in Yakima, Prosser, and Walla Walla – you can head over to Woodinville and try them all in one spot.
This provides a fantastic opportunity to learn more about Washington wine and it's a great way to spend a day while visiting Seattle.
Woodinville Wine District Overview
A couple of the oldest and largest wineries, Chateau St. Michelle and Columbia Winery, have been in Woodinville since long before it was the bustling weekend destination that it has become. These are the main stays that you should definitely visit.
Both of these wineries have beautiful grounds, the ability to have a picnic, do a tasting and tour. Columbia Winery offers charcuterie and cheese plates. There is a very popular summer concert series at Chateau St. Michelle.
Just when you think it can't expand any more, or add any more wineries to the already overloaded map, it gets bigger and better.
Alongside the wineries, a few breweries and distilleries have also begun to popup at a quickening pace. Everyone is eager to get on the Woodinville wine route.
How to Spend a Day Wine Tasting in Woodinville
Woodinville has four distinct wine tasting areas. The Warehouse district, Hollywood district, and the West Valley Wine District and downtown. Each has its own style. If you only have one day to enjoy the area, or even if you can return time and time again, I suggest focusing in on one area and spending the day there.
There are plenty of wineries in each area to keep you busy for an entire day. You'll want to set yourself up with a designated driver, be prepared to spit what you taste, or go on a guided tour with a driver.
The best way to experience the area would be to get there around 11am, when most of the wineries open, go to 2 tastings, then have lunch, then perhaps go to 2 more tastings.
Woodinville Warehouse District
The warehouse district is just as it sounds. It's a large warehouse area with many low-rise metal warehouse buildings, each with half a dozen winery tasting rooms. Be prepared for a whirlwind of door-to-door tastings.
Whenever we go there, we try to pick 4-5 wineries we've not been to yet, or haven't been to in a while, and we cap ourselves at those. Always remember to be responsible and have a designated driver with you or sip and spit.
One cluster of wineries is located at 144th Ave NE and a smaller cluster just off 142nd Ave NE.
144th Ave NE
Some of our favorites wineries in the 144th Ave NE Warehouse area are Kestral Vintners, Two Vintners and Genoa Cellars. But there are dozens of wineries, and they are all just right next door to each other.
The biggest problem with this area is that it's not near anything, making it difficult to find something to eat in between wineries. There's a Shake 'n Go and The Picnic Table restaurant nearby, and sometimes there are food trucks parked around the area.
Just outside of the main area of tasting rooms you'll find Efeste. It's sort of off on its own, but it's definitely worth a visit. They have a large indoor space as well as tables outside.
142nd Ave NE
142nd St NE is where you'll find another few of our favorite wineries. Covington Cellars, Two Vintners, and Sightglass Cellars. Of course there are also about half a dozen others that you could also visit in that area. It's just a few steps from door to door, and you don't need an appointment, so just rock up and do some tasting.
Hollywood District
Hollywood gets its name from the old Hollywood School that sits on one corner of what has blossomed from old strip mall-type storefronts into four quadrants packed to the gills with tasting rooms.
On a nice day, you could take up a spot in any of these four areas and have more wineries within a few feet than you could ever visit in one day.
Northwest
On the northwest corner is Patterson Cellars and Gorman Winery, along with Vivi Pizzeria, which is a great place to grab lunch. There's lots of outdoor seating and it's lovely on a nice day. Always lots of people!
Northeast
On the northeast corner is where the Hollywood Schoolhouse is. Inside that building is Maryhill Winery. Just across the parking lot are some of our favorites: J. Bookwalter and Pepper Bridge & Amavi. The Bistro at Hollywood Schoolhouse is a nice place for lunch.
Southeast
On the southeast corner is a building housing Long Shadows, Airfield Estates Winery, Goose Ridge, Ryan Patrick Wines and Milbrandt Vineyards. All of these are worth a visit. Heritage Restaurant is a good lunch spot with outdoor seating.
Southwest
The southwest corner is perhaps the most popular of the quandrant. The small parking lot is always full. The wineries to visit here are Mark Ryan Winery, Dusted Valley, Fidelitas, and Isenhower Cellars. For lunch, there's Purple Cafe and The Commons.
Old Redhook Brewery Area
If you visited the area prior to 2017, you'd be expecting to find Redhook Brewery off of NE 145th St. It used to be a huge presence here with brewery tours and a large restaurant. However, now the location houses a few wineries, including our favorite Sparkman Cellars and DeLille Cellars. DeLille now has a lounge where you can grab some food.
West Valley Wine District
Many of the outlying wineries into the West Valley Wine District. These include Novelty Hill / Januik Winery, which is rather large, and JM Cellars, which is quite small. Novelty Hill often serves wood fire pizza on the weekends.
In the same vicinity is Woodinville Whiskey Co. Definitely stop by their very modern facility for a tasting and/or a tour. The tasting room is open daily from 11:00am to 5:00pm and tours are being given relatively often. You do need to make a reservation in advance.
Further up the road is The Woodhouse Wine Estates and Sumerian Brewing Co, plus the tasting room and event space, The Winemakers Reserve.
Where to Eat & Stay in Woodinville
Hollywood Tavern is good choices for a casual lunch. Some of the best food in Woodinville can be found at the charming and elegant Barking Frog Restaurant and the uber-expensive, perfect for a special occasion, Herbfarm.
For a more casual lunch or dinner, we really like The Commons, Purple Cafe, and Heritage Restaurant, all in the Hollywood district. If you're looking for a winery lunch, Januik is really the only option, but it's very good!
If you're planning to stay a weekend or an overnight in Woodinville, definitely book a room at Willows Lodge, the premier hotel in the area. We love it. Book on Expedia.
CONCLUSION
Whether you're just visiting Seattle and looking for something to do for a day trip, or you living nearby, wine tasting in Woodinville is a great way to spend some time, especially if you're a wine lover. I highly recommend spending some time there, trying all of what Washington State wine has to offer.
Like this post? Pin the images below on your Pinterest board to share with friends!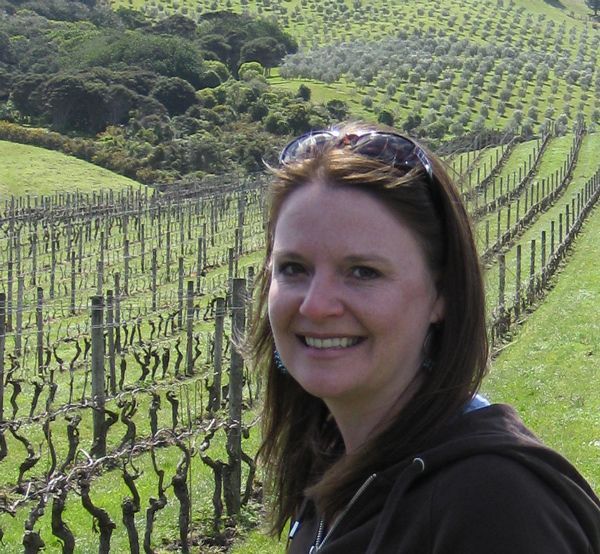 Laura Lynch, creator and writer of Savored Journeys, is an avid world traveler, certified wine expert, and international food specialist. She has written about travel and food for over 20 years and has visited over 75 countries.