If you love food and want to explore some really fantastic foodie destinations, we've got the list for you! Adding culinary activities to your vacation itinerary is one of the best ways to experience the culture of the destination you're in.
This list contains 21 of the best places to go for foodie vacations. If there's one thing we truly believe here at Savored Journeys, it's that eating well and traveling well go together like… well, you can't have one with the other, as they say.
» Looking for awesome dining experiences to travel for? Try these 10 Most Remote Dining Locations. You might like How to Recreate International Dishes at Home.
For us, it's part of the experience to taste the tapas in Barcelona, the sushi in Tokyo, chocolate in Switzerland, and that incredibly delicious sauerkraut soup in Prague. That's why we make it a priority to visit top foodie destinations around the world. If you agree, then you're probably a foodie traveler, just like we are.
We make food a priority during our travels, in order to experience the culture, learn about the people, and immerse ourselves in what makes this place unique. Yes, we believe you can do all of that through food.
Read more about our favorite foodie cities: Paris | London | Bologna
Why We Travel For Food And So Should You
Culinary vacations are becoming more popular now than ever before. We've all started to realize that many of our favorite things to do on vacation and the strongest memories we take back home with us have to do with food.
Maybe you took a really great food tour, or you learned to make pasta in Italy, or you ate at a particularly amazing restaurant. Those are all cherished memories now.
Have you ever noticed how even the faint aroma of something you ate on vacation instantly takes you back to when you experienced it? Tasting an Argentinian Malbec transports me to a tasting room in Mendoza. The smell of galangal and lime instantly brings to mind the Thai cooking class we took in Chiang Mai.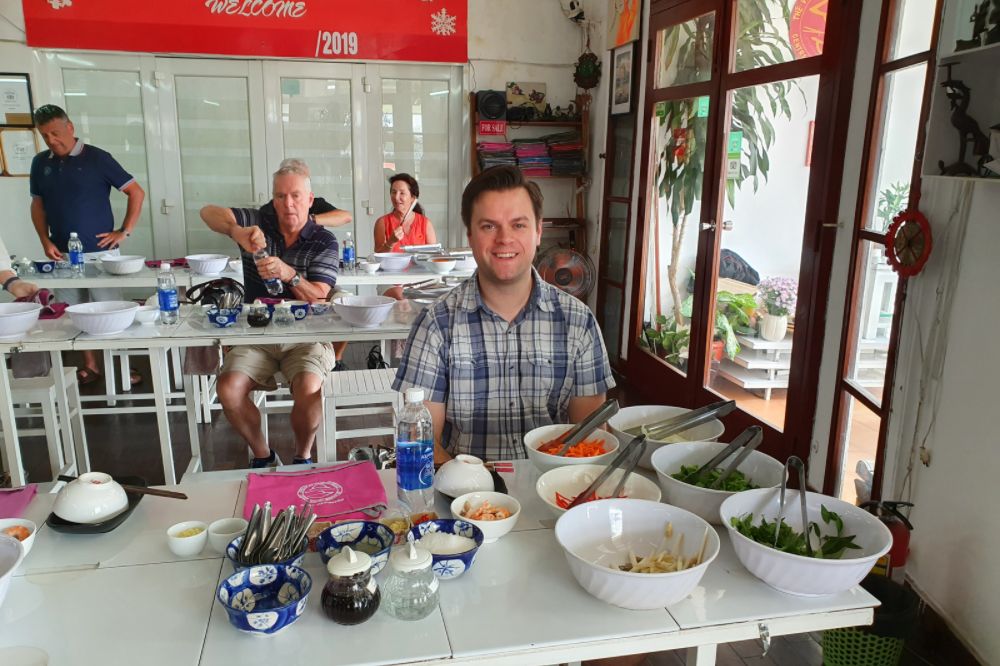 Even the sight of choclo (really large corn) gets me excited for the intense flavors of Peruvian food. Just ask Nick – "big corn", makes me unreasonably excited. Food is powerful. It's what makes us who we are as a people. It is an essential part of life and community.
In fact, I seriously question whether you can experience the real, authentic side of a culture without experiencing the food.
After all, what is Thailand without a plate of Pad Thai, China without Dim Sum, Canada without poutine, Mexico without street tacos?
Indulging in Michelin-starred restaurants, veering off the beaten path to where they make the best fried noodles, immersing yourself in pasta making in Chianti, or even accepting a dare to eat balut in the Philippines – these are the things vibrant memories are made of. Check out these vegetarian food experiences too!
Top Foodie Vacations Around the World
We are always searching for culinary vacations that promise incredible dining options, fun food-inspired experiences and some really good wine to wash it all down with.
And while there are so many great locations around the world that satisfy that craving, some stand out more than others in the culinary department. I have to admit, even picking only 21 destinations that we think are foodie heaven is hard – there are so many!
When it comes to foodie destinations, the best ones have irresistible food that's you can't find anywhere else. Some will immediately come to mind, like Italy and Spain. Others you have to search a little for.
1. Mendoza, Argentina
Some of the best wines come out of Mendoza, but did you know about its culinary scene? Mendoza is a perfect spot for foodies who want to enjoy all three of pillars of good travel in one destination: good food, wine and adventures.
Many of the top wineries in the region serve impressive multi-course wine lunches from their winery restaurants that have often have breathtaking views of the Andes from every seat and include as much wine as you want to drink.
Visit these wineries and restaurants for a complete foodie experience in Mendoza:
Tours you may enjoy:
2. Paris, France
When people plan their trips to Paris, they tend to forget that the city is a foodie paradise, even though it's in France. There are so many fun food things to do in Paris that will enhance your sightseeing, help you build lasting memories, and create a diverse and interesting itinerary.
With so many delicious French foods to try, croissants and Croque Monsieurs belong right there alongside the Eiffel Tower and Sacre-Coeur. No vacation to the French capital is complete without trying the foods that make the country so unique – yes, escargot and frog's legs included!
Whether that's a stop off one of Paris' many street food markets to check out the products, at a local crepe stand, or on a full-day food tour, there are many ways to taste and enjoy Paris.
If you have extra time, you can also get outside of the city to either the Bordeaux wine region or Champagne wine region. Reims and Epernay are two of the main Champagne cities to visit to learn more about French wines.
Tours you might enjoy:
3. Tuscany, Italy
One of the top things on most foodie's bucket lists is to take cooking classes in Italy. We dream of making tender, homemade pasta and rich meaty tomato sauces, drinking wine in Tuscany and eating briny olives and antipasto on the terrace overlooking the vineyards.
This experience can be found all over Italy — there's no shortage of cooking schools and wine tasting tours.
One of our favorite areas in Tuscany is Chianti. Not only is it absolutely gorgeous and easy to get around (see our self-guided Chianti tour ideas), there are dozens of amazing Chianti Classico wines to try. Here are some of our favorite places to stay in Tuscany for wine tasting.
I've always been enchanted with Montepulciano, as well.
Montepulciano is a charming hilltop town in the heart of Tuscany, Italy, known for its picturesque streets, historic architecture, and world-class wineries. The town is surrounded by rolling hills covered in vineyards, and the local wine industry is a major part of the economy and culture.
There are several wineries in and around Montepulciano that offer tours and tastings, like Avignonesi, Poliziano, and Boscarelli.
Tours you might enjoy:
4. San Sebastian, Spain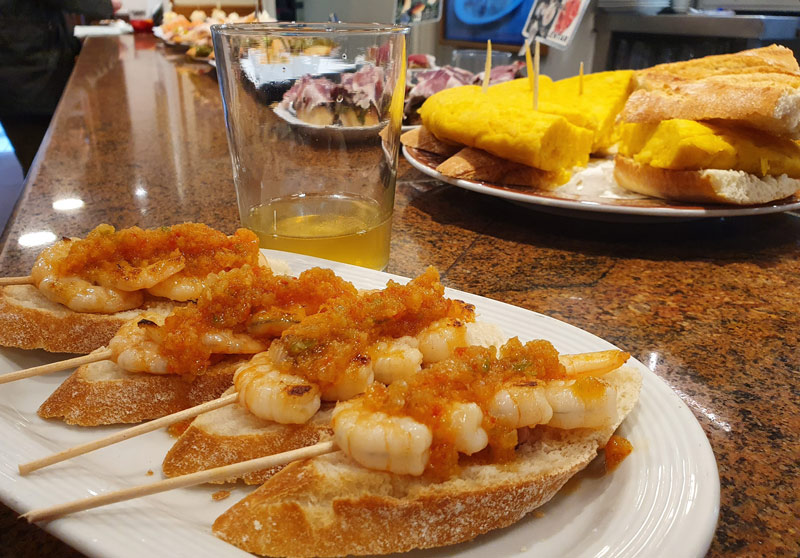 It might not be a major cosmopolitan city like Paris or London, but San Sebastian is perhaps the greatest food destination in the world, with more Michelin stars per capita than any other city and a thriving pintxos scene that you won't believe until you see it.
It makes the list not only because of the overabundance of haute cuisine, but because it is literally paradise, with its incredible view over the crescent bay and the beautiful La Concha Beach. There are three 3-star restaurants, among a handful of 1- and 2-starred places, plus a plethora of pintxos bars serving gourmet-style bites that are just as good as any fancy meal you've ever had.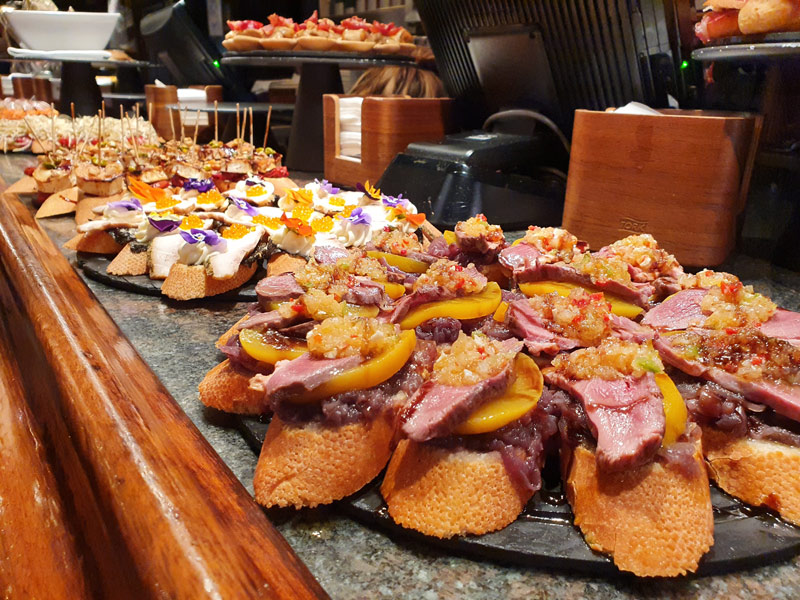 Here's a great evening pintxos tour in San Sebastian that you'll love.
Arzak – 3-stars — one of the top restaurants in the world — not to be missed.
Just an hour or so from San Sebastian is the Rioja wine region of Spain, where you'll also find some really incredible food from Michelin star chefs and formidable home-style restaurants. One of the funnest foodie things we've ever done was a pinchos crawl down the tiny streets of Logrono, Spain. It's a foodie's dream!
Tours you might enjoy:
5. Bordeaux, France
Combine the delicious wines of Bordeaux with the gorgeous scenery and you have the vacation every foodie has been dreaming about in France. You should plan for at least a week in Bordeaux to give it justice. You can spend two days in the Left Bank and two days in the Right Bank, and still only scratch the surface of the wine and food possibilities.
Also, be sure to spend time in the center of Bordeaux, where we found some really incredible food options, from wine bars to street food markets. The newly opened wine museum is also very much worth a visit.
A bike tour through Bordeaux is perfect for wine enthusiasts, foodies and really anyone who wants to enjoy the countryside while biking through some of the world's most beautiful vineyards.
You can enjoy a winery biking tour through the Left Bank or the Right Bank. The area around Saint Emillion is my favorite, and it's flat and easy to ride.
Imagine foie gras, duck confit, and black truffles paired with bold and complex Bordeaux wines. You'll be having gourmet lunches and dinners paired with world-class wine every day. It doesn't get any better than this.
Check out these guided foodie activities in Bordeaux:
6. New York City, New York, USA
New York City is also a culinary capital of the world. Here you'll find incredible food everywhere, from street vendors to Michelin-starred restaurants and even a few completely outrageous foods that you won't find anywhere else.
Culinary trends seem to start and end in NYC. But one of the things that makes this city so great is the high number of really talented chefs that call it home. Most of them have restaurants there that aren't insanely hard to get into, so you can eat dinner made by a master. Some to check out are Le Bernardin, Eleven Madison Park, and Cosme (by the legendary Mexico City chef of Pujol).
Be sure to also make it to favorites like Katz Delicatessen, Momofuku Noodle Bar, and the Peter Luger steakhouse. You'll also find huge, thin slices of New York Pizza, street hot dogs, Jewish delis, extravagant brunches. It's all there waiting for you to discover.
Tours you might enjoy:
7. Tokyo, Japan
I'm a huge sushi fan. Who isn't, right? In Tokyo, you will find the freshest, best, most amazing sushi in the world. If that's not reason enough to head to Japan for your next foodie vacation, I don't know what else I can say – WAIT, yes I do.
How about the really fun, totally cool izakayas you can find in all the back alleys and small crevices around the city. It sounds like dive bar quality, but it's so not. In fact, it's an adventurous foodie's dream. Or the old Tsukiji outer market, which is an absolute must visit in Tokyo.
You'll see foods you've never heard of before, even lots of unique Japanese drinks, and get to sample tons of things along the way. In Japan, you can eat the best of every type of food they make, from gyoza to okonomiyaki to ramen and takoyaki. Nearly every chef is a master at his cuisine.
Another great activity in Tokyo for food lovers is participating in a traditional tea ceremony. You can see what it's all about and learn the proper manners in an informal ceremony in Hamarikyu Gardens. These things and more are part of our complete 3-day foodie guide to Tokyo.
Tours you might enjoy:
8. Bangkok, Thailand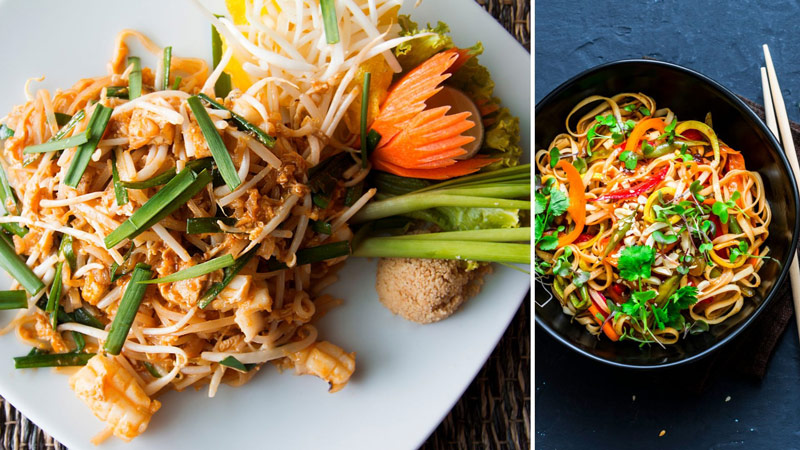 I think Thai food is very much a universally loved cuisine. Getting to try authentic Thai dishes the way they were meant to be eaten (at a night market or from a street vendor in Thailand) is one of the best culinary experiences I've ever had.
In Bangkok, there are opportunities for cooking classes, food tours, street food for every meal, even Michelin star restaurants. For an even more unique experience, head out of town to the nearby floating markets to witness something you won't see anywhere else. Make sure you try the mangosteens. Oh so good.
The best thing about Bangkok food is that there is a lot of it everywhere. There used to be street food vendors dispersed throughout the city, but now there are conglomerations of food stalls that you can find in the city. Some of our favorites are Bangkok's Chinatown Market, Wang Lang Market, and the Chatuchak weekend market.
No matter where you're staying, there is likely a street food market nearby. Be sure to keep your eyes open as you walk around. Street food is definitely the way to go in Bangkok. It's so cheap and it's delicious.
Tours you might enjoy:
9. London, England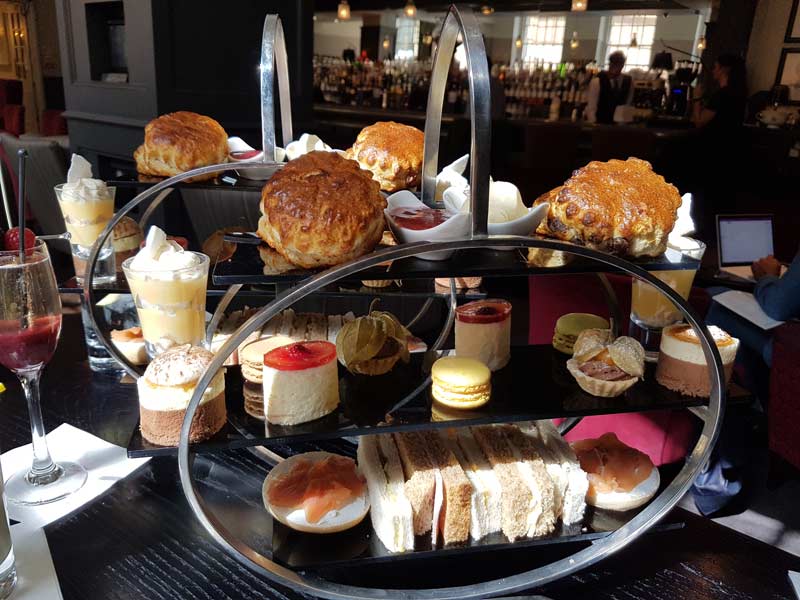 Another big city that is often overlooked as a food destination is London. But don't make this mistake! London is the food capital of the world. No where will you find the array of international food choices, dining experiences, and foodie activities that you will find in London.
People often think London doesn't have good food – or that it consists merely of fish and chips and pub food. But that couldn't be farther from the truth. In fact, London is one of the biggest food cities in the world. You can find every type of cuisine imaginable in the city. Plus, where else in the world can you find nearly dozens of afternoon tea choices?
You can browse around London's many markets, including Camden Market and Borough Market – which are two of our favorites, or you can stop for a street food break at the really cool and fun Boxpark in Shoreditch.
We absolutely love Soho for the dizzying array of food choices. You can't walk three steps without coming up a different restaurant, wine bar, pub, waffle bar, gelateria – you name it.
Tours you might enjoy:
10. Melbourne, Australia
Melbourne, Australia, is a great food city, with many great restaurants to check out around the city. Some of our favorite restaurants in Melbourne are located on Flinders Lane. Two that I highly recommend are Chin Chin and Lucy Liu.
While staying in Melbourne, don't miss the opportunity to get out to the wonderful Yarra Valley wine region. There are more than a dozen of wineries to visit. It's a cool climate, so they produce a lot of Chardonnay, Pinot Noir, and some sparkling.
We love food and wine events, and Melbourne, Australia is home to one of the best, the Melbourne Food & Wine Festival. The festival extends for 17 days in March and features global culinary superstars who host events, create unforgettable dishes for participants to sample and draw crowds of over 250,000 each year.
Tours you might enjoy:
11. Stellenbosch, South Africa
Only an hour outside of Cape Town is the Stellenbosch Wine Region of South Africa. Of all the places we've been to for wine tasting, Stellenbosch is my favorite. The winery experience is so much more inviting and relaxed here.
You can take a tour with a group, so you don't have to drive yourself, or you can plan your own winery tour with a designated driver. When you arrive at a winery, you'll be able to relax at a table or on a comfy couch and have the wine samples brought to you.
The region also has a large number of top restaurants with chef's who know the wine well and create masterpieces that live up to the wine. Some of the best foodie things in Stellenbosch:
When you're done eating your way through Stellenbosch, there's another nearby wine region to explore: Franschhoek. Both areas are well known for their gourmet cuisine and fine wines.
Tours you might enjoy:
12. Bologna, Italy
While there are many touristy things to do in Bologna and the surrounding area, it truly is one of the best culinary vacation spots in the world.
There are so many food experiences to have in this area, from a full blown DOP food tour that takes you to a Parmigiano-Reggiano factory, a Parma ham production facility, and a home where traditional Balsamic vinegar is made, to a more intimate cooking class in the city, you simply will not run out of food-related things to do.
The Emilia-Romagna area (of which Bologna is the capital), is known for its wine, but you may think it's only home to the sparkling semi-sweet Lambrusco wine. Lambrusco is found mostly in the northern part of the region, but Romagna makes mostly Sangiovese red wines, in a style not too different from neighboring Tuscany.
A wine-tasting trip to Romagna will reveal a whole new world of wine you didn't know was out there.
Tours you might enjoy:
13. Mexico City, Mexico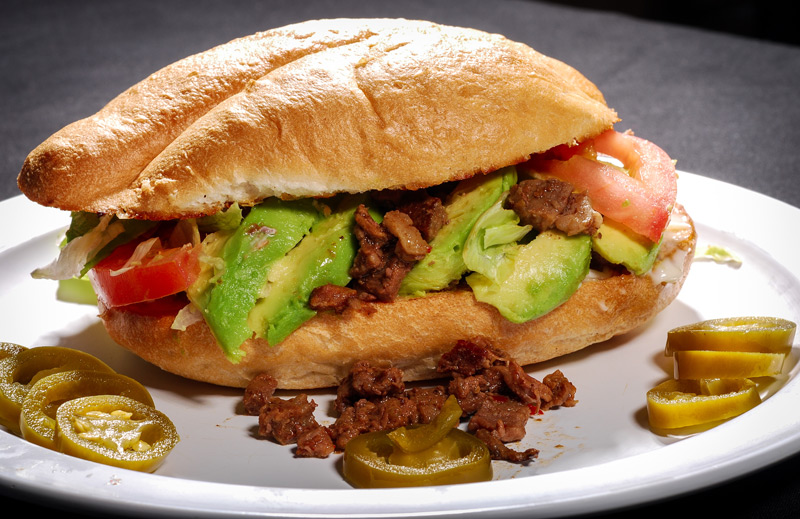 When we were preparing to go to Mexico City, thoughts of indulging in real, authentic Mexican food were all I could think about. I could eat burritos, carnitas, enchiladas, tacos and guacamole all day, every day and be perfectly content.
If that sounds like something you might say, then a culinary trip to Mexico City should definitely be at the top of your list! There are a lot of great eating experiences to have around Mexico City. We found some really great restaurants, like Pujol and Maximo Bistrot. We tried many different mezcals and tequilas, and spent an entire day wandering around Mercado Roma, tasting awesome foods.
We also highly recommend taking a food tour – we like this historic center food tour. You may even want to try your hand at making some of these foods – if you've never handmade a tortilla, I think it might be time you tried!
Here's a cooking class that includes a food market tour.
Tours you might enjoy:
14. Dotonbori, Osaka, Japan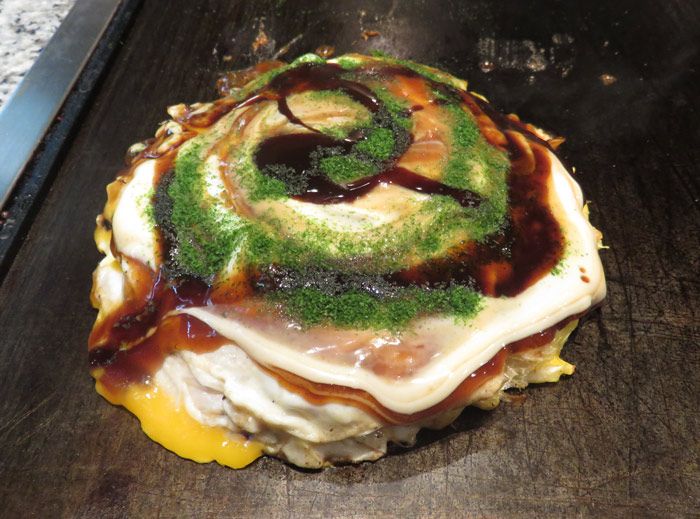 When it comes to food, Japan has more dishes to love than nearly anywhere. But for me, the star of the show is one single street in Osaka, called Dotonbori. And one of my favorite things to eat there is the famous Osaka dish, Okonomiyaki, pictured above. Dōtonbori is one of the principal tourist destinations in Osaka.
It runs along the Dōtonbori canal from Dōtonboribashi Bridge to Nipponbashi Bridge in the Namba district of the city. It's not a huge area. It covers only about 8 blocks. But it is absolutely jam packed with restaurants, food stalls and street vendors selling every type of food specialty Japan is known for. I would make a special foodie trip to Japan, just to visit Dotonbori and eat my heart out.
Around 5pm, Dotonbori Osaka turns from a fairly quiet, mostly deserted street, into a bustling and utterly jam-packed food metropolis with lines of hungry people queued up to buy trays of hot-off-the-grill gyoza, yakisoba, takoyaki, okonomiyaki, sukiyaki! If you can eat it, they are selling it. On Dotonbori food is king!
Tours you might enjoy:
15. Lima, Peru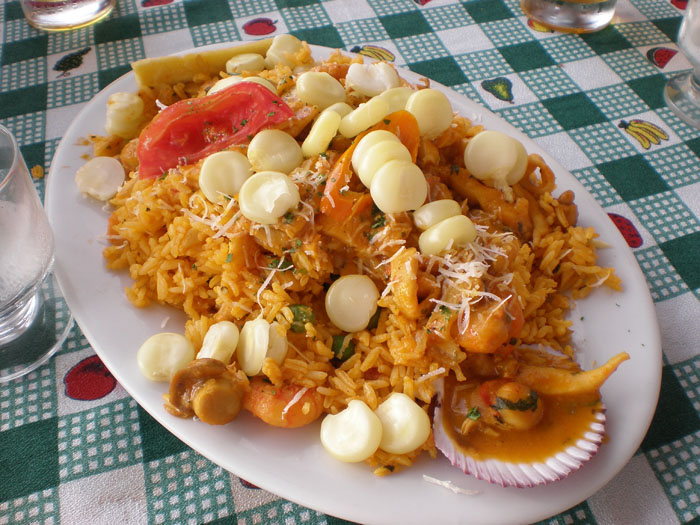 You wouldn't think it, would you? But Peru was named the top South America Food & Drink Destination by Frommer's and for very good reason. Peru has a multicultural population that includes immigrants from Spain, China, Japan and more, and that helps to create a thriving food scene with regional variations that are unique and unexplored.
Lima's signature dishes, like ceviche and chicharones, are becoming favorites around the world and opening people's eyes to the flavors of Peru. (Read our guide on foods you must try in Peru.) Restaurants like Astrid & Gaston have been delighting foodies for many years in Lima.
Superchef Gaston Acurio of La Mar and many others are priming the city with a modern take on traditional favorites. Now is the time to experience Peru's food scene, before it is fully discovered.
⇒ Where to stay in Lima, Peru: Hilton Lima Miraflores (see prices and read reviews)
Tours you might enjoy:
16. New Orleans, Louisiana
New Orleans food expands way past typical American food. It has a style and culture all its own, with Creole and French influences. It's an amazing place to explore if you're a foodie who likes to try new things.
Not only does New Orleans have an abundance of great chefs and dining experiences, it also boasts a rather sophisticated cocktail scene. Many of the cocktails served in New Orleans are routed in the city's eclectic past, and come not only with a swizzle stick, but a long history that you'll want to hear all about.
Tours you might enjoy:
17. Copenhagen, Denmark
A must-do on many foodie's list is Copenhagen, Denmark, to eat at Noma, a highly acclaimed restaurant that's spent many years at the top of the The World's 50 Best Restaurants list.
Chef/owner Rene Redzepi knows how to delight diners with his ultra-modern menu, now in a new location on the edge of Christiania. However, Noma remains very difficult to get into, not to mention expensive.
Even if you can't make it to Noma, Copenhagen is blessed with chefs who came out of the Noma kitchen to build their own restaurants like 108, Amass, and Sanchez.
A few of our favorite options in Copenhagen are 1 Michelin star Relae, the first all-organic restaurant to make the World's 50 Best Restaurants list, Baest (from the same owners), and 2 Michelin starred AOC.
For a more laid back food experience, head to the trendy food-filled Reffen on Copenhagen's industrial Refshaleøen, where food trucks and stalls sell high quality International dishes.
Where to stay in Copenhagen: 71 Nyhavn Hotel (see prices and read reviews.)
Tours you might enjoy:
18. Hong Kong
Hong Kong a wonderful food city, with all kinds of great food stalls, restaurants, and dishes with many cultural influences to try. One of the best ways to acquaint yourself with the food and to discover some of the best places to eat and drink in Hong Kong is by taking a food tour.
There are a dizzying number of restaurants in the city, not to mention foods that many Western travelers haven't even heard of before. Let an expert guide you through the experience. Probably the most iconic food in Hong Kong is dim sum. There are even a few super affordable dim sum restaurants in Hong Kong with Michelin stars.
You must go to one of these top-rated restaurants to order a full meal of dim sum. For a Michelin-star meal, head to Tim Ho Wan. Another one to try is One Dim Sum. Roast goose is the dish I will never forget. It's an iconic Hong Kong dish that you absolutely must try. The crunchy skin and layer of rendered fat over tender meat. It's a thing of true joy.
We ordered roast goose in a tiny restaurant called Yat Lok Roast Goose in the Central neighborhood on Hong Kong Island.
Tours you might enjoy:
19. Istanbul, Turkey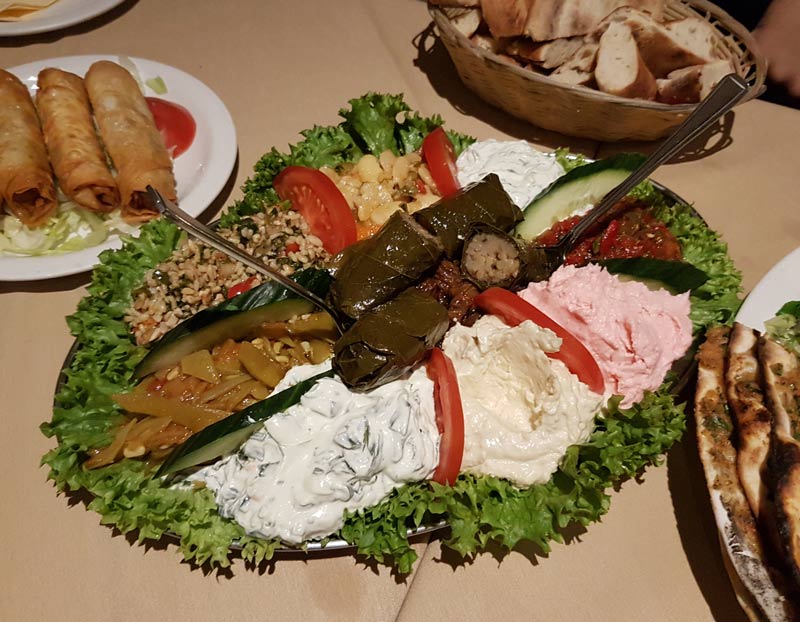 One of the best places you can travel to for an amazing foodie trip is Turkey. As one of the most visited countries in the world, Turkey has a lot to offer visitors. From seaside resorts on the Mediterranean Sea, historical sites, welcoming people, rich culture, amazing museums and delicious Turkish dishes, a trip to this county will be quite memorable.
Whether you're spending time in Istanbul, Capadoccia, or one of the other popular cities in Turkey, you'll be able to try great food everywhere you turn. Each area has a spin on the dishes they serve, but look out for things like Doner Kebab, Meze, Pide, and Baklava.
Tours you might enjoy:
20. Naples, Italy
Each region of Italy has its own unique list of specialty foods you must try, and Naples is no different. From the iconic Neopolitan pizza, to deep fried macaroni, to rum-soaked sponge cakes, you really must spend some time eating your way through Naples to fully discover the city and all its charms.
Be prepared. There are a LOT of great things to eat in this city. If you're looking for a way to experience the best Italian food in Naples, there's really no better way to do it than to go on a food tour with Eating Europe. We spent a week venturing around the city to find the best pizza.
Our favorite pizza in the city was at Pizzeria Da Attilio, but there are memorable pizzas at 50 Kalo and Antico Borgo Ai Vergini. These are just a few of the top of their game. Other foods to try include Pizza Fritta, Cuoppo and Pasta Frittatine.
Tours you might enjoy:
21. Catalunya, Spain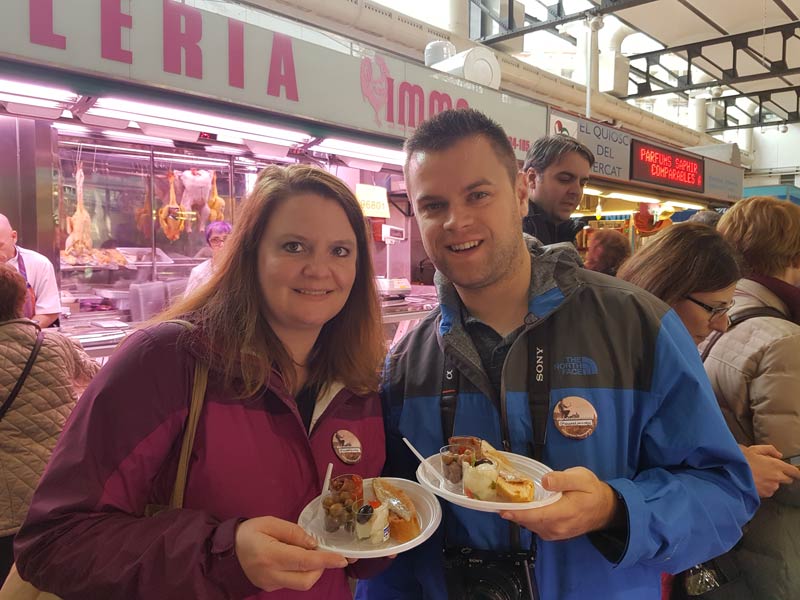 If you've been to Spain, you already know that the entire country is vastly rich in culture, heritage, and especially products and foods that are specific to each micro region. Catalunya is one of those regions, and the amount of unique products, recipes and foods you can find there is astounding.
Catalunya has a very complex food culture. Not only does it have specific products that you don't find in other parts of Spain, each of the smaller areas of Catalunya also have their own unique dishes that other areas of Catalunya don't have. As a foodie in that area, you really will become immersed in a rich food culture. Even if you wanted to avoid it, you couldn't. Food is so much a part of who they are.
While there, we discovered a plethora of products and foods you must try. You can visit wineries (there are many different wine regions – including Priorat and Emporda, plus they make Cava in Catalunya.)
CONCLUSION
With all of these great culinary destinations, you'll never run out of food-centric vacations to take. We've been to each one of these and have loved them all. The variety of food around the world is just astounding.
Why not visit some of your favorites and find new dishes to love!
Related Posts:
Like this post? Why not save it to Pinterest?
FOLLOW US on Pinterest, Instagram, Facebook for more great travel inspiration and tips.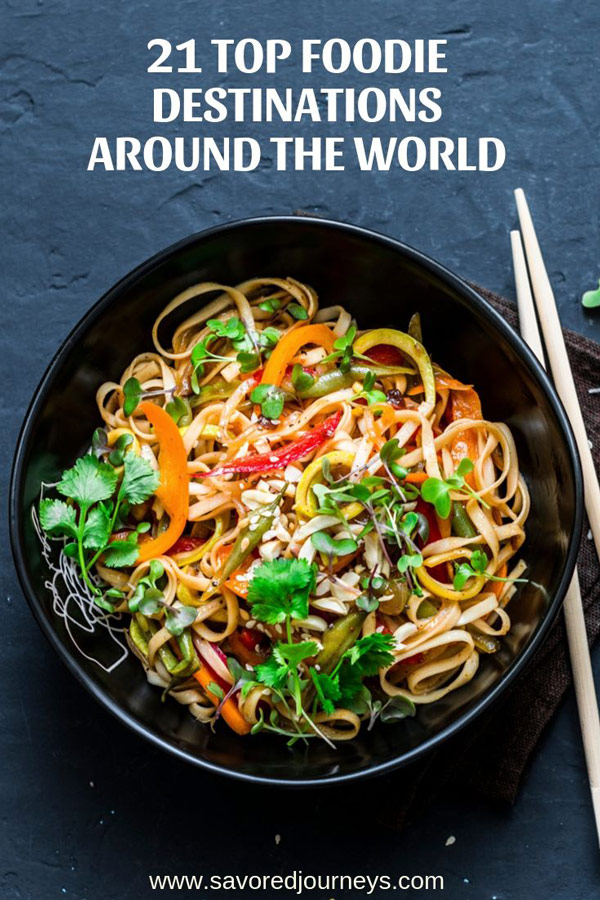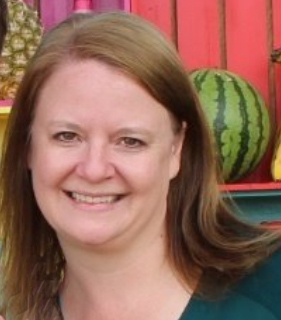 Laura Lynch, creator and writer of Savored Journeys, is an avid world traveler, certified wine expert, and international food specialist. She has written about travel and food for over 20 years and has visited over 75 countries. Her work has been published in numerous guidebooks, websites, and magazines.