When deciding where to stay in Mendoza while on a wine tasting vacation, you'll want to consider the pros and cons of each area. There are three different types of experiences you can have at Mendoza hotels. We'll go over each of those options and give you two hotels in each category to help you make an informed decision.
One of the best places to stay in Mendoza is right in the center of the city, so you don't need a car to get around. You can walk to many great restaurants and bars, including the really awesome Vines of Mendoza, which we highly recommend.
» Check out these 25 Traditional Dishes to Look for in Argentina.
If you're planning to hire a driver or take a wine tour, you won't need a car, so this might be your best option. Two of our favorite Mendoza hotels are outside of town, which is a great option if you want something more quiet than a city hotel. These are wine resorts that you absolutely can't miss. They're both GORGEOUS.
It's very beautiful in the countryside of Mendoza, so the views are a major pro for this option. You will need a car, unless you plan to take taxis everywhere, which can get expensive. Often, the only restaurants nearby are at the hotel. Our third recommendation is more wine-centric.
If you want to have a fully-immersive wine experience, then we suggest staying at a winery hotel. You'll be surrounded by vines, and fully able to soak up the essence of the wine region.
You might also like:
Mendoza City Hotels
The Park Hyatt
The town of Mendoza is small and easily walkable, so staying in the city center is a great option for being within walking distance to cafes and restaurants. The Park Hyatt is located right on the Plaza Independencia. You simply cannot find a better location than this.
The hotel is very close to all the bars and restaurants of the city. It's a very nice hotel with great amenities and spaces to relax and enjoy a glass of Mendoza's finest. If you're looking for a luxurious, relaxing hotel with tons of things to do nearby, this is the place.
Hotel & Casino Cóndor de los Andes
Hotel & Casino Cóndor de los Andes is a little ways outside the center of town, so you'll need to utilize taxis to get around, but it's very convenient for heading outside the city. The hotel is very nice. The bright and airy lobby is gorgeous and the rooms follow suit. There is a nice restaurant and bar on location.
The concierge is incredibly helpful in planning daily wine tours. They even booked us a driver at the last minute. They can call and set up tasting appointments for you with very little notice, but if you plan on using this service, it's best to email them in advance to set things up.
Mendoza Countryside Wine Resorts
Entre Cielo Luxury Wine Hotel
Entre Cielos is a 24-room luxury boutique hotel set against the majestic backdrop of the snowcapped Andes Mountains, set on nearly a dozen acres of Malbec Vineyards in Mendoza, Argentina.
With a modern design, timeless furniture, rotating art exhibitions, customized guest experiences tailored to personal wishes and the area's first true Hamam + Spa, Entre Cielos offers guests a refreshing and inspiring Mendoza Experience.
You can stay in the rooms in the main part of the hotel or splurge for the Vineyard Loft, which is a futuristic looking pod set up on stilts in the middle of the vineyard. It's an incredibly unique experience.
Cavas Wine Lodge
The second option is to stay at one of the awe inspiring wine lodges in the countryside outside the city of Mendoza. Cavas Wine Lodge, in Lujan de Cuyo, is a Relais-Chateaux hotel that will exceed your expectations in every way. It's a stunning Spanish Colonial building, with villas that were built with sheer luxury in mind.
The 14 individual one-bedroom villas are scattered throughout the vineyards, and each has a private terrace and plunge pool. Back at the main lodge, there's a restaurant, wine cellar, full-service spa and living room with a majestic fireplace. I guarantee you've never stayed anywhere like this before.
The Vines Resort & Spa
At The Vines Resort & Spa, each room is a villa with floor-to-ceiling windows, a well-equipped kitchen and a balcony overlooking the river and vines. The resort is located about an hour and a half outside of the city of Mendoza in the Uco Valley. It has incredible views of the surrounding mountains and vines.
It is truly a luxury experience that you will never forget. There are only 21 villas in total, so the resort feels very exclusive. In fact, it feels a bit like a home away from home. The villas are well-appointed, with large living spaces and an outdoor patio.
The deluxe villas have outdoor plunge pool or tub with a shower. Also, you must eat at the Francis Mallman restaurant, Siete Fuegos (7 fires), featuring Argentinian beef and open-flame cooking. It is located right on sight. Across the street is a Vines of Mendoza tasting room.
» PRO TIP: If you're looking for another great restaurant in Mendoza, try Francis Mallman's other restaurant called 1884.
Winery Hotels in Mendoza
Lares De Chacras
Mendoza has plenty of opportunities to stay at one of the working wineries throughout the region. Lares de Chacras is a small and exclusive boutique hotel surrounded by the vineyards at the foot of the Andes Mountains. It's located in Chacras de Coria, a beautiful little village about 30-minute from downtown Mendoza.
If you're planning to spend a lot of time in wine regions, this is a great option. You'll be within a stone's throw of many great wineries. The hotel has a wonderful, boutique countryside feel to it. The rooms are very nice and have unique characteristics that set it apart from a modern hotel.
Also on the premises is a wine cellar and restaurant, and a wine-tasting space where we had one of our favorite tastings in all of Mendoza. There is a pool/hot tub for relaxing after a long day of wine tasting, plus a lovely wine bar. You'll love it here for the authentic, charming vibe. It's definitely a favorite among visitors.
Club Tapiz
Club Tapiz is located in an estate built in 1890 surrounded by 14 hectares of vineyards and olive trees, plus those incredible Andes mountains as a backdrop. It's also located in Chacras de Coria, about 30 minutes from Mendoza city, in the Maipu valley. There are only 7 rooms in this exclusive hotel.
Each has a small patio so you can sit outside with a glass of wine and enjoy the views. Expect mid-range styling, not luxury. The hotel has a very well-liked restaurant called Restaurant Terruño and wine cellar on site. They also offer great wine tastings every evening at 8pm for guests.
There's also an outdoor pool to enjoy. If you have a larger group, there's a full house you can rent on the property too. It's very easy to go wine tasting from here. The hotel will help you plan a tour. Because this hotel is so centrally located in the Maipu wine region, it won't take much effort to find lots of great wineries nearby.
CONCLUSION
These are just a few of the hotels in Mendoza that we love. There are so many lovely places to stay, we wish we had a whole year to traipse around checking into them all. These are all great choices and will put you in a location that works for your itinerary.
Like this post? Why not save it to Pinterest?
FOLLOW US on Pinterest, Instagram, Facebook for more great travel inspiration and tips.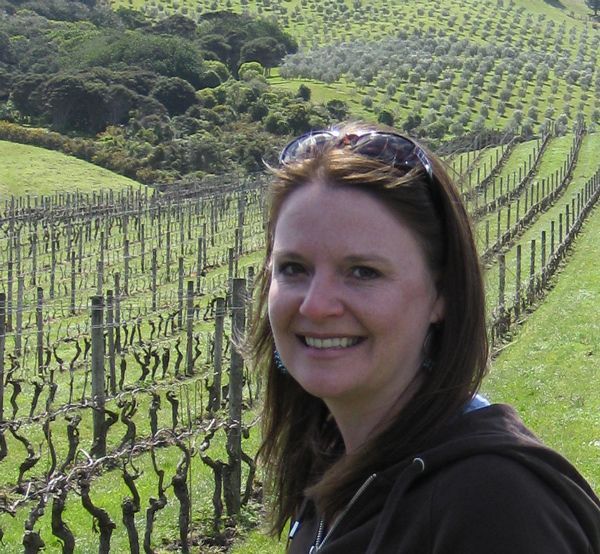 Laura Lynch, creator and writer of Savored Journeys, is an avid world traveler, certified wine expert, and international food specialist. She has written about travel and food for over 20 years and has visited 70+ countries.