I am enamored with Italy and its seemingly endless supply of wine regions, tasting rooms and quaint villages perched on the rolling hillsides of Tuscany. One of my favorite areas is Chianti, where the always-reliable Chianti Classico is made by family-owned wineries.
The easiest way to see this area is to book a tour through Viator and let someone else drive you around the narrow roads, but then you wouldn't get to build your own itinerary and spend as much time as you want at the wineries of your choice. Trade-offs! (Read a review from someone how has recently been on Viator Tuscany Wine Tour.)
If you're looking into a trip to Chianti, and you want to see and do everything the area has to offer without paying exorbitant rates for a driver, you really should consider self-guided wine tasting in Chianti.
You might be thinking that it's difficult to get around, or impossible to find your way to the small wineries tucked away in little hamlets throughout Tuscany, but it's definitely doable, and to me it's preferable to a packaged tour because you can stop off where ever you want, whenever you want – and believe me, you'll want to do that often.
I did a lot of research on the area before we went there in March and, while I found it somewhat difficult to find the information I needed, the search paid off greatly in the end. The places we visited were all stunning, welcoming, and (fairly) easy to find. We ate at the best restaurants, tasted wine at the best wineries and stayed in a great boutique hotel oozing with Tuscan charm. So here you go – a custom-made, highly researched three-day itinerary for a self-guided wine tasting tour in Chianti.
Find and book Tuscany tours and activities on Viator.com. Book ahead to save time and money!
GetYourGuide.com also has some fantastic wine tours you can book in advance:
Where to Stay in Chianti
Chianti is actually quite a large wine region that extends from just south of Florence down to Siena (about an hour's drive). It encompasses many little towns, like Radda in Chianti, Greve in Chianti and Gaiole in Chianti. Where to stay is a big decision. There are hotels within each city, there are agritourism farms in the countryside, unique villas like The Strozzi Family Estate, and there are boutique hotels dotted throughout the area. It makes the most sense to pick a location where you'd like to stay first, then build your wine tasting itinerary around that. The roads are narrow and it takes quite a bit of time to get from town to town.
Villa Bordoni Luxury Boutique Hotel
Our itinerary is focused around the charming, upscale boutique hotel, Villa Bordoni. It's the perfect place to stay in Tuscan countryside because it's tucked away in the hills on a beautiful property that really makes you feel like you've found a secret Tuscan hideaway, but it's still close to the places you want to go.
⇒ Read reviews or book your stay at Villa Bordoni on Trip Advisor.
Fattorio Viticcio
Another accommodation option is to stay at a winery near Greve in Chianti. The location of Fattorio Viticcio can't be beat, because it is so close to Greve, in case you want to enjoy a dinner or a wine bar in town. You will also have a wine tasting included in your stay. Expect to find rustic vineyard charm.
Read reviews or book your stay at Fattorio Viticcio on Trip Advisor.
A Three-Day Schedule for a Self-Guided Wine Tasting Tour in Chianti
Here is a timed schedule to follow, if you wish. Below the schedule, you'll find a detailed review of each of the wineries and restaurants we recommend.
Day One:
1pm Stop for lunch and a tasting at Marchesi Antinori's Rinuccio 1180 (2.5 hours)
4pm Private tasting and tour at Montefioralle Winery (1 hour)
5:30pm Check in at Villa Bordoni Hotel
8pm Dinner at Ristorante la Castellana in Montefioralle
Day Two:
10am Wine Tasting at Fattoria Viticcio
11:30am Wine Tasting at Vignamaggio Winery
1pm Lunch at Ristoro di Lamole
3:30pm Cooking Class at Villa Bordoni
7pm Dinner at Villa Bordoni Restaurant
Day Three:
10:30am Wine Tasting at Ca di Pesa
12pm Lunch at Soloccicia in Panzano
2:30pm Wine Tasting at Enoteca Falorni in Greve where you can try dozens of wines
3:30pm Walk around and enjoy the town of Greve in Chianti
5pm Try local beer at La Birrotecca in Greve
7pm Dinner at Gallo Nero or La Cantina in Greve.
Return to Villa Bordoni.
Wineries to Visit
Montefioralle Winery
The small town of Montefioralle is just a few minutes from Villa Bordoni, and even easier to get to is the winery by the same name. Montefioralle Winery is a small, family-owned operation, but they are one of the most welcoming we visited. A tour of the winery takes only about five minutes and leads you through the fermentation room and the cellar, then up to the tasting room, where you'll be seated for a private tasting. During the nicer summer months, tastings can be done outside in their courtyard, with a fantastic view of the vines and the towering town of Montefioralle in the background.
The tasting includes generous pours of all of their current wines – Chianti Classico, Chianti Classico Reserva, IGT and a Vin Santo. As Chianti Classico is their specialty, they always have at least two years available for a vertical tasting. We were also greeted with a plate of food to help discover how the wines pair with food. Since it was a private tasting, we were able to take as much time as we wanted to taste the wines and ask questions. The wines were all very good and also reasonably priced. They offer an option to ship wine back to the U.S.
They are open by reservation only, every day of the week from 10am to 6pm. To book your visit and tasting: [email protected]
Marchesi Antinori
We stopped at Antinori on our way to Villa Bordoni from Florence, where we flew into. It is located not far off the main freeway, so it's the perfect first stop as you enter Chianti. Whereas many of the wineries in Chianti are small, family-owned operations, Antinori is just the opposite. It is a stunning winery and well worth the visit. The grounds of the winery are huge. After you drive up to the guard gate, you're given instructions on where to park and how to get to the winery, which includes walking up a huge spiral staircase to the top level of the building.
You're able to book a tour and a tasting, or just a tasting if you're pressed for time (or, like us, have heard the same story about 900 times at other wineries. However, I think the best way to do a tasting at Antinori is to have lunch at their restaurant, Rinuccio 1180, located on top of the building with a fantastic view. If you're lucky, the weather is nice and you can sit at the outdoor patio, but even inside has a great ambiance and bustling energy. Pairing the wines with food is a great way to really enjoy a wine, and the restaurant makes that easy to do by providing wine flight pairings of the same wines you would try in the tasting room.
Ca di Pesa
If you're staying at Villa Bordoni, inquire with the concierge about booking a tasting and tour at Ca di Pesa estate outside of Panzano. They have a relationship with the winemaker, Diego Ciurletti, who has been making wine in Chianti for many years. They will be able to set you up with a tour of Ca di Pesa, which has a long and interesting history, including being rented by Antonmaria Gherardini, mother of Mona Lisa. The house has been owned by the Auerbach family since 1998 and they've transformed it into a lovely home and winery, which will soon have a dedicated tasting room. It is also available for rent in the summer months and would be a fantastic place for a family reunion.
They are committed to producing the best possible Chianti wines from their estate vineyard and continue to strive for perfection. Diego will happily tell you about the wine production and share with you the wines he has crafted. They make a Rosato, a Chianti Classico, and Chianti Classico Riserva. We instantly fell in love with the Riserva. It is aged for 24 months in new French oak barrels, which makes it a surprisingly bold, textured wine.
Fattoria Viticcio
We fell into the trap of following the Google navigation to get to Fattoria Viticcio, which we were warned against prior to going. I will take a moment to warn you against it, too. If you do follow Google, you will end up in a place far, far away from where you mean to be. Using the written direction on the website is the way to go. Once you've gotten on the right road, you will snake your way up and up until you reach the wine cellar and farmhouse, surrounded by 40 hectacres of organically farmed vineyards, located just 5 miles from the town of Greve. If you're not staying at Villa Bordoni, you should consider staying in the charming apartments at Fattoria Viticcio.
Viticcio is not small, with a production of 300,000 bottles a year, but they are by no means a large winery either for Chianti. Their first harvest was in 1964, with just 20,000 bottles, and their first entirely organic production started in 2013. Tastings are available every day by appointment only from 10am to 4pm. The fee is 10 and includes a tasting of 4 wines – Bere (a blend of Sangiovese, Cab and Merlot), Chianti Classico, Chianti Classico Riserva, and Gran Selezione – along with salami, cheese and olive oil, also made on the property. You can also take a tour at 11am or 3:30pm, by appointment.
Vignamaggio
One of Tuscany's oldest farming estates, Vignamaggio has transitioned to organic agriculture for environmental conservation, and they've also embarked on a vine-variety restoration project to bring back older, lesser-known varietals from the area. There are many activities you can do at Vignamaggio, including wine tasting and tours, cooking classes, horseback riding, or enjoying lunch or dinner at the restaurant. They offer a couple of different levels of tastings, so check out their website to decide what fits your schedule and make a reservation. They offer one of the area's only wine-paired, multi-course dinners.
Where to Eat in Chianti
Ristorante la Castellana
Ristorante la Castellana is one of the best restaurants we ate at in Chianti. It's located in the small town of Montefioralle, just a few miles from Villa Bordoni. The dining room is very small and intimate with stone walls and floors. It truly feels like you've stumbled up on a Tuscan gem at this restaurant. The menu is actually quite extensive for such a small place – but not surprising, as the tables are always full! The owner provided us with the best, most personalized service. We felt like friends instead of strangers. At the end of the meal, he brought out a bunch of bottles of limoncello and housemade grappa for us to try. It was simply fantastic.
Villa Bordoni Restaurant
Villa Bordoni has a world-class restaurant with chefs who really know how to make a delicious meal, that is served in the intimate and rustic dining room. I highly encourage at least one dinner at the restaurant, and the best part about this is that you don't have to drive at night to get somewhere.
I also highly recommend taking a cooking class at Villa Bordoni. We spent the afternoon learning how to make Italian favorites in the professional kitchen, instructed by one of the restaurant chefs who was highly skilled and knowledgable. Then after an hour relaxing with a pre-dinner drink and snacking on the foccacia we'd made in the class, we were served a 4-course dinner of the dishes we had made in the class with endless bottles of wine for the table to share. It was such a great time and one of the best things we did in Chianti. The classes vary, so check with Villa Bordoni before you go to make sure you find one you like. There are many cooking classes in the area, but you won't find one that's better than this. Trust me, I did my homework.
Ristoro di Lamole
If you read Trip Advisor reviews for Chianti,  you'll quickly find that Ristoro di Lamole is one of the most often talked about and praised restaurants in the entire region. I was so intrigued by the ravings that I made sure it fit in our plan to eat there. We went on a Friday afternoon for lunch, after having been out wine tasting for a few hours. We had been forewarned about the drive – and I'll make sure you are equally forewarned. It's not a bad drive, just really windy and long. Once you arrive at the top, you will be rewarded with one of the most amazing views in all of Tuscany.
The restaurant is very popular, so make sure you've made a reservation. During the high season, it would be wise to book a few weeks ahead, if not more. They have a lovely indoor dining room with seats that face the view, and they also have a covered outdoor patio, that I assume can be opened up in nice weather. The owner is one of the nicest people we met during our time in Tuscany. He was very helpful with the menu and even sat down with us an gave recommendations for other things to do in the area, when he learned that we were travel bloggers.
The food is outstanding. While we were deciding what to eat, we were brought a plate of cheese wedges with truffle honey to snack on. Delicious. I was excited to order my first burrata in Italy, because it's one of my favorite things to eat, and every bite was savored. We also ordered a beef tartar and black rice risotto, both of which were fantastic. If we could have stayed and ordered the entire menu, we would have, and if it wasn't such a long drive to get up there, we would have definitely gone back for another meal.
Solociccino
You've probably heard about Solociccia, if you've done any food research on Chianti. It's owned by famed Tuscan butcher, Dario Cecchini. For lunch and dinner every day (except holidays) they host a family-style lunch (read: party), where every dish is composed of meat. We are meat lovers and we'd been eating a lot of vegetarian dishes since arriving in Tuscany, so it was only appropriate to have a meat-centric lunch, too. The menu consists of six meat courses, seasonal vegetables, beans with extra virgin olive oil, Tuscan bread, wine, olive oil cake and grappa. All for 30 euro.
We chose to have the more abbreviated lunch at Solociccino, because we didn't have a lot of time to spend, and the family-style lunch at Solociccia is a much longer affair. We were able to book a table at noon and eat at our own speed. Instead of 6 courses, we had 4, for 25 euro. And wow, it was incredible. The plates just kept coming. And they were piled high with more food than we could ever have eaten between just the two of us.
I hope you love Chianti and this area surrounding Greve in Chianti as much as we did. We did extensive research to create this itinerary, so we know you'll love it!
(Disclaimer: This post contains an affiliate link.)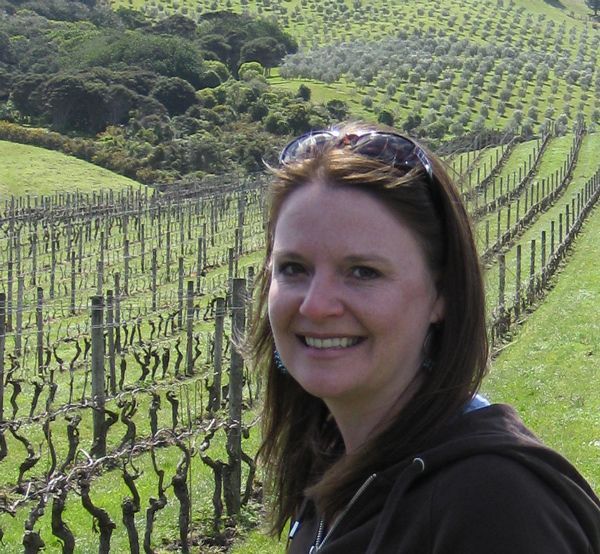 Laura Lynch, creator and writer of Savored Journeys, is an avid world traveler, certified wine expert, and international food specialist. She has written about travel and food for over 20 years and has visited 70+ countries.