Exceptional cuisine is deeply rooted in France's culture, from hearty dishes to delectable desserts, to pastries, cheese, and exotic classics. Its wine culture is equally extensive, boasting world-renowned wine regions like Burgundy, Bordeaux, and Champagne.
With so many food choices available throughout France, the question is not what to eat, but where to start exploring. To help narrow down your options, here is a list of 25 food and drinks that you need to try in France.
» You might also be interested in the 10 Top Wine Regions in France to Visit.
You'll find these dishes in most big cities, and spread throughout the regions, though some are specialized to particular regions, like Tartiflette which can only be found in the Savoie region. Click here to read more interesting facts about French food.
» Visiting soon? Check out our France travel guide. You might be interested in visiting the gorgeous town of Annecy, France for amazing food, as well as the Savoie wine region and these three jaw-dropping destinations in the French Alps. Here are our guides to the most beautiful cities to visit in France, and the top French wine regions.
1. Crepes
A crêpe is a type of very thin pancake popular in France. Crêpes come in two types: sweet and savoury. They are filled with a variety of ingredients, from the simplest with only sugar to nutella and banana, cheese and ham, or strawberries. The crispy pancake is then folded over the ingredients and served as a hand-help treat. In Paris you can find crêpe stands and restaurants almost everywhere.
2. Pain au chocolat
Pain au chocolat, also known as chocolatine in the south-west part of France and in Quebec, is a type of pastry – very much like a croissant – but shaped as a cube. It's filled with a few pieces of dark chocolate in the center that adds to the delightfulness. You can eat them throughout the day, but it's very popular as a breakfast pastry with a coffee.
3. Macarons
A macaron (pronounced mack-a-ROHN) is a sweet meringue-based confection made with egg white, icing sugar, granulated sugar, almond meal, and food coloring. It's like a small round cookie, made up of two round, flat pieces with a filling like ganache or jam in between.
4. Boeuf Bourguignon
Beef bourguignon or bœuf bourguignon, also called beef Burgundy, and bœuf à la Bourguignonne, is a beef stew braised in red wine, often red Burgundy, and beef stock, typically flavored with carrots, onions, garlic, and a bouquet garni, and garnished with pearl onions, mushrooms, and bacon.
5. Café au lait
This drink translates as coffee with milk. It's a strong filtered or brewed coffee (not espresso), with warm milk added. This is the most popular way to order coffee in France and throughout Northern Europe.
6. Steak Tartare
Steak tartare is a meat dish made from raw ground or finely minced beef. It is usually mixed with onions, capers, pepper, Worcestershire sauce, and other seasonings – or with those seasoning served on the side so you can mix them yourself – with a raw egg yolk on top of the dish. You can most often order steak tartare as an appetizer, but also sometimes as a main dish.
7. Cuisses de Grenouilles
The Cuisses de Grenouille are the typical French dish that we call 'frogs legs'. It is traditionally associated with Parisian food and cuisine though frogs legs are cooked throughout France. Frogs legs are prepared with butter, garlic and parsley sauce and served with salad.
8. Galette
Don't miss the Brittany region's masterpiece, a galette, which is a buckwheat crêpe with a savory stuffing of eggs, ham, vegetables or even fruit. The pastry is folded over the top of the filling, creating a delicious meal.
9. Kouign-amann
Spoil your sweet tooth with a piece of Kouign-amann, a round multi-layered cake filled with layers of butter and sugar. In the kouign amann, the addition of sugar sprinkled between the layers, mixed with butter, creates pockets of deliciousness as it bakes in the oven. It's often called the fattiest pastry in all of Europe. But it's oh so good.
10. Champagne
Champagne may have invented the world's most famous sparkling wine, but there is more to this region than its bubbly tipple. Champagne is a picturesque region of vast vineyards, quaint villages, Michelin-starred restaurants, grand chateaus, historic landmarks, and impressive wineries.
Here, you can enjoy the best wine tasting experience and explore underground cellars that house some of the most exquisite vintages in the world. Dine at a bustling bistro in Reims, the region's unofficial capital city.
Spend an evening sampling a wide selection of Champagnes from different producers at C-Comme in Épernay (pictured above). For more French wine action, check out this overview of the major French wine regions.
11. Biscuit rose de Reims
The Biscuit rose de Reims is a great accompaniment to Champagne, not surprising that it was created in the Champagne region – and it dates back to 1690. It's a unique pink-coloured biscuit with a sprinkling of powered sugar on top. You can find them at the Champagne houses in Reims and throughout the region.
12. Duck Confit
Savor the pleasantly unctuous dish of duck confit, a leg of fattened duck, salted and seasoned with herbs, then slowly cooked in its own fat, and later sautéed with roast potatoes and garlic to crisp the skin. This is one of the dishes you absolutely can't miss when visiting France.
13. Black Truffles of Perigord
Tuber melanosporum, called the black truffle, Périgord truffle or French black truffle, is a species of truffle native to Southern Europe. has a much stronger flavour than the Autumn and Summer black truffle varieties. Highly prized for its strong aroma and wonderful taste, the Perigord black can be cooked without losing any of its earthy, nutty flavour.
14. Foie Gras
Foie gras – which translates to "fatty liver" in English – is the liver of a duck or goose fattened by gavage (force feeding). While there is controversy surrounding Foie gras, it is still considered a delicacy in France and can be enjoyed as an appetizer or main dish, in many different preparations. It has an obviously fatty, rich texture and is served either whole, as pâté, or as a mousse.
15. Piperade
A beloved dish, particularly in the Pyrenees, is piperade, a spicy concoction of garlic, peppers, onions, and tomatoes sautéed in goose fat, and baked with eggs or ham.
16. Lamprey à la bordelaise
A dish of lamprey stewed with cured ham, red wine, leeks, garlic, and other spices. The lamprey is briefly flambéed in cognac, then served with a savory sauce made from the fish's blood and chocolate.
17. Ratatouille
Your visit to Provence is incomplete without savoring the famous dish, ratatouille (pictured above), a vegetable casserole consisting of courgettes, tomatoes, aubergines, onions, garlic, and pepper.
18. Salade Niçoise
Another well-known dish is salade niçoise, which originated in the French city of Nice. It's a surprisingly light, but filling salad made with tuna, tomatoes, green beans, red onion or spring onion, cucumber, hard-boiled eggs, and olives, over lettuce, then drizzled with olive oil or French vinaigrette.
19. Bouillabaisse
Bouillabaisse is a traditional Provençal fish stew originating in the port city of Marseille. This hearty dish consists of a minimum of four types of fresh fish cooked in fish stock with onions, tomatoes, garlic, and herbs, served with croutons and rouille – a spicy, saffron garnish.
20. Daube
Daube is a classic Provençal stew made with inexpensive beef braised in wine, vegetables, garlic, and herbs de Provence, and traditionally cooked in a daubière, which is a terracotta pot that resembles a pitcher, with a concave lid. Water is poured on the lid, which condenses the moisture inside, allowing the slow cooking method that is required to tenderize the tougher cuts of meat that are used in this stew.
21. Tapenade
Tapenade is an appetizer many people have tried outside of France. It's such a popular and tasty spread that it's been adopted around the world. It's traditionally an olive dip made of black or green olives, capers, anchovies, garlic, sun-dried tomatoes, usually served on crunchy bagette.
22. Tartiflette
An iconic dish from the Savoie region of the French Alps, Tartiflette is a humble potato and cheese dish that's often served during the winter at ski resorts in the Alps. The beautiful mountain town of Chamonix and the region surrounding Mont Blanc in the French Alps is prime territory to try this traditional dish.
Get the recipe for Tartiflette
23. Socca
Socca is a traditional dish from Nice, France, that is also quite popular in Italy under the name Farinata or torta di ceci. It's a thin, unlevened savory pancake or crepe made from chickpea flour, olive oil, salt, and water, and cooked on a copper dish over a wood-fired oven. Make sure you don't wait to eat it. Socca is best if eaten straight from the oven with a sprinkling of salt and pepper.
24. Escargot
Escargots is a dish consisting of cooked edible land snails. They are often served as an hors d'oeuvre, and are done in a number of different ways, though usually they're served in a garlic butter sauce. You might not be too excited to try this dish at first, but if you give it a try, you might be very pleasantly surprised. It's a delicacy for a reason!
25. Pastis
Pastis is an anise-flavoured spirit and apéritif traditionally from France. It's not a very sweet liqueur and has about 40–45% ABVAn. The drink turns milky-white when you add water or ice. If you're not sure about it at first, try it a few times. You might end up loving it. Ricard and Pernod are two popular brands.
26. Tarte Tropézienne
Tarte Tropézienne, also known as "La Tarte de Saint-Tropez", is a sugar-coated brioche filled with rich orange-flower-flavored cream. This specialty dessert was created by a Polish confectioner Alexandre Micka, a pâtisserie owner in Saint-Tropez, France, in 1955.
CONCLUSION
As you can see, there are numerous food and drinks you must try in France, and these only scratch the surface. Make sure you take a list with you when you visit, so you don't miss a thing! And leave us a comment with the dishes you love in France that aren't on the list.
Quick. Check these necessities off your prep list!
Like this post? Share it on Pinterest!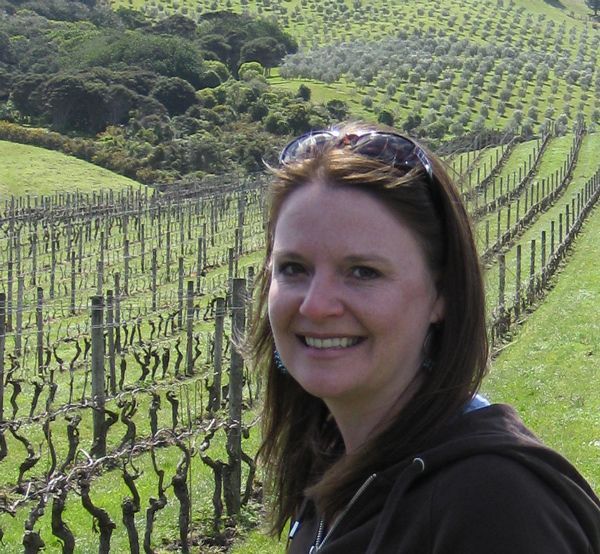 Laura Lynch, creator and writer of Savored Journeys, is an avid world traveler, certified wine expert, and international food specialist. She has written about travel and food for over 20 years and has visited over 75 countries.